Mindblowing Collaboration - First Supper - AsyncArt
Dear Readers,
I'm very happy and proud to announce, that I'm part of a revolutionary new #cryptoart project, that also happens to be "The biggest collaboration in Crypto Art history".
The piece is called First Supper and has been created by 13 of the most recognized cryptoartists in the space.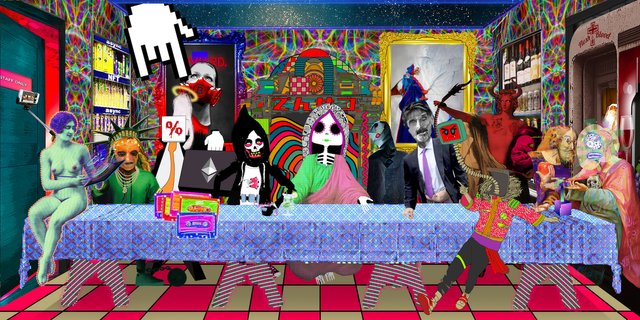 First Supper - One of the countless renders of the collab piece.
Programmable Cryptoart
What makes it so special is, that the artwork is not a static image, but every part of the image can be controlled by the token owners.
Asynchronous Art is an experimental art movement born out of the question "what does art look like when it can be programmed?" [..] What if art could evolve over time, react to its owners, or pull data from the outside world? It's time to find out what's possible when modern art takes full advantage of the digital medium.
The following video shows you most of the different layers, that can be changed by their respective owners.
AsyncArt?
The platform has been initially created by cryptoart developer and Ethereum/Cryptovoxels enthusiast Conlan and his team. He gives a good overview of the idea behind it and the future possibilities in his launch day presentation, which you can see here.

Master Token/ Layer Tokens
Every artwork on AsyncArt consists of a master token, which allows the owner to display and resell the artwork in whole.
Besides that, every (programmable) part of the images is sold seperately and the owner of a certain layer token has the ability to (almost instantly) change the view of the master by sending an Eth transaction to a smart contract.
For example this is how the layers, that I had created, look like on the website.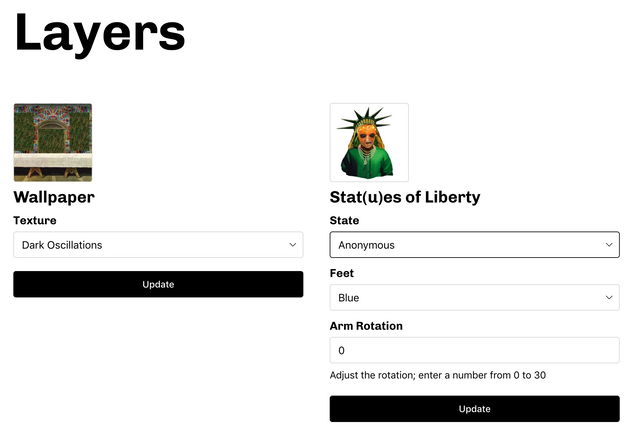 Here are the individual links of the Wallpaper and Stat(u)es of Liberty layers.
Bidding has started
If you want to own a part of this historic piece, you should definitely check out the AsyncArt website and get your bids in, as once the reserve price is reached, the master and layers might change owners pretty soon.
Current bid on the master token is 11.0 ETH (2.480,06 $), but there are still a lot of layers with much lower prices.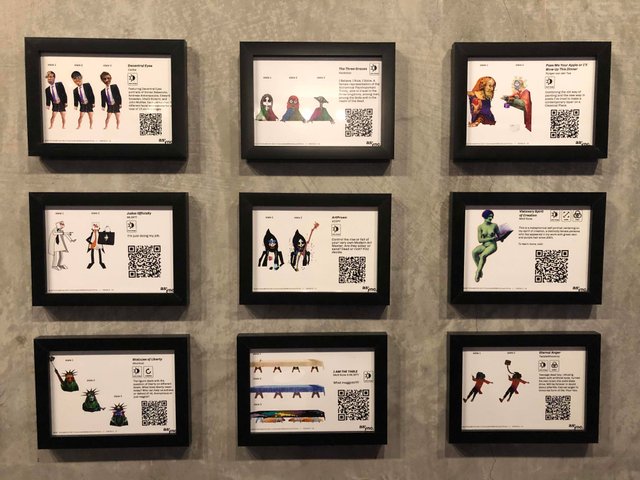 Links
Be sure to check out the AsyncArt website and join the official Discord for discussion and announcements. Also follow the AsyncArt twitter account if you're active over there.
List of participating Artists
Here is a list of all twitter accounts of the collaborating artists of "First Supper". Feel free to follow them all for announcements of individual pieces, reserve prices and auction end dates.
@XCOPYART, @money_alotta, @ConnieDigital, @josiebellini, @mlibty, @MattKaneArtist, @Coldie, @unityofmulti, @blackboxdotart, @VansDesign_, @rutgervandertas, @twistedvacancy
Thanks for reading!