PXLPET: We have a winner | Introducing trading cards 🐱🐶🐸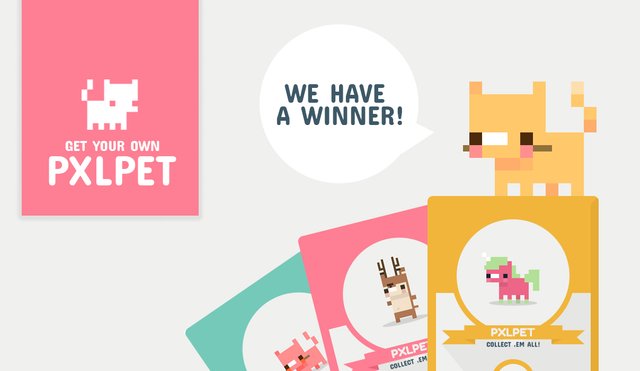 ---
PXLPET is a community game which is powered trough your comments and engagement. It's about taking care of your own virtual pet. With each of these future blog post you'll have the chance to win a pet which will then find a home on a pixel art canvas. You decide if you want to trade, just collect your new friends or upgrade your pet's home. All trough the power of your comments. Take a look at the announcement post, here.

We have a winner!
---
Wow, I'm really surprised how much attention this PXLPET project got during the last week! Thank you all for resteeming, upvotening and commenting! Two Steemians even mentioned PXLPET in their own blog post! Many thanks to @eirik and @kenny-crane!
We have a winner! No, in fact we even have three winners! Because this was the first round of PXLPET and it's somehow a special event, three Steemians get a new little friend. Here is the ranking of the most upvotes on your comments:
---
@kenny-crane: 23
@fabiyamada: 10
@eirik: 5
---
By random selection, a PXLPET was determined for each of you three. Since it was the first round, your pets are really special. All of them have the rank: "Ultra rare". But more on this topic below. I hope you are happy with your new pets!
The Playground
---

How to Play
---
Attention: The rules have slightly changed since last time.
You can become the owner of these cuties by commenting under the most recent PXLPET blog posts. If your comment gets randomly chosen you'll win the pet and your username will be shown above its head. Congratulation you are a proud PXLPET owner! Your pet will from now on live in a lovely video which will be updated regularly. In case you win again you'll get one more pet.
Everybody who wants to participate has to resteem the post and leave a comment. If there is a draw in upvotes the comment author who posted first will win. You have one week to participate. After that week the winner will be announced.
Here's a graphic with the rules.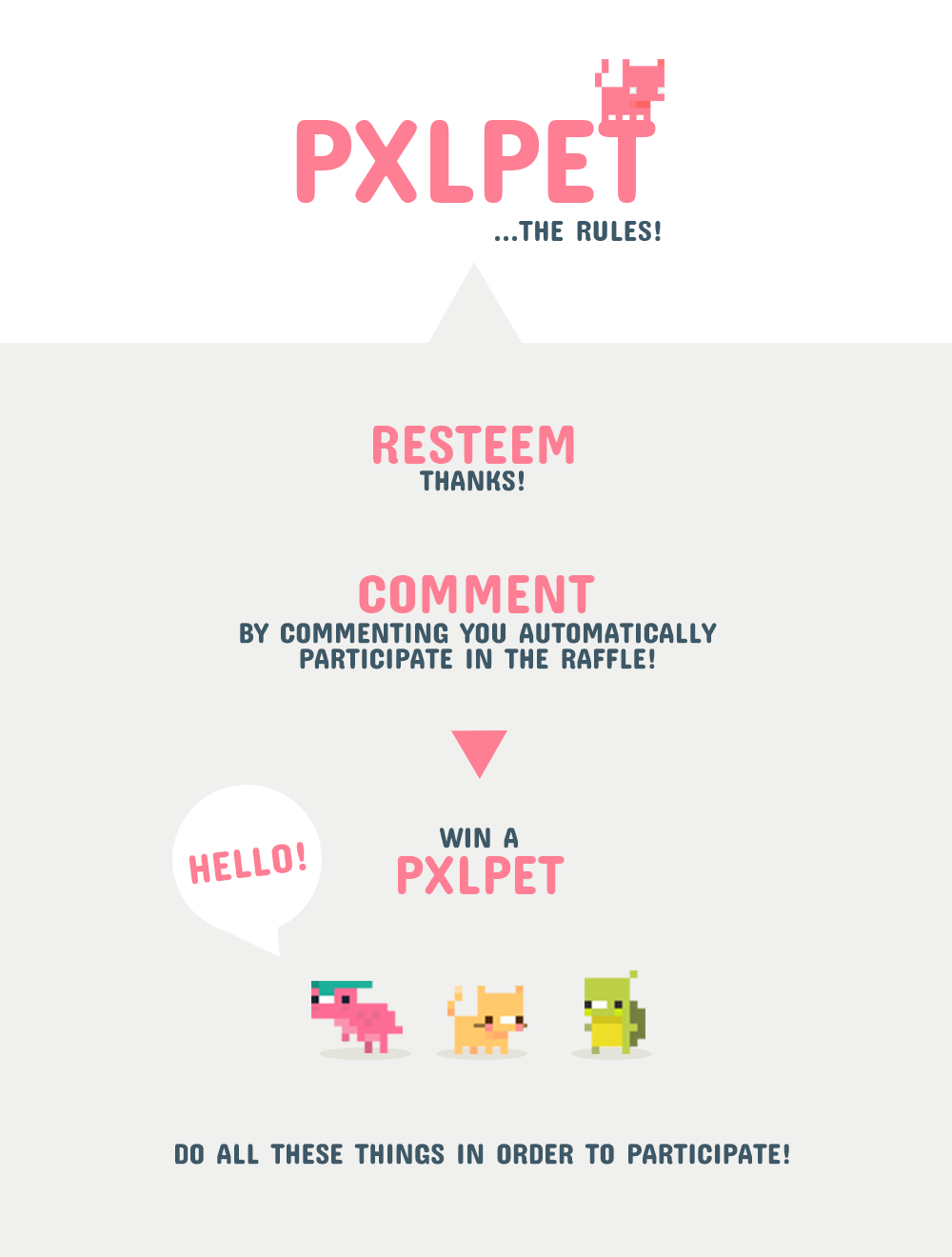 From now on the winner will be chosen randomly. I thought it's better for userers with less followers. This way every participant gets the chance to win.
Introducing trading cards
---
I have created some trading cards that show the rarity of a PXLPET and thus determine its value. I will show more cards in the next post. I will limit the PXLPET species to 50 or 100.
There are five sorts of rarities: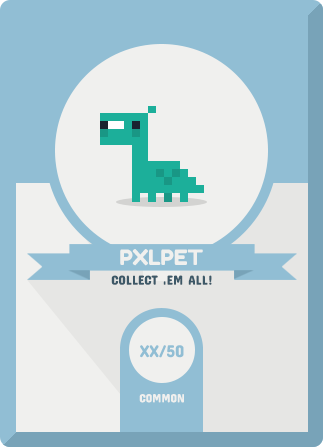 Common
---
Easy to get, generally not valuable. But hey, this is still cute! You don't have to trade your PXLPET anyways.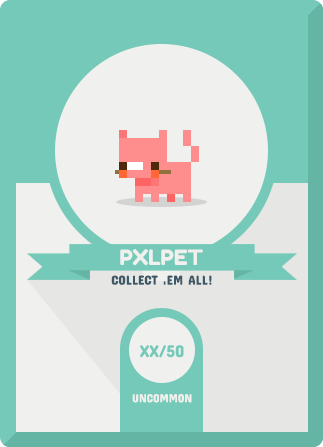 Uncommon
---
Generally not hard to obtain. But hey, this is still cute too!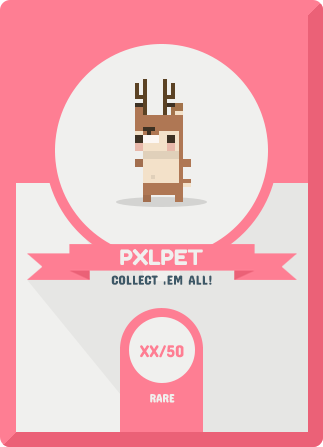 Rare
---
These are more rare than commons and uncommons.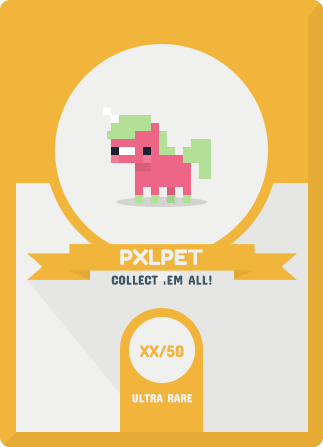 Ultra Rare
---
These are the rarest of the collection. You have to be pretty lucky to get one of these.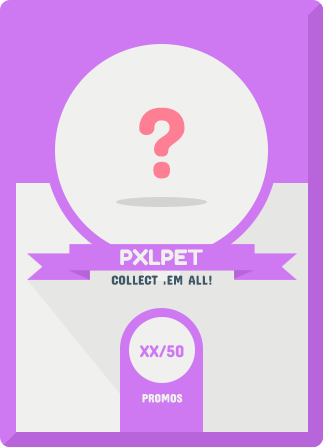 Promos
---
You can't get these on the regular way. The cards are completly unique. There is only one of each. You can get them by participating in special events.
Future of PXLPET
---
Thank you for all the ideas you commented on the last PXLPET blog post. I really liked, and thought alot about them. You can be sure that you inspired me and that I will add some of your ideas in the future. For now I changed the gameplay a bit to make sure that everybody has the same chance to win. From now on you have to be lucky to win and you also have to have a bit luck to get a rare PXLPET. With this post the raffle begins.
I will also start a series of dev logs. I think it's nice to show you the progress and also exchange some ideas and thoughts with you. I plan to do a small storyline and maybe something like an art contest. But you will learn more about that later. Items and houses can from now on achived by participating in special events.
I think PXLPET is a fun project and I hope you are as exited as me to see how this pixel world will evolve. Let's see how it turns out. I hope this experiment gives some value to the Steemit platform and makes it an even better place! Future posts will use this #pxlpet hashtag. Make sure to follow so future posts are displayed in your feed and you don't miss a special event! :)
---
Let's get started!
- resteem and make your comment to get started -

Good luck and have fun!