Introducing CryptoPuzzles - A Non-Fungible Treasure Hunt [501 Steem Prize]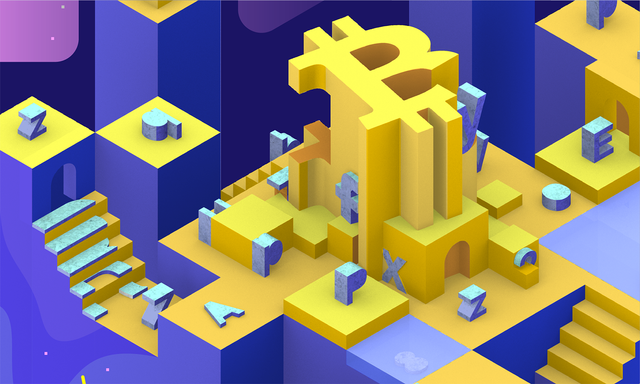 All Roads Lead to Steem
For the past several weeks, we have been brewing up a new project called CryptoPuzzles. With this artful and engaging series, we're aiming to provide a low barrier of entry into crypto in addition to cultivating Steem as a social glue across all blockchain art communities. With decentralized NFT (non-fungible token) art marketplaces like SuperRare, KnownOrigin, Portion, Codex, and more cropping and poised to take on legacy art institutions, we wanted to create a fun and educational way to attract new collectors and creators into the Steem community. We believe that Steem is an exciting forum for creative professionals to experiment and share their work. There's a tremendous amount of complimentary benefits that this ecosystem can have for other apps, DApps and blockchains.
So without further backstory, we present to you the next major @sndbox project - CryptoPuzzles!
Gamified Crypto Art
CryptoPuzzles is a new art series that embeds clues to cryptocurrency wallets within collectible NFT (non-fungible token) artworks. This first puzzle series includes a set of 9 digital 3D architectural monuments (BitcoinHaus being the first of 9) inspired by cryptocurrency icons. Embedded in each artwork is a network of clues that lead to a wallet and prize. Different views of the same 3D landscape will yield answers and expose curious avatars (known as KryptoKodama). These collectible creatures will help you find your way through the NFT treasure maps.
Let the Treasure Hunt begin...
Our Magazine @creativecrypto just hid 501 STEEM in an account called @bitcoinhaus. We've embedded clues to the wallet password across hundreds of NFT (non-fungible token) artworks called CryptoPuzzles. Each time one of these NFTs are sold, @cryptopuzzles posts the record of sale and sends beneficiary rewards to @bitcoinhaus. Over time and with each sale, the treasure will grow. You can find the full details of the BitcoinHaus puzzle batch here.
These ancient grounds mark the site of Bitcoin's genesis block. Satoshi Nakamoto, anonymous architect, designed a rigorous network of square plinths from which numbers and letters have mysteriously emerged. Follow the KryptoKodama for clues to unlock a hidden crypto wallet. Owners of this map will receive additional NFTs as they HODL.
Say hi to our #KryptoKodama family! These fun creatures lead you towards clues that unlock crypto treasure [wallets and other NFT assets]. Kodama are mischievous and hard to catch. However, if you manage to collect enough of them - increasingly elaborate easter eggs will be unlocked.
| | | |
| --- | --- | --- |
| Explore Monuments | Discover Clues | Unlock Crypto |
GEN 1 of the KryptoKodama Family
HODL Art = Receive Special Editions
Puzzle holders will receive airdropped KryptoKodamas and other special secrets. There's a lot hiding in these puzzles with maybe more than just 1 easter egg in play. Ultimately, we want to reward HODLers (art collectors). With these HODLer rewards, we're looking to address an industry problem in the digital art world. Why collect and why sell? The secondary market for digital art has always been incredibly elusive and difficult to incentivize. If you're lucky, the artist you've invested in goes viral and the brand value of the work you're holding goes up. But that scenario is incredibly rare.
With blockchain artwork - the patron and the artist can have a very different dynamic. Let's call it NFT dividends. Artists can see who holds their artwork and reward loyal patrons by airdropping them sketches for a new piece they're working on or perhaps even a new edition of the work they've been HODLing. To incentivize a secondary market, we're going to experiment with HODL prizes and perhaps perpetual (monthly) clues that are bonded to a single blockchain address.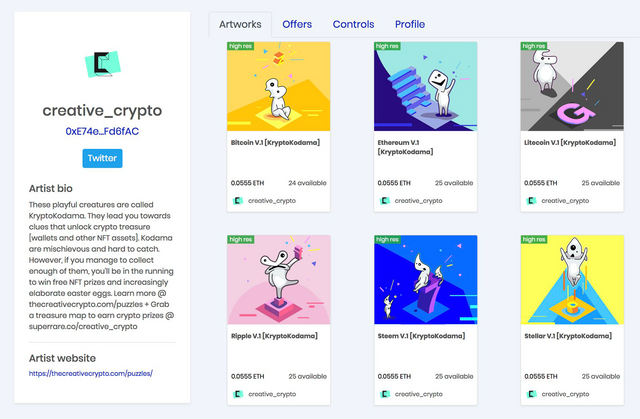 We believe that Steem should be more proactive in building bridges with other crypto-networks like Ethereum. There are so many super powers that this blockchain is capable of, and that other networks can learn from. CryptoPuzzles looks to reach across the aisle in an effort to raise awareness / educate collectors to the benefits of different kinds of blockchain ecosystems. For this project, we're very excited to have been whitelisted by two of the world's premier #cryptoart marketplaces - SuperRare and KnownOrigin. These teams are leaders of the #cryptoart conversation and we're thrilled that our Creative Crypto Magazine is there to be a part of it.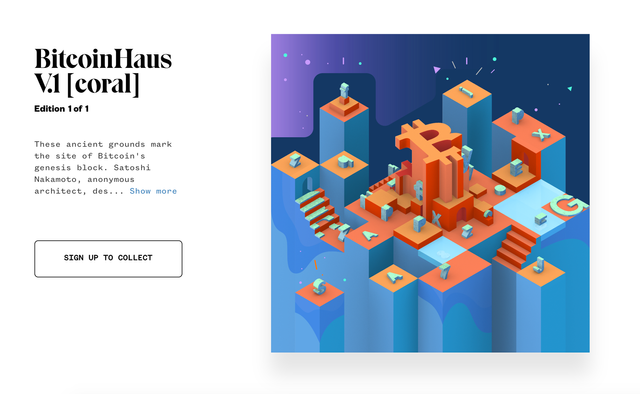 Looking Ahead...
CryptoPuzzles can take many shapes, sizes, and chains. As we gear up for 2019, we're not just going to render fun and futuristic crypto-architectural landscapes... We're going to build them. We hope you'll join in on this and future hunts!
Available Now
Purchase a Puzzle on SuperRare
---
Collect a KryptoKodama on KnownOrigin

👾 Discord | 🔗 Website
📄 Creative Crypto Magazine | 🐤 Twitter

🎨 Support Creatives ⚙ Curation Trail
⚡ 100 --- 250 --- 500 --- 1k --- 2k --- 5k --- 10k