Macarons - Testing Out Decorations.
When I first started making macarons, I was pumping them out at least two times a week. Not only was I practicing making the shells but I was testing out various techniques to figure out other ways of decorating the shells.
~~~~❄~~~~❄~~~~❄~~~~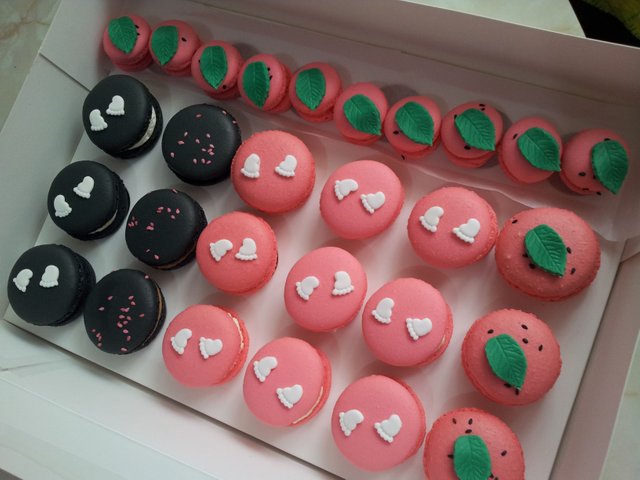 Here is a box of macarons with various decorations. At the time I loved the strawberry look I had created. Though some said it looked more like a watermelon.
Here I had made normal size and mini sized strawberry flavoured macarons. I had used black sesame seeds to decorate the shell prior to baking. On top I had pre-prepared a leaf shaped fondant that I had cut out and dried in a small concave dish. A little hard to tell from the photo but by drying the leaves like this, it created a nice curvy shape to the leaf.
The other exciting design here were the pink sesame seeds which I dyed and placed with the black coloured shelled macarons.

~~~~❄~~~~❄~~~~❄~~~~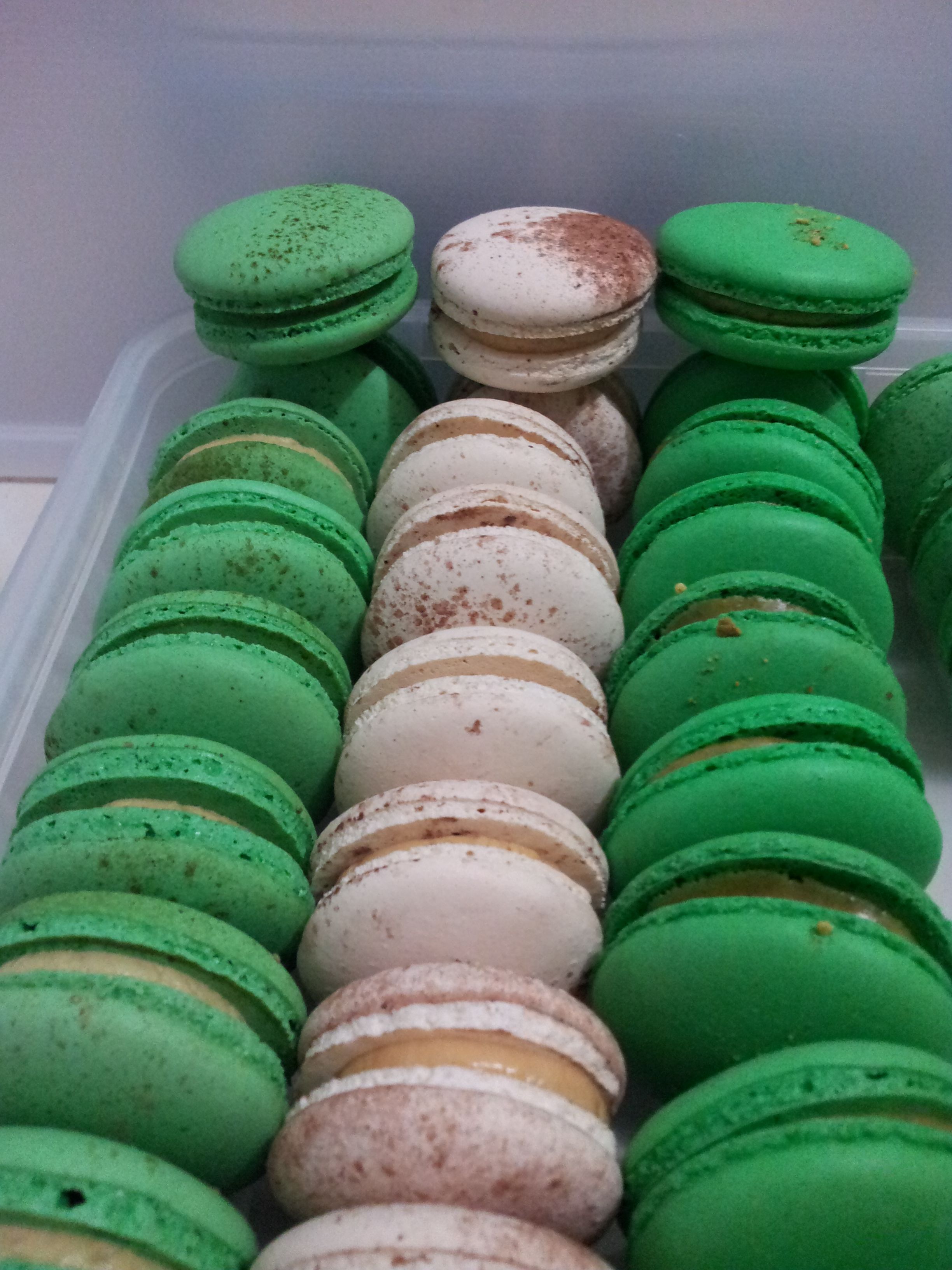 Here is a time when I made a crazy amount of macarons. I was making big tubs and tubs of them. My poor partner had to eat majority of it; though I don't think he mind considering how much he loved sweets. But I am pretty sure at some point he was over it since I was baking them like crazy. Many were given away as well.
Here I was practising and testing out flavours and decorations. The left was matcha green tea flavoured filling with matcha powder decoration. The middle was salted caramel flavoured filling with coco powder decoration. The right is pistachio flavoured filling with crushed pistachio decoration.
---
~~~~❄~~~~❄~~~~❄~~~~
I never made these powdered/nut decorations ever again. It is very messy with the powders when handing them. Even though I sprinkled these decorations onto the shell prior to baking them, some will still come off afterwards.
I also decided never to make pistachio filling ever again unless a client requests it. First of all, pistachio is expensive and it requires a hell of a lot of pistachio to make a really nice tasting filling. It also involves a bit of extra work getting the pistachio all blended down and smoothed out. Furthermore with crushed pistachio on top, it made it difficult to store the shells in matching pairs.
~~~~❄~~~~❄~~~~❄~~~~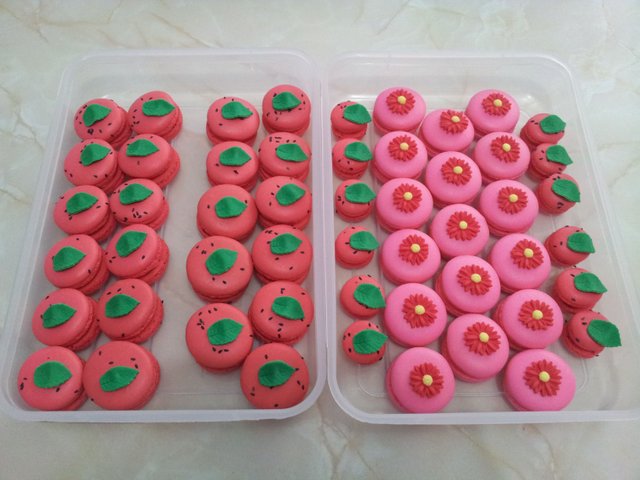 Here is another lot of macarons I had made in my early days with the strawberry look. Hummmm I guess they do look more like watermelon than strawberries lol. Anyways, the other decoration is a fondant flower for rose flavoured macarons.
~~~~❄~~~~❄~~~~❄~~~~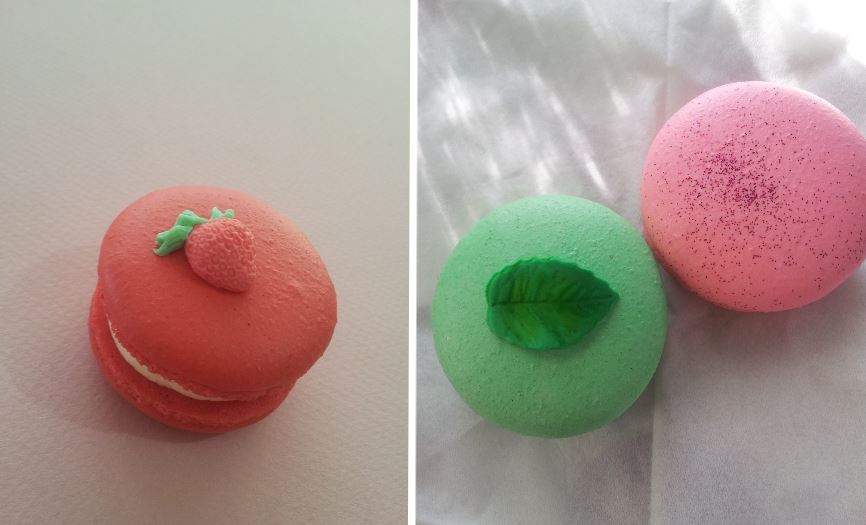 Well now I know what decoration to use for watermelon flavour. Because I ended up buying a new mould for strawberry decorations (left picture). Though I never ended up using it for an order. Only to show someone how to make them.
Also see the right image, I had purchased edible glitter and used it as a decoration. I know I said I would never use powder again, but this was glitter and I had to try it out. The glitter did come out during handling, but not as bad as the powdered decorations. Though the glitter was a little annoying when they did come off. So best to handle them last if you don't want them on other decorations.
Also I upgraded the leaf decoration a little by hand painting them with edible colouring. I had used hand painting for a previous design which turned out really good (I will write a post on it one day). So I thought I would try hand painting this leaf. Though I wasn't happy with the outcome here.
~~~~❄~~~~❄~~~~❄~~~~
Any how, these were all for practice to test out various decorations to figure out new designs and looks. It was actually really fun to do. Except macarons took a long time to make, that part wasn't as fun all the time. I don't even eat macarons.
~~~~❄~~~~❄~~~~❄~~~~
All images belong to @supersoju