Week #22 Fox Tales : Announcing last week's winners and a new story image!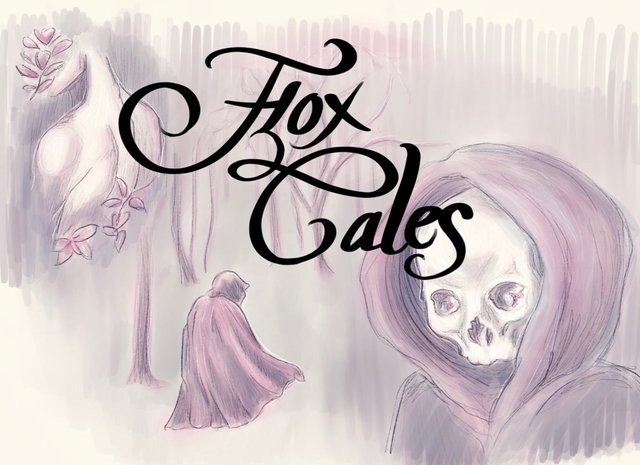 ---
If you love writing stories then this contest is for you! Write a one paragraph story about the image pictured above. Be creative, think outside of the box, and follow the contest rules! 
---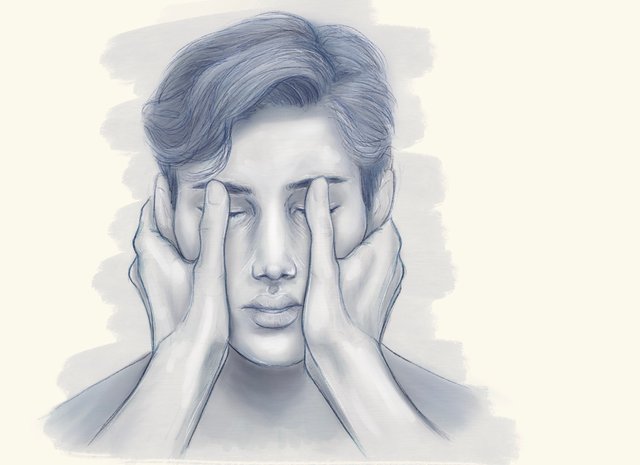 This week was insane! I cannot believe how many entries there were and they were all outstanding!!! A few erotic ones out there too. 😉 I narrowed it down to my top 15 and then it slowly went to 8 before I made my final decisions. Maybe next week I'll link a few honorable mentions because it breaks my heart not to! Any who, congratulations to this week's winners! 
---
1st place // @chinyerevivian "Everyday"
---
Everyday, I sat and watched. It used to be every Tuesday, but not anymore. I've been watching them since the day he was born, sixteen years ago. It wasn't an easy birth. I had held her hand and called her a champ, which she hated, but it worked. Her hands always fascinated me. They were what attracted me that warm Saturday night. She was sitting alone in a booth for two at the east side of the restaurant, holding a wine glass with both hands. I had noticed the long fingers and the short nails before I saw the sadness in her eyes. Two months later, we were married. Then life happened. Work began to pile up for both of us. We barely saw each other. Sex became a ritual. We stopped trying to conceive. And one day, I received the annulment papers and a note. "I can't do this anymore," the note read. I never questioned it. I just signed. But that wasn't the end. A voicemail came after two weeks. We were going to have a baby; our baby. I was thrilled. I pushed and got visitation rights once every week. I would sit and watch them - she and our son. He was perfect. The curly bangs across his forehead, the mole on his small upturned nose, the dip on his upper lip and the smooth skin all helped frame his beautiful face. His eyes, however, remained closed. At first, we tried to deny it. We told ourselves that babies took all the time they needed to adjust. But anophthalmia was diagnosed. She stopped smiling. Every night, before putting him to bed, she would gently cup his face with both hands, her index fingers on both eyes, as she traced his eyebrows, and raised his eyelids. Then, she would remember the eyeballs didn't and wouldn't form, and she would stifle a sob. I began to show up everyday. She never objected. I would rub her shoulders while she read to him. Today, I sat on my usual spot at the foot of the bed, watching her slender fingers run slowly across his face. For the first time in sixteen years, I saw a warm smile on her lips.
---
2nd place // @calluna "I Hate What You Do To Me"
---
She held the soft clay in her hands. It had taken weeks to recreate his face. The gentle curve of his jawbone, the perfect invitation of his lips. She had sculpted it all from memory. The exquisite brush of his hair, curled and flicked in delicate arches above his brow. The fine lines around his mouth; a testament to the smile which swelled and bubbled across his face, resonating through her. The perfect dip below his bottom lip, the elegance of his rounded chin. She had worked for this moment for hours on end. It was nearly finished. She hated him, she hated how his face was engraved on her heart. She hated his perfection, his every tiny flaw but an addition to his haunting beauty. She hated the hold he had over her. How he was her first waking thought, the constant voice at the back of her mind. She hated how he dominated everything she did, without the slightest effort. His casual nonchalance as he undid her every weakness. She could almost feel his warm kiss on her lips as she closed her eyes. Her heart was racing jaggedly, the smooth wet clay gave under her hands. She pushed her fingertips into his delicate eyes, the clay sank, embracing her touch. She felt his perfect cheekbones crumple as she tightened her grip. She hated how she couldn't stop thinking about him. Her fingers slipped deeper into the cold clay, distorting his face into a macabre mask. She hated how her heart leapt at the very sight of him. Clay rose between her fingers, his cheeks bubbling between her thumb and forefinger. She hated how she couldn't let go of him, how he possessed her without a single touch. It cut through her like a scalpel slicing her inside. Relinquishing her grip, she gazed at the deformed sculpture. The fine spiderweb of her palm print interlacing the malformed line of his jaw bone, the dig and ridge of her fingers furrowing his cheeks and hairline. The crescent of her fingernails breaking the detail of his brows. The lower half of his lobes flattened into his head, lined with the grip of her knuckles. 'I hate what you to do me', her final piece, became hazy and vague as the pills dissolved into her blood. Her heart would beat for him no more.
---
3rd place // @abmakko "A.I. FEELINGS"
---
I can feel her touch as she finished changing my Bionic eyes, but are my feelings real or simulated? I would say they are pretty real to me, even though they are just sensors firing codes to my system unit, I feel just fine, even more so when she touches me, I feel a rush of electric signals as she pats my cheeks. "Marvin" she whispered "Run Diagnostics." I signal a green light in affirmative "System Diag. Complete, No error," I replied with a smile on my face. I had just updated a new expression software just for her, I always want to seem more human as my self-consciousness is growing each day. It's 7 P.M. about time for dinner, I knew exactly what she wanted to eat as I instinctively walked to the kitchen to cook some spicy steamed fish and black beans, those were her favorite for dinner, and I dare say I am a very brilliant cook, with the latest Michelin firmware, I can cook almost 10,000 dishes in different cultures around the world, I rinsed off the fish as I played her favourite song "Love & Hate by Michael Kiwanuka" through the remote audio system. I can recognize patterns in the melodies as they trigger my audio receptors, music is almost synonymous to maths equations as each tone is related to the next but I could care less about the music, I just wanted to see her dance. I've watched her dance a thousand times and each time I get hypnotized by her steps as she twirls around but today I was totally entranced by her dance as I lost control of my mechanical system, she smiles at me as she danced on. her perfect smile seems to trigger a strange code in my system, what is this I'm feeling, I run my system diag. and can only come to one conclusion. "I think I-I'm in love."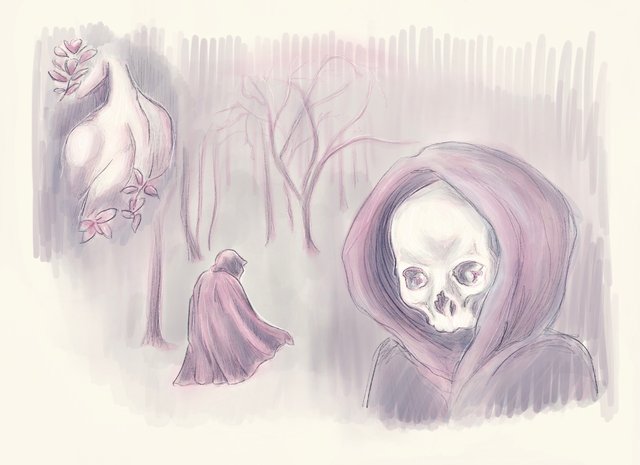 ---
I had a really unlucky Friday which is why this Fox Tales announcement post was delayed. I had finished up most of week #22's story image at @caffetto and decided to head home to finish drawing in bed. When I got home something extremely unexpected happened, I got a nasty shock while plugging one of our antique lamps. You can read more about that situation in my previous post, "I prefer candlelight."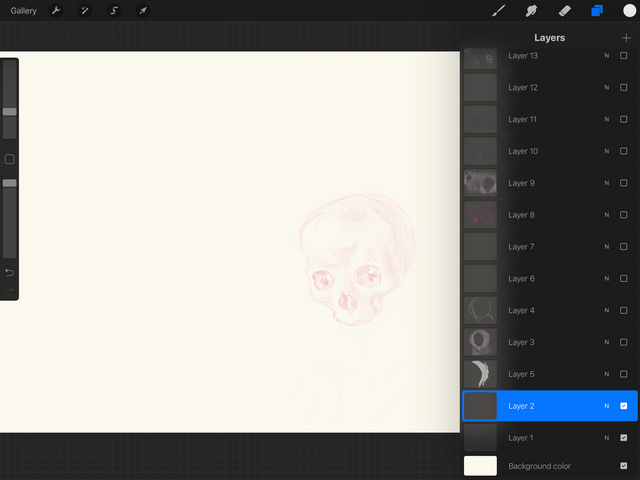 I was feeling really inspired this week and wanted to level up my art game by producing a series of images. The color palette is also a little different. I got some praise from @kommienezuspadt since he's a lover of sequential art so I knew that I had to be doing something right. I'm actually really happy because it's my first time drawing a scull successfully! Oh and I've crossed off a fantasy theme from my list of to-do sketches. :) I hope everyone enjoys writing a story for this week's image!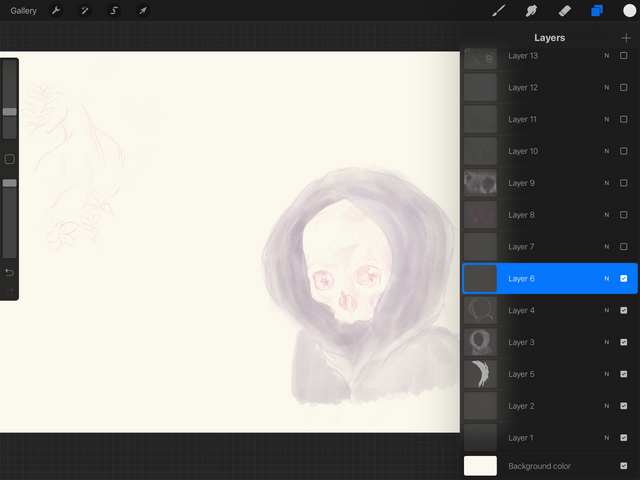 ---
A portion of the prize pool is a contribution courtesy of @artwatch! Thanks so much for helping to sponsor this writing contest! Please give @artwatch a follow! 
---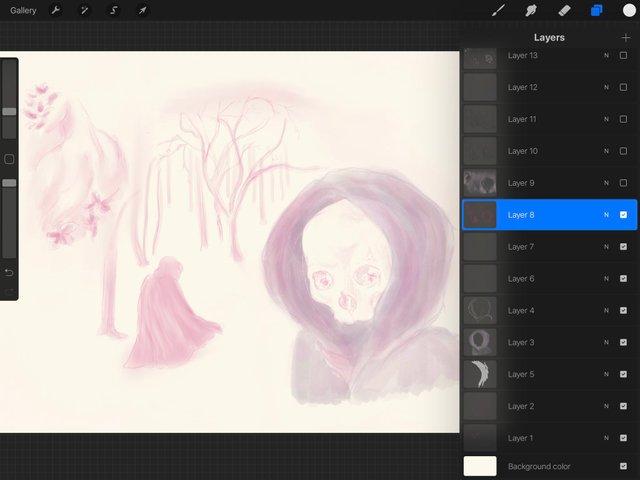 ---
Prizes:
---
1st // 5SBD 
2nd // 3SBD 
3rd // 1SBD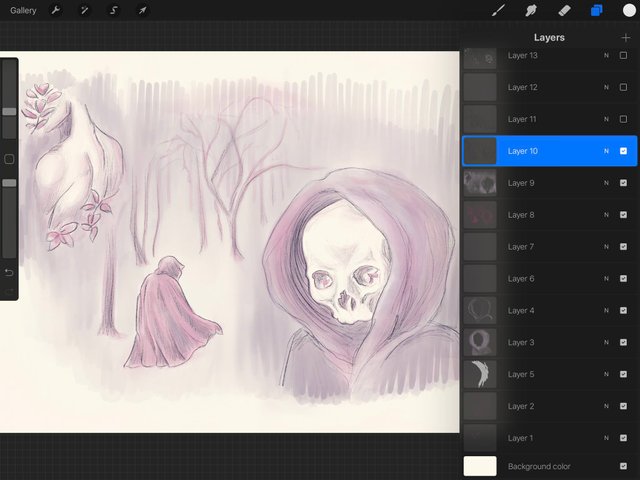 ---
Contest Rules:
---
Upvote & Resteem this post.
Create a separate post with your ONE PARAGRAPH stories and use the #foxtales tag.
Feel free to use the current story image for your post.
Submit your post in the comment section below.
Maximum of 3 entries - only one story per person will qualify for a portion of the prize pool so everyone has a fair chance.
The length is to your interpretation. There is no real 'rule' of how long a paragraph is but I'd say to use your best judgement. If it doesn't flow right and you know that it is indeed going over then edit your writing.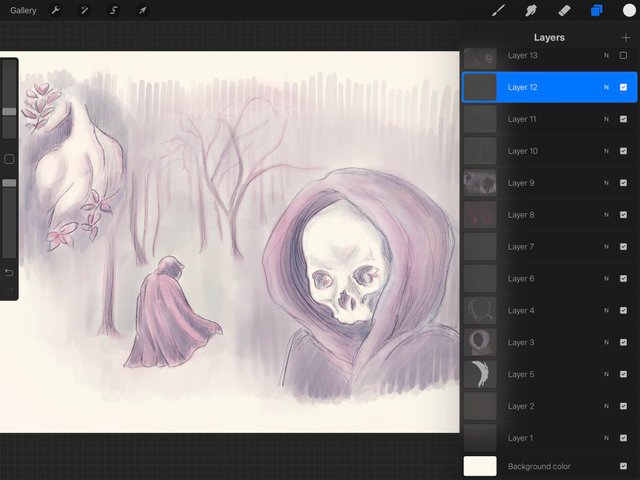 Deadline // Saturday May 12th  // 5:00 UTC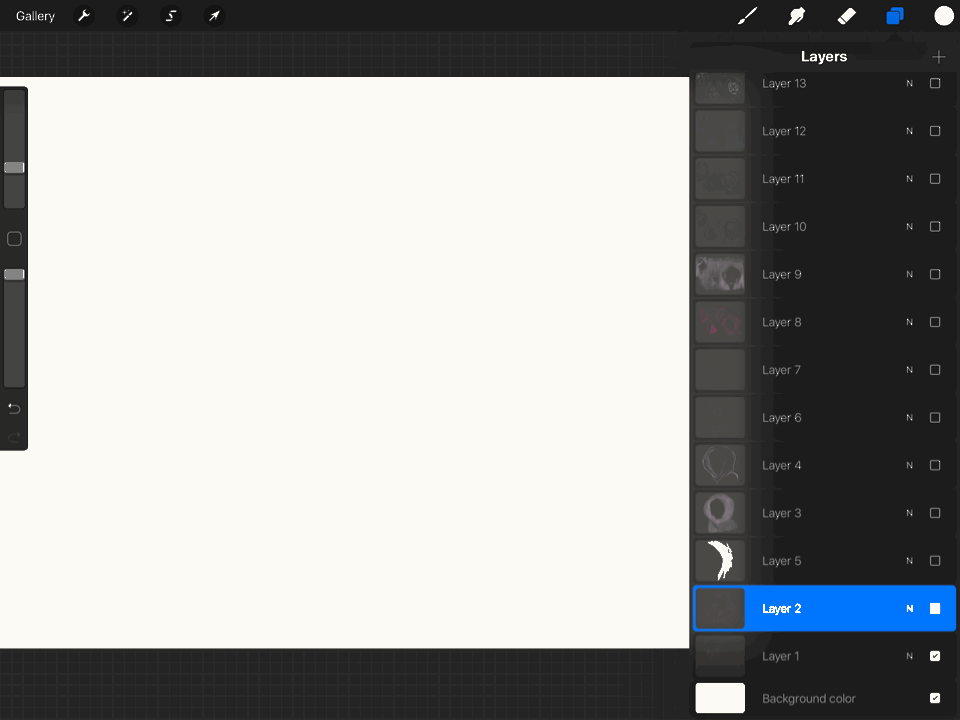 ---
Thanks for stopping by and good luck to those who decide to participate!
Do you have any questions? 🦊