Art Talk: Venus
This Art Talk post will highlight on of the paintings from the NGA Italian Renaissance Tour post from the beginning of the the month.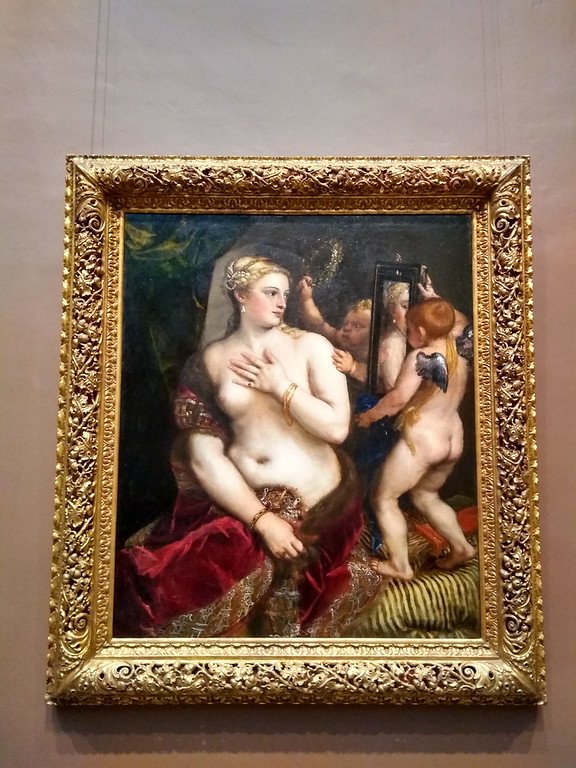 Titian
Venus With A Mirror, 1555

---

The Greek goodness of love, sex, beauty and fertility has inspired many artists through the ages. Here she is painted in exquisite detail by Titian, the chief Renaissance painter from Venice.
Titan was a master of the female nude like his contemporary Michelangelo was a master of the male nude. Here Venus reveals as much as she conceals. Titan is an expert colorist and we see it in the red cloth on her lap, her blond hair, the jewels and her ivory pale skin. To achieve the suppleness of her skin Titan used a technique called glazing. Using this method he would put a thin, oily layer of paint over the top of an opaque layer.
Titian painted this in 1555 and kept it in his possession till his death 1576. Some think that it was used as a model for other painters that came to visit him. A modern x-ray revealed that it was painted over a double portrait of a husband and wife.
While Venus is impeccable the cupid holding the mirror has some major issues. His left hand doesn't seem to be supporting the mirror and the left wing is placed too high. Regardless of some imperfections the detail is astounding.
Favorite part of this painting are the variety of textures. The way he manipulated the paint to create the fleshy skin, the metal rings, bracelets, and earrings, the cloth she is wrapped in and the edges of the cloth.
Venus with a Mirror by Titan is really amazing.

Sources
NGA Venus with a Mirror
Titian- Venus with a Mirror
TripImprover- Venus with a Mirror
Art Talk Series Highlights
2020
Art Talk: Recycled Plastic Art Movement
Art Talk: Gates of Paradise
Art Talk: NGA Italian Renaissance Tour
Art Talk: Raphael