Update on my collaboration in progress
I wanted to share an update on my collaboration with @Artimust (Kalyn Connelly).
We recently did another trade off of panels this past November while she made her way to her new place in CO! The next time we trade (hopefully the last trade off) will take a day and half drive to switch! I look forward to the adventure! :) We are so close to finishing! This time, she took the mermaid panel, while I took the owl panel back. It is such a trip to watch it evolve with each switch, when we put them side by side for a moment before taking 1 each again. The end product, the final piece is becoming clearer and clearer with each pass off. What a collaboration adventure this has been! I have never done a shared piece like this, usually painting side by side on one canvas at the same time, never alone in my studio, trading off panels.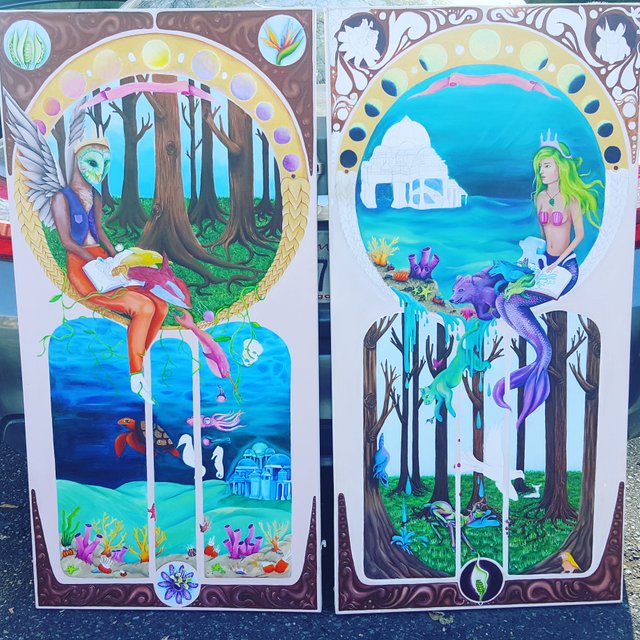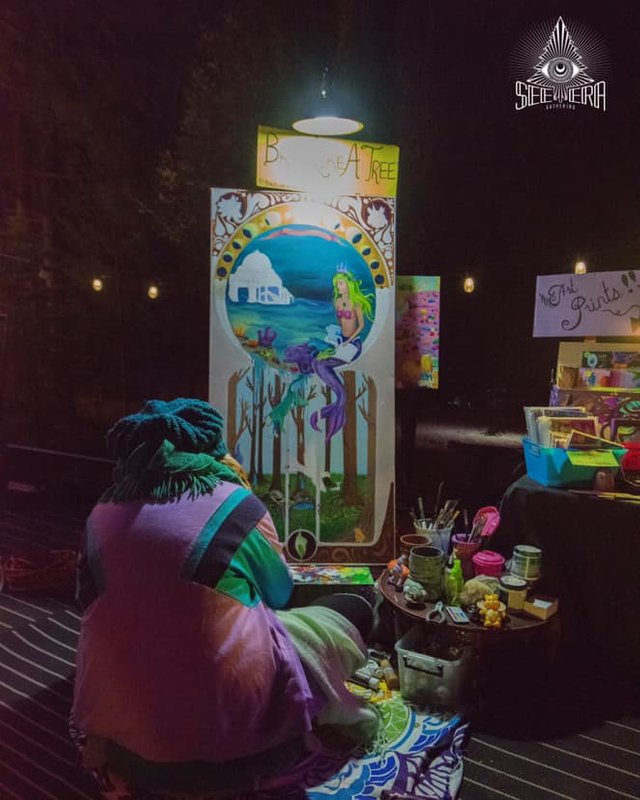 (the 2nd photo is snapped in 25 degrees during a festival this October! I could barely feel my fingers to hold a brush lol)
**the whole piece which consists of 2 canvas panels, 2ftx4ft. We based it off the Victorian era French style of Art Nouveau, Mucha being a favorite artist of mine since I was a kid.
Each Panel represents the feminine and masculine, respectively. We wanted to portray that the feminine and masculine are symbiotic and we need the other to co-exist. The society we live in today has trained us to live in fear of how we look, how we act, how we exist in this world, our class and stature, etc. Women have been taught to wear the chains of their gender, while men have been forced to wear a mask of manhood, both hiding their true feelings, emotions, thoughts and dreams.
The panels each show that we are not one or the other; we are an us, we, united. By representing that the feminine can bring forth the masculine, as the masculine can bring forth the feminine. The Mer-women hold a book that spills with masculine land creatures, while the Owl-male holds the feminine book of sealife; their portals spilling into the other, intertwined.
The banners in latin, tell of their breaking away from societal forms. The Masculine panel says, "removes larvae" (Remove the mask); the feminine panel "depone vincula" (take off the chains).