When We Bond with Chickens, We Make BFFs
During the build up to the big solar eclipse event of 2017, I was at home feeling the "fomo" as all my friends journeyed out to Oregon for the festival of a lifetime, being able to see the solar eclipse in full while listening to bands play music at the edge of a gorgeous lake and grass fields. Pretty epic! And I was missing it all...
We had just brought some new rescued chickens into our coop and it had upset the whole pecking order of things with the ladies. My lovely little chicken, Sweetie, was the bottom of the bottom tier and she was getting picked on so badly she wouldn't leave the coop nesting box she was so afraid. It was a major heat wave, and she was going to get dehydrated not drinking or eating anything the last couple days. I had been hand feeding her and holding the water bowl for her and then leaving her be, hoping she would figure it out.
Then a day came; I was feeling sad, and she was sad so I decided to spend some time with her and give her some love. I locked myself into the coop with her and we hung out for a few hours on end. I talked to her a little but mostly we were just silent and we just stared into each others eyes and had this absolutely beautiful moment in time where we were just being, together, as one.
That poor chicken, I could see why she was terrorized! The other ladies had it out for her, and it was like a horror movie sitting in there as they tried to get in. But I sweated it out, stayed and we bonded. I like to think I helped her through the transition; within a day she was back out with the rest, holding her own.
I felt the energy of the moment so profoundly and so strongly, I had to make a painting out of the moment to hold it in time and keep it forever.
(I am the chameleon btw ;) )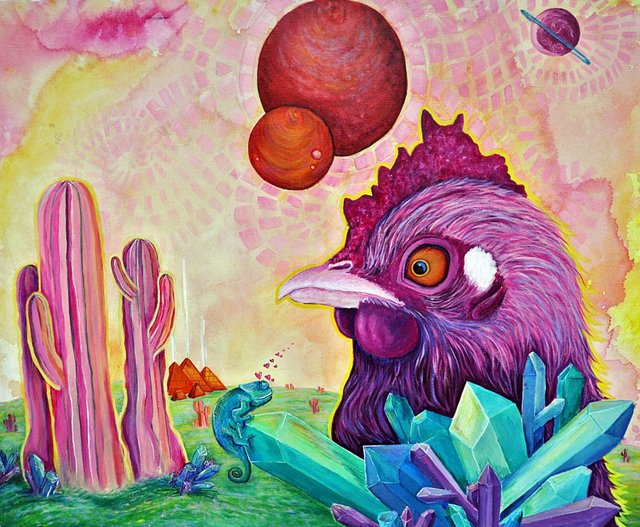 "Activated Chicken" 2017 20x24 Acrylic on Canvas
This painting is an original of my own imagination.