A new journey into Art [Clay Transmutation #1] (About uncluttering your life, to actually begin something worthwile)
Hello fellow Steemians this is Themat-OOG,
I want to try something new. A daily post of a blob of clay that I keep on shaping into new forms, always keeping this one blob as beginning material. This clay gets formed into different shapes through a process without needing to think about what I create. The creation process itself becomes the medium to create my genuine art. This should create very different and unique shapes, which will very likely surprise me and I hope you will find some joy along the ride.
First I have to begin with the story that leads up to me being able to begin something new. I personally can think and live 'happily' when I have enough space around me that is empty. For the love of my art, I keep a lot of different art pieces and rocks around my bedroom. Over these past months (a period of 1 till 2 years) even though I really love each and every piece I have, for example:
Raven skulls, Ganesha statues, wood works, artworks of different kinds, my own creations from school as a child and >many other's
My brain can't handle too much information. When somebody comes with a dense topic on which I need to concentrate to understand what that person is telling me, I look down at the floor, because I can't handle the shapes the face takes on, laden with emotion, thought and facial mimics. Math is too word and number dense, and thus needs a lot of concentration for me to begin to understand the functionings of it (as my experience over the years has shown).
Then another thing as to how I peculiarly function is when music comes crashing on me, in the sense of being overtly loud, which over time has decreased to even soft music, my brain begins to work less well. If I am for example angry, I listen to loud angry metal music which makes my anger just vanish, which leads to turning down the volume again, to keep up with the actual need of that moment.
So my senses quickly overload my brain with too much information. As of lately I usually listen to music in my car, when I am driving home from work and just let my craziness out, if I am pissed from the stress at work, this is what did it for me. I really enjoyed these outbursts, so don't get me wrong, but to again defy my logic, when I shut the music off, something else takes place, a sensation a feeling, a calm I can't really describe as of yet, but it seems more pleasant than my music, art and other things combined. I still have some art and will still listen to some music but much much less than I used to. This calm to upkeep it, in my personal space, which means the one my full senses can encompass, needs more emptyness to keep on getting more and more creative over the time as there is space for my brain to be creative.
There are countless examples in my life that bring further undeniable proof that I need clean, pure and empty environments, especially all house and daily living related items cleaned and put back where they belong, right when I use them, thus doing what I Need instead of what I Want.
This may be thus seen as a 'limitation' or as a way to become who I truly am, which defies logic and emotional values I thought I had (as for example my art collection, which I keep on hiding more and more from my view)
Thus as a conclusion, for how I myself function, visual information, worded information, emotional information, don't mix well in my brain. They don't work together in harmony. The simpler my surroundings get, the more I personally will be able to truly flourish further in my own uniqueness, that I then may share with you, fellow humans.
So what is the first result of my clay works, you may ask?
Here goes: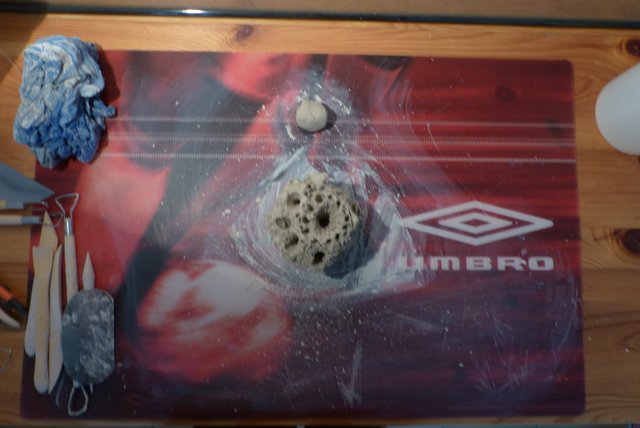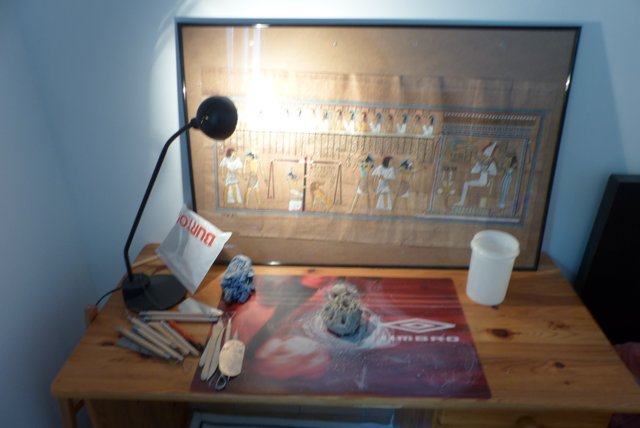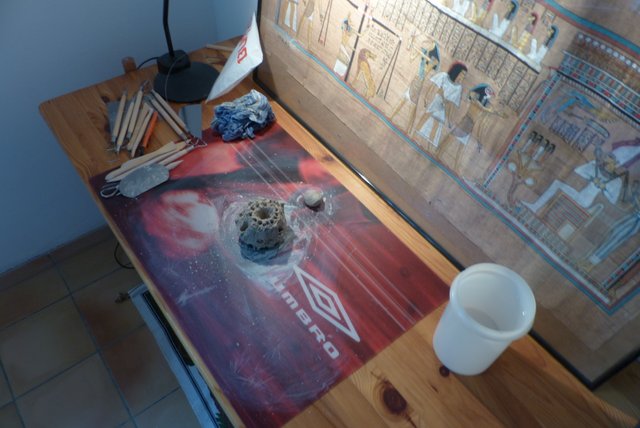 On the left side of this desk, you see all my tools, that I may use during the creation of this first piece. You also see the light that's lit to allow me to work better. There's also a rag to clean up the underground or my hands, for example to form the eye shape as it does get quite messy.
In the middle is the playground, where the underground as well as the clay itself are my means of conveying my momentary creation.
On the right is some free space, as you may know by now is important for me and the water to work with the clay, which concludes the tour of my work space.
All the dots are crumbles I removed from my hands, to make it overall more dirty. Something as clean art ain't my thing so far.
I also notice the first two pictures are a bit shaky, but worry not, after these posts I'll use the tripod for better picture quality. I don't try to make perfect art, so I'll leave the shakiness in here for this post.
In the background of my workspace is an egyptian papyrus scroll which I particularly like slightly less than another one I have. I can also show the other scroll one of these days if that interests you.
---
---
---

---
---
I can't wait to meet YOU and get together with all of you beautiful humans on here. Feel free to contact me if you have any questions or just want to have a small discussion. I'll try to help at the best of my ability. To do so, join me on me on discord, to be able to communicate more freely:
---
Your's Truly: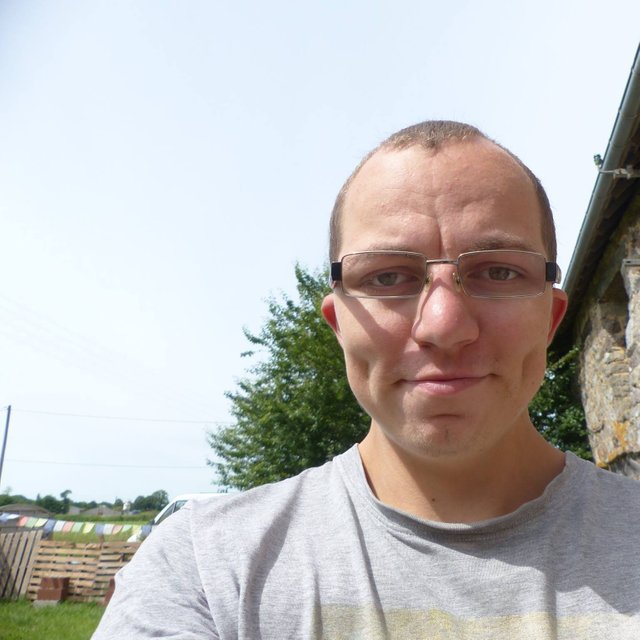 ---
---
When you are interested in joining the cryptocurrency market and looking to buy and sell digital currencies and don't know where to initiate your first trade. We both get 10 $ (8 ‎€) in bitcoin when you buy $100 (€75) worth of digital currency: