My art #3 : Cow on the move (Free flowing original Artwork) Any comments? Any Improvements?
Hello Steemians this is Themat-OOG,
Here is another of my oil crayon artworks. This one is another free flowing artwork, made without prior knowledge of what my hands would draw. It unfolded before my eyes and slowly became this beauty. I really love this kind of drawing and they become unique every time so far, so there is something in there for me.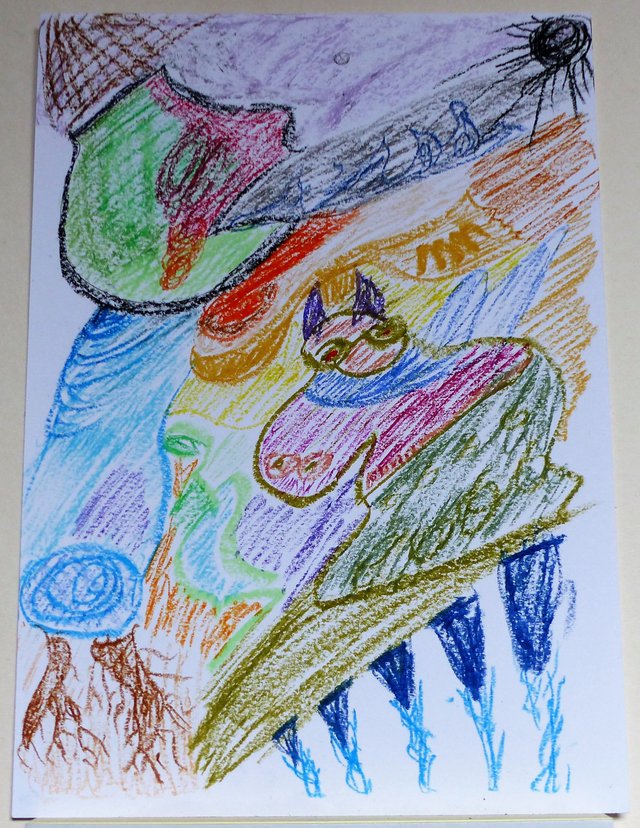 I hope you can find some enjoyment in this art. Something to dream about. To disappear within or just find some solace.
Even better if you pick up a pen and start drawing on your own.
Always feel free to show me drawings you have made, that were inspired by this or any other drawing in the comments.
Please feel free to tell me what you think of this art piece. Any improvements or just that you love it.
If you know other artists like me, please link them in your comments. If you are an artist yourself, drop a word.
Have a go and get crazy on the white of paper.

---
---
I can't wait to meet YOU and get together with all of you beautiful humans on here. Feel free to contact me if you have any questions or just want to have a small discussion. I'll try to help at my best ability.
---
---
Personal Website
---