ATOMIC WALLET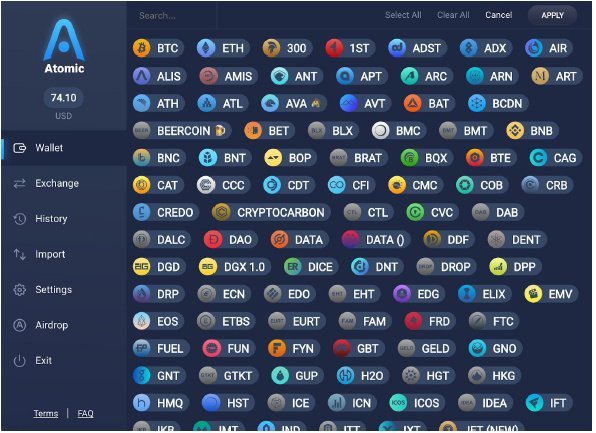 OVERVIEW
Cryptocurrencies as well all know is gradually innovating our financial sector today, with the invent of Bitcoin in 2009. Bitcoin is one of the most popular cryptocurrencies in the world, and is gradually being accepted by various individuals, businesses, firms, along side others. Cryptocurrency exchanges are online platforms where one can exchange one cryptocurrency for another cryptocurrency or sometimes for Fiat currency. Centralized exchanges are online cryptocurrency platform that makes use of a third party or middle man to execute transactions no matter the asset that may be in place. Centralized exchanges also come with high transaction charges, poor security and poor support services This centralization feature has created severe obstacles for the development of Blockchain-based markets.
Atomic wallet platform believes the main soluiton to the aforementioned problems is creating a decentralized platform for these digital assets. Atomic wallet platform provides custody-free, transparent, immutable cryptocurrency trading.
WHY ATOMIC WALLET?
Atomic wallet is a decentralized multi-currency platform that provides a powerful, in-demand service that allows users to reduce effort spent on managing crypto assets and makes it transparent and reliable. Atomic wallet platform is not just a wallet but also has a cross-chai Atomic swap exchange and a decentralized order book.
KEY FEATURES OF ATOMIC WALLET
ASSET MANAGEMENT: Atomic Wallet provides a powerful, in-demand service that allows users to reduce effort spent on managing crypto assets and makes it transparent and reliable. The asset management wallet functionality is built on the Simplified Payment Verification technology (SPV), which makes it possible for users to perform tasks such as;
Receive crypto assets to the generated wallet.
Import assets to the wallet using private keys of various formats.
Store private keys in a securely encrypted environment.
Send assets to other addresses.
Select cryptocurrency node to use.
Select blockchain explorer to use.
ATOMIC SDK
Atomic SDK will support following functions:
Create order and deploy it to the DOB.
Confirm order execution.
Receive order execution status.
Get list of available orders from the orderbook.

ATOMIC SWAPS: The Atomic Swaps is a cross-chain exchange feature that makes it possible for users to exchange cryptocurrencies between each other without third-party interference.
DISTRIBUTED ORDERBOOK (DOB): Order book is an electronic list of buy-and-sell orders of specific security or financial instruments, organized by price level. Atomic distrivuted order book (DOB) is based on a BitTorrent protocol. BitTorrent is one of the most common communication protocols for peer-to-peer file sharing ("P2P") and can transferring of large files, such as digital video files containing TV shows or video clips or digital audio files containing songs.
TRADES HISTORY BLOCKCHAIN STORAGE: The Atomic wallet platform is designed to use a custom-built Byzantine consensus algorithm that keeps DOB historical data safe without needing to mine blocks. This feature also makes it near impossible for a bad actor to add incorrect data or change the history in Atomic Wallet Blockchain.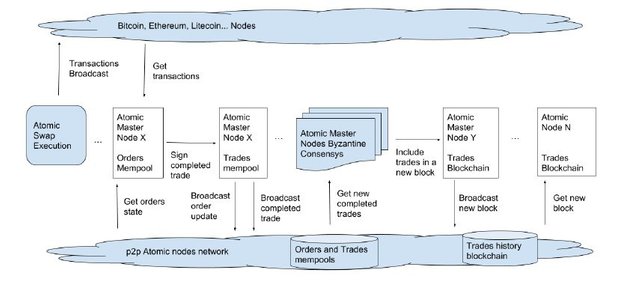 ADDITIONAL FEATURES
SHAPESHIFT: The Atomic wallet community voted shapeshift as a default option for instant exchanges. ShapeShift is the fastest and most convenient way to swap digital currencies, with the exchange rate always remaining competitive.
CHANGELLY: Changelly is a popular cryptocurrency exchange that has been in operation since 2015 with over 1.5 million registered users . Changelly acts as a mediator between trading cryptocurrency platform and users providing over 90 altcoins at the best market rates for a seamless exchange.
FIAT OPTIONS : Atomic will not process fiat operations himself following "do not touch fiat" policy. Fiat options to be provided to the customers in cooperation with partner services.
ATOMIC WALLET DOWNLOADS
Atomic Wallet is available for all major Operating Systems. Click to Start downloading.
WINDOWS: https://download.atomicwallet.io/atomicwallet.exe
MAC: https://download.atomicwallet.io/atomicwallet.dmg
UBUNTU: https://download.atomicwallet.io/atomicwallet.AppImage
DEBIAN: https://download.atomicwallet.io/atomicwallet.deb
FEDORA: https://download.atomicwallet.io/atomicwallet.rpm
MOBILE DEVICES (IOS and Android): Coming Soon
WEB: Coming Soon
BROWSER PLUGIN: Coming Soon
ATOMIC TOKEN
Atomic wallet will issue its own token known as the Atomic wallet Coin (AWC). AWC will run on smart contracts based on the Ethereum blockchain with ERC20.
TOKEN DETAILS
Symbol: AWC
Type: ERC20 Token
Full name: Atomic Wallet Coin
Decimals: 8
Total supply: 100,000,000 AWC
Contract Address: 0xad22f63404f7305e4713ccbd4f296f34770513f4
For more information click here: https://etherscan.io/token/0xad22f63404f7305e4713ccbd4f296f34770513f4#readContract
TOKEN ALLOCATION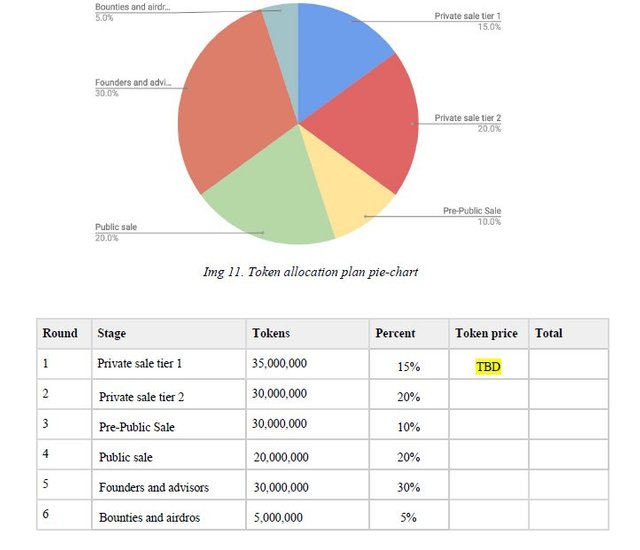 CONCLUSION
Conclusively, Atomic wallet is a Multi-asset Wallet with cross-chain Atomic Swap exchange and decentralized orderbook that supports so many crypto coins and tokens such as; BTC, ETH, DCR, LTC and 200+ ERC20 tokens., as well managing user's crypto porfolio in a single smooth interface.
Fore more information and participation visit
Website: https://atomicwallet.io/
White Paper: https://atomicwallet.io/
Telegram: https://t.me/atomicwalletchat
Twitter: https://twitter.com/atomicwallet
Facebook: https://www.facebook.com/atomicwallet
Reddit: https://www.reddit.com/r/atomicwallet/
Medium: https://medium.com/@atomicwallet
Author :
Bitcointalk Name : nguyenthachthuat
Bitcointalk Profile : https://bitcointalk.org/index.php?action=profile;u=2247112
Eth Address: 0xB7302ca67C625f65817Fb643ADFF26B1E73d22D7