Doctors, doctors and more doctors!!!
I honestly feel like the last few weeks have just been one long appointment. If we haven't been in a waiting room, prepping for a doctors visit or actually in an appointment we have been madly booking more appointments.
It seems to be a never ending cycle at the moment. As all three boys are due for their six month general check and with new disorders being flagged and needing investigation, it has been crazy to say the least.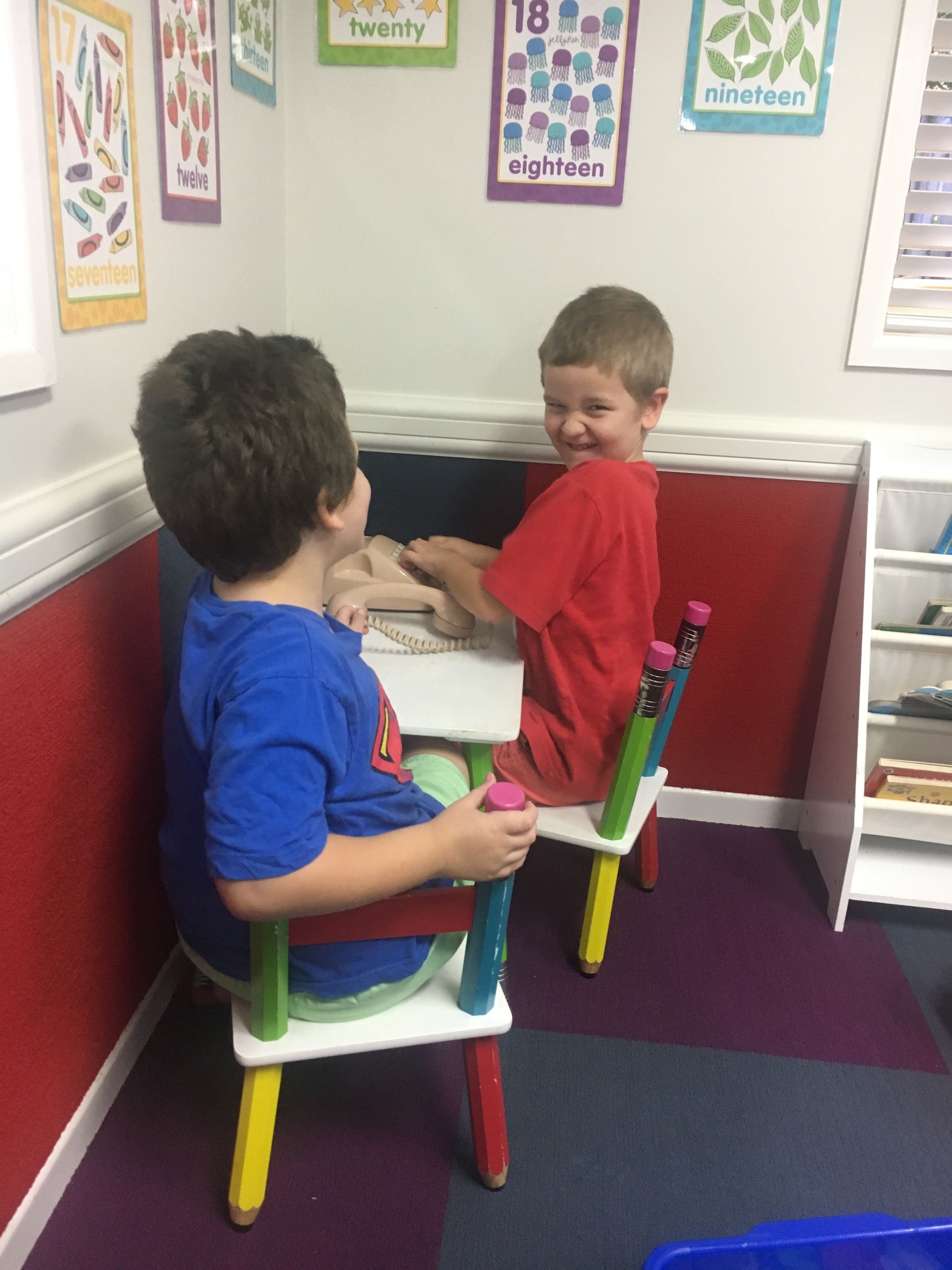 Today was possibly the most annoying kind of appointment we have to attend. It was simply to get a referral. As I have discovered, referrals only last for 12 months with specialists, their for we then have to go back to our GP to get a new one every time they expire.
What is so frustrating about these appointments is how lengthy and time consuming they have become. It just seems to add an extra level of stress as I have to take the boys with me or you can't get the referral, however to be honest, they don't really need to be there.
It basically involves me giving our GP a general run down of everything that has happened and why we still need the referral. That fact that Autism is not curable should be a clear indication that ongoing treatment is going to be required. But apparently not.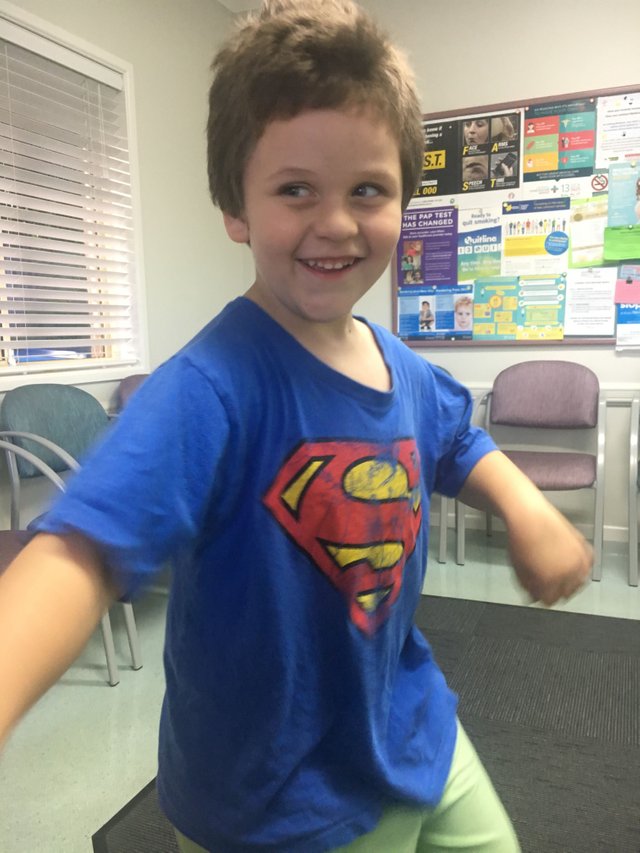 So in the lead up to today's appointment, I, like every other appointment they have to attend, started to get the boys ready and prepared. Any doctors visit is stressful for them and today was going to be a little bit more difficult as we were unable to get into see our regular GP. So they had to meet a new person.
Master 5 has been having an extremely difficult time at the moment so I was really not looking forward to his reaction. I started with my casual mention this morning that we would be going to the doctors, Master 5 got all excited for a moment as he thought I meant we were going to see his therapist with the animals, when I explained that we were going to see someone different, he had meltdown number one for the day.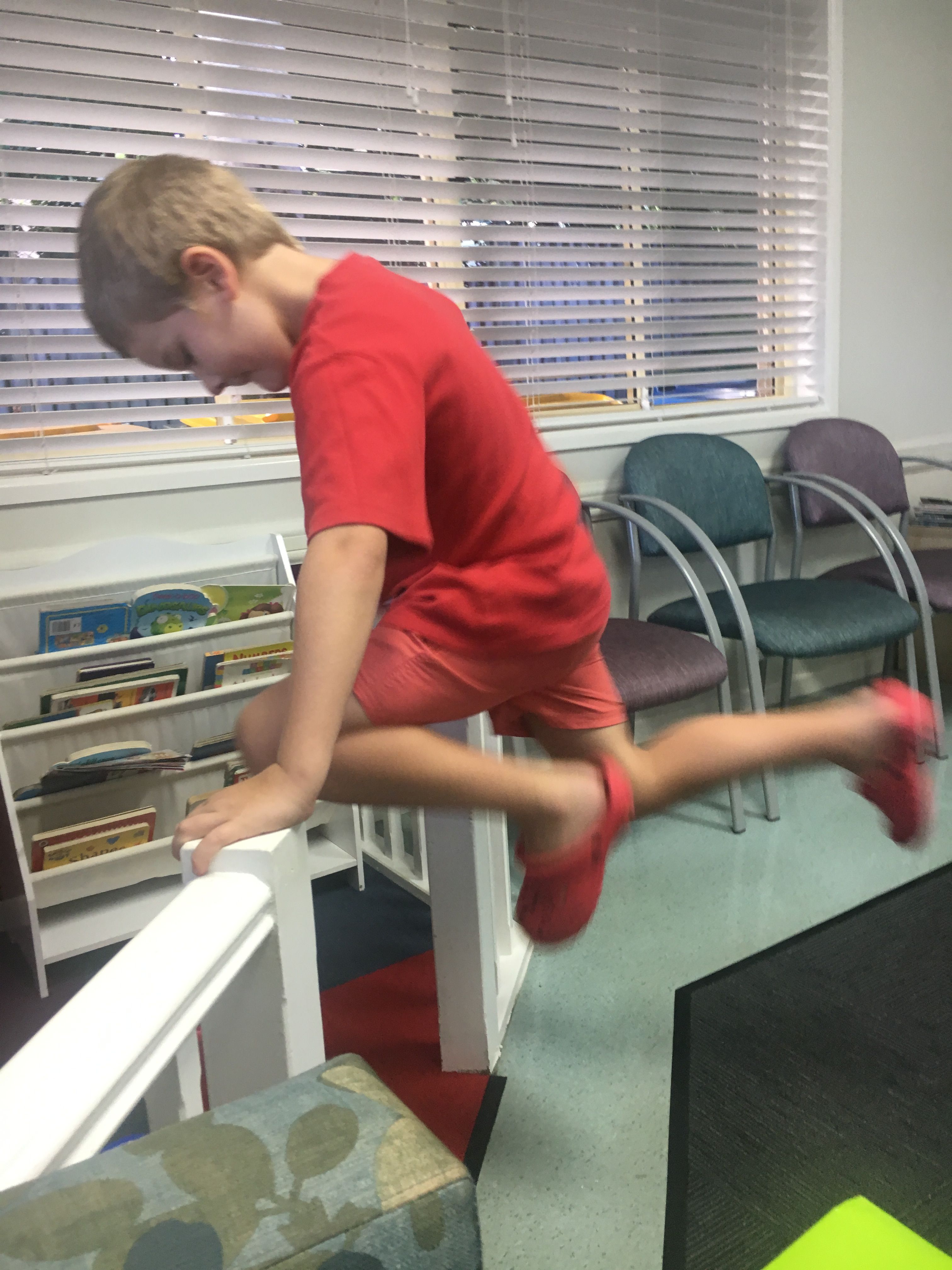 I constantly reminded them through the day, and then added a bonus incentive of chocolate milk for afternoon tea if they were really well behaved. This of course does not work at all, but I'm hoping one day it will pay off.
The time eventually arrived and I got them dressed and in the car, Master 7 didn't seem to care all that much however Master 5 became more and more anxious as we made the drive to the surgery.
Once their I was very happy to see an almost empty waiting room, my boys do try but being quiet and still is not a skill that they have managed to master yet. I also assumed that we wouldn't have to wait long, the longer the wait the more hyped up they seem to get.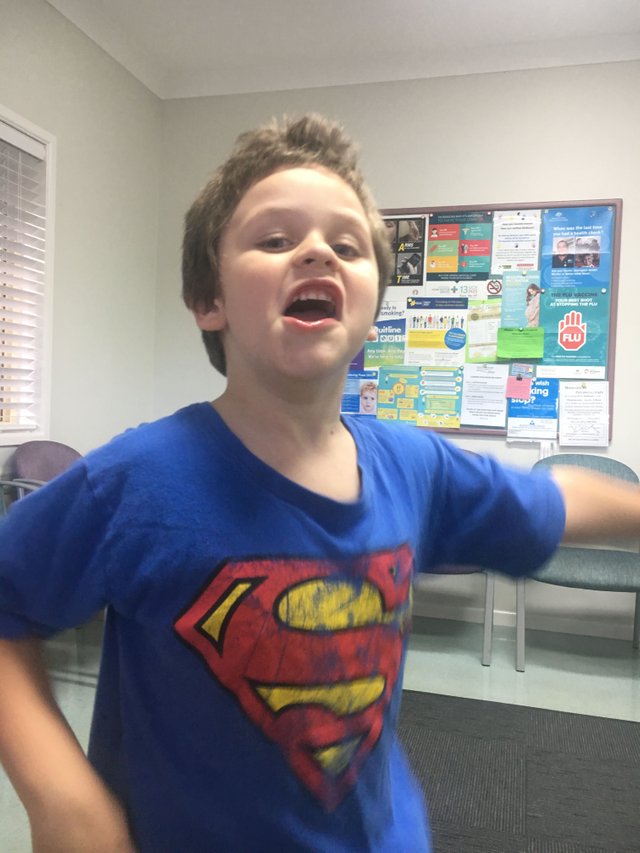 Unfortunately I was wrong, our doctor was running behind and the wait was nearly 45 minutes. The boys played in the kids zone and danced around like lunatics, but all things considered they were actually pretty quiet.
Once in the doctors office, things became a little more interesting, because it was more a discussion between myself and the doctor, the boys began to get distracted very quickly, with nothing to keep them occupied they began the usual routine of rolling on the floor and touched every surface of that room.
Despite my constant requests for them to sit still (even though I know they can't) and my continued effort to get them to stop touching and moving every object, including medical supplies and paperwork, they continued to carry on as they usually do. The constant jumping up to stop them and the interruptions every few seconds caused me to forget what I was saying and we would have to start again.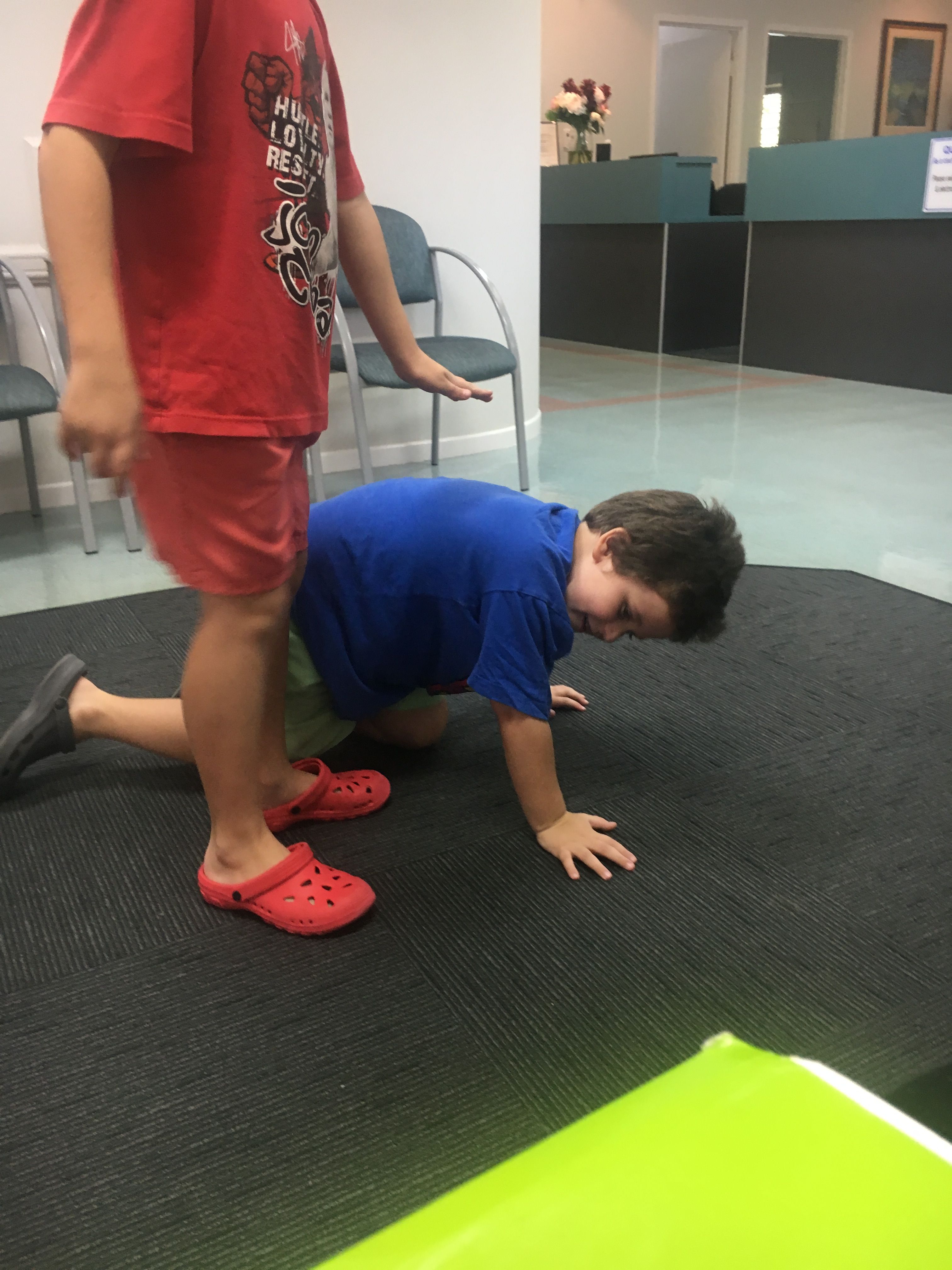 I give this new doctor credit though, she handled it really well, some others have not been nearly as understanding or patient with their behaviour, despite the fact that they know about their autism. She was very patient and even with all the interruptions, we managed to get through the million questions needed in order to get a referral to a doctor that he boys have been seeing for years now.
Once the appointment was over it was back to the waiting room to wait for the paperwork to be complete. Again I was great full that not many people were waiting. The whole appointment took an hour and a half and I was very impressed that neither of the boys had a meltdown or caused to much trouble.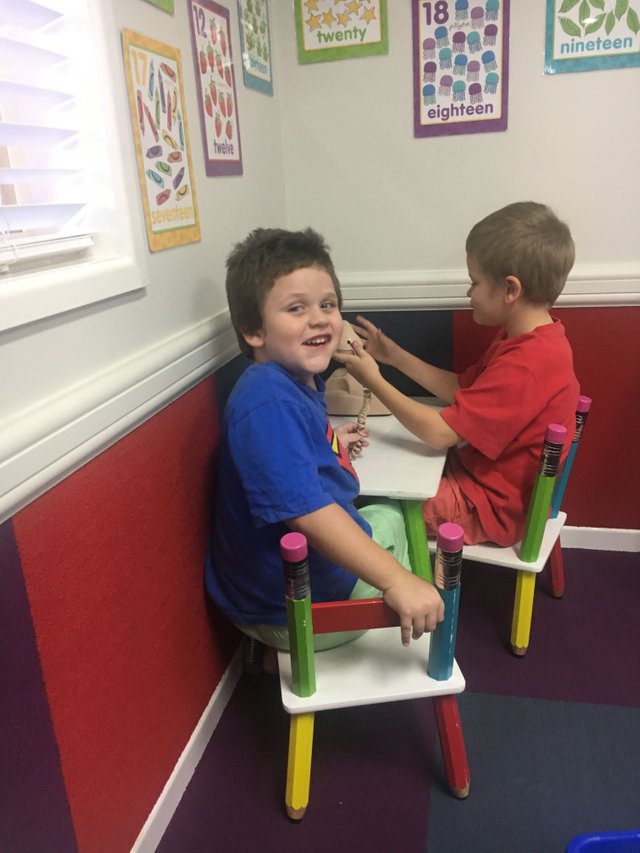 This constant stream of appointments has become so overwhelming for both of them and myself. While I understand that their needs to be a paperwork and checkups etc, it honestly takes a lot out of you. If only some of these appointments could be handled with only me in attendance.
If it's just a formality, which today was, why does the child in question have to be there. It is the same for all the upcoming meetings and information gathering that I need to do for their application for the new disability program. It is all just red tape and they get nothing out of these appointments, yet they have to be there, it just seems like an awful lot of stress for nothing.
I think the system needs to be changed, as the parent I am the one who makes all their medical decisions for them, unless it is an actual physical check up or a therapy session, I think that children, especially really young disabled children should be excused from the appointment.
Thanks for reading.