Confessions Of A Suzuki Hoarder: Completing My Collection
Hi Everyone.
I know it's been a while since My last post, but I had to share this with you all.

So, this finally happened.

I completed my Suzuki Collection!

Meet Monty; a Suzuki X90, who happens to be one of the rarest vehicles in the USA.
Suzuki are a Japanese's automobile manufacturer who imported their vehicles in to the USA throughout the 80 and 90's. They are still making vehicles today, but alas not for the US market, but this just makes my Suzuki collection worth more; as every year there are fewer on the roads. These X90's are so rare it took me over a year to find one to buy, and I ended up getting a 2wd that I will convert in to a 4X4, as the 4wd versions are now so pricey.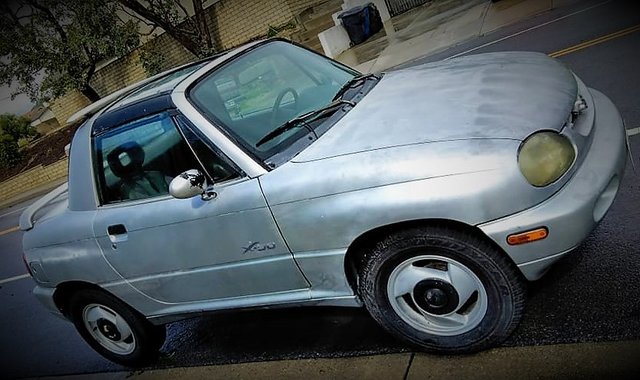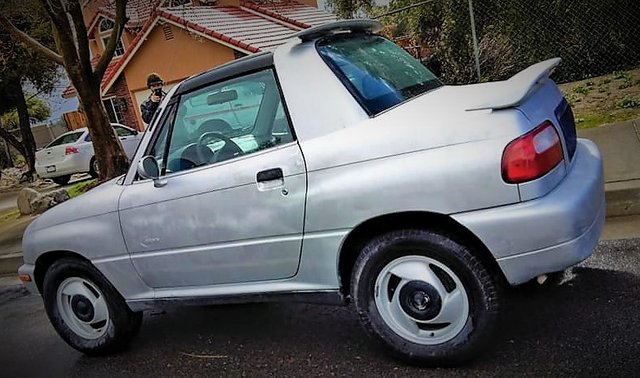 Yes, I am a female who is addicted to Suzuki's small SUV's. I already own a TinTop Samurai: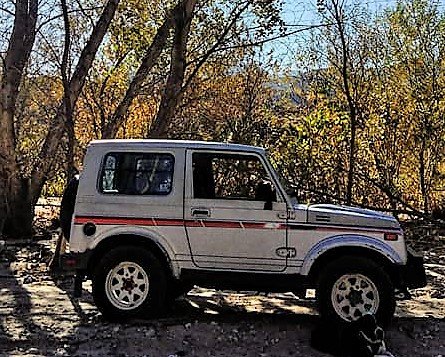 Norman.
And a 4 door Sidekick: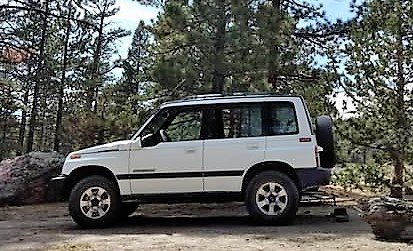 Sydney.
So, this X90 completes my set! I wanted an X90 from the moment I saw one…." What is that"? I asked myself on looking at a Suzuki 2-seater sports car. But no…It's so much more that that! These came in 2wd or 4wd (yes, 4X4) and have removable T-Tops, changing it to a convertible.
Some of you may recall these little guys were used as the Red Bull Promotion Vehicles back in the 90's. Can't remember just yet, how about when I tell you there was a giant Red Bull can stuck to the top of them?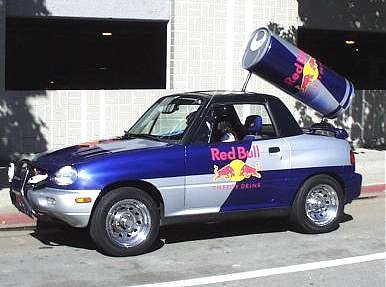 Image source
Yes, these are the cars they used for that. Most have been reported as scraped now, and there were only 7,205 X-90s were imported into the US. More than half in the US were sold in 1996, with sales of 2,087 the next year and 477 in 1998.
Here is a little history on the X90 and some manufacturer information and reported performance rates. For those who are interested in learning more about these vehicles please click on the link to be redirected:
The X-90 is based on the two-door Sidekick platform, which gives it a higher seating position than that in a conventional passenger car (especially a sports car), a 6.5-inch ground clearance for moderate off-road potential, and, on 4x4 models, a part-time four-wheel-drive system with high and low ranges for tackling a variety of adverse-weather and off-pavement situations. The X-90 also shares the Sidekick's 1.6-liter 16-valve SOHC four-cylinder engine, which doles out 95 horsepower and 98 pound-feet of torque; not overwhelming numbers, but sufficient for light-duty demands. We expect its 0-60-mph times to be similar to those of the Sidekick-about 13 seconds.
In almost every other area, the X-90 veers off from its Sidekick roots in a more car like direction. In place of the enclosed cargo area common to sport/utility vehicles, the X-90's cabin is closed off behind the front seats, leaving an 8.4-cubic-foot trunk to handle the cargo duties. Instead of the Sidekick's soft top, the X-90 uses glass T-top panels to provide the open-air experience. The lightweight panels easily pop in and out with the simple throw of a lever.
I almost brought one of these from Reno around the start of 2018, but after going about 50 miles up the freeway to collect it @CSUSBgeochem1 had to pull over and call AAA for a tow home. As my Sidekick had blown its head. So, the money I would have used to purchase the X90, was spent buying a new head for that vehicle.
Disappointment doesn't explain how I felt.
And then my Dad passed away. After that I stopped looking for an X90; what was the point, I'd never find one that cheap again. And, well in all honesty when you lose the person who has always meant the most to you.... You stop caring about…well everything; Nothing seems really that important, you just feel lost. Broken and knowing that even when you do find the strength to put yourself back together...the cracks wont heal. They will always be there to remind you of your loss. It doesn't get better with time. It doesn't get easier....you just get better at hiding it. Fake it till you make it: maybe. But then I guess you just get on with life, you still need to go to work so you can pay the rent etc. And then you find happiness in other things. The Sadness doesn't leave, but your life starts to grow around it, and you can start to find joy again in things.
Fast forward about 6 months and I brought my first Pop Up Tent Trailer: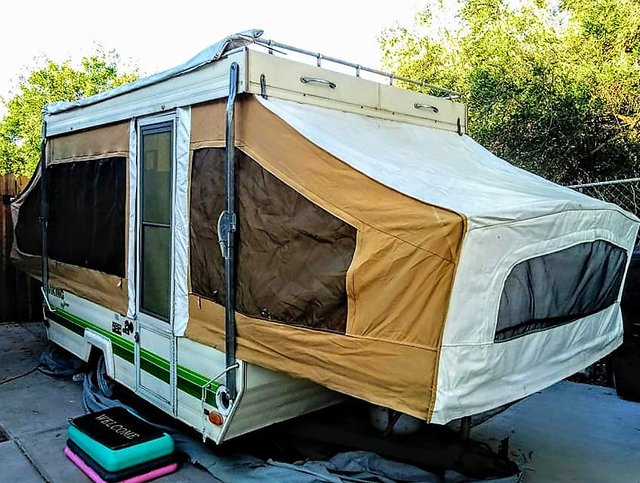 Little Al.
Named after my Dad: Alan. He had always said he wanted a Viking funeral, and although I was unable to give him that wish, I named my Viking after him.
So now we can go camping further away and still be comfortable rain or shine!
As we got it more sorted and started to test it out by camping on the drive. We started planning our first journey with the trailer, @CSUSBgeochem1 explained what we'd need to upgrade on the suspension (on My Sidekick) for it to tow the trailer. He also explained that the upgraded suspension would make the ride harder/stiffer when not towing. I had hoped my TinTop would be my tow vehicle, but the Sidekick is the better equipped vehicle and has a higher load capacity.
But Syd is my daily drive, so a comfortable ride is required, especially as my work place car park has huge concrete speed bumps. The X90 popped back in to my head. I'd almost brought one instead of the Sidekick, but having only 2 seats in the X90 meant it wasn't practical for me; as I need a car I can take my dogs out in as well as pack up to go camping etc. So, a 4 door Sidekick made a lot more sense then.
As for now: Well if the Sidekick is our tow vehicle and the weekend runaround/travel/family car. The Samurai is the Classic and backup vehicle. An X90 would be perfect for my daily commute car! Then I'm not using my work car for weekends, hopefully eliminating the issue of something breaking while out on a trail at the weekend and needing to get a lift to work on Monday. This happened recently when my spring popped out while going up a trail, and the shock broke from the weight now on it: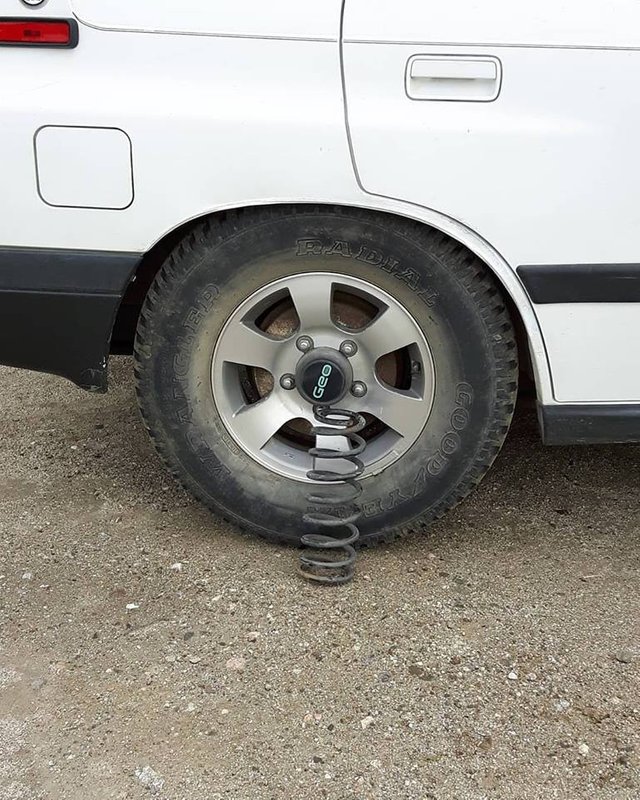 Photo by @CSUSBgeochem1
I started to casually look for an X90 again, but I noticed in the last 18 months the prices had increased.
As I wasn't in a hurry to buy one, I figured I'd just hold out for a good X90 for a low price. Even if it meant traveling to get it again, or fixing issues on it if it was cheap enough (My philosophy on buying second hand cars is: 'You're buying someone else's problem.' Which could be big or small). After a couple of months looking around anything 'good' was around $3500 -$10,000.
In CA I could only find 4 sales. 3 ads for 4wd versions one for $3500 and the other 2 for over $4000. Only on closer inspection of the interior photo, I noticed the black X90 was a 2wd, not the 4wd the seller stated. It didn't have the 4x4 gear lever! And the only other was a silver 2wd I'd inquired about last year. But the owner wouldn't go down to a $1000 even though he stated it had a power drop issue, bad paint, bad clutch and a weird spoiler attached to the roof. It was also out of date on its Registration etc etc.
I'll keep looking……...
What I wasn't aware of was @CSUSBgeochem1 was also looking on my behalf; as he knew I'd wanted one for over a year and agreed it would be good to have a designated travel vehicle and a separate daily commute vehicle. He texted me at work one afternoon to say he'd found an X90, locally for under $2000. I got excited and asked a few questions. Turns out he was looking at the silver 2wd X90 I'd inquired about over a year ago. Once I realized this I told Larry I wasn't interested in that one as it was only 2wd, I wanted 4wd. Its the only reason to get an X90, as otherwise its just a slow car that looks like a sports car. I told Larry about all the issues the seller told me about when I contacted him. Unlike me, @CSUSBgeochem1 wasn't put off so quickly. He explained that he could swap the front axle and transmission out for a 4x4's making it 4wd. He also reminded me that after working on my other 2 Suzuki's he knew he could fix any issue it had, given time and the correct parts. This sparked my interest in this X90; as it was in good shape except the wired spoiler: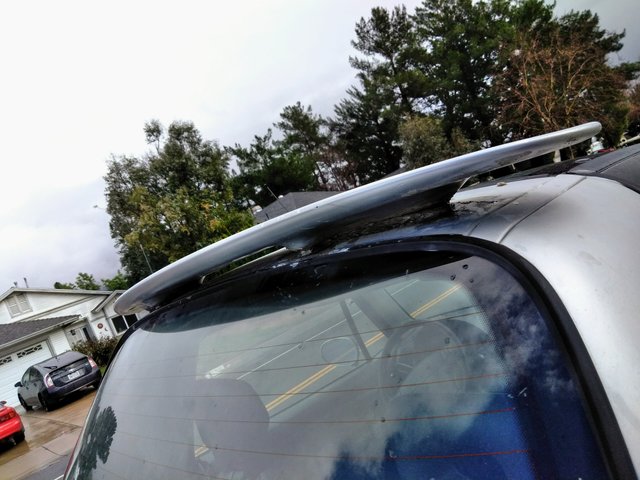 Bad paint work and the seals aren't great. But there are no huge dents in any of the panels, no missing grill, bumper or lights. It even had the T-Top covers: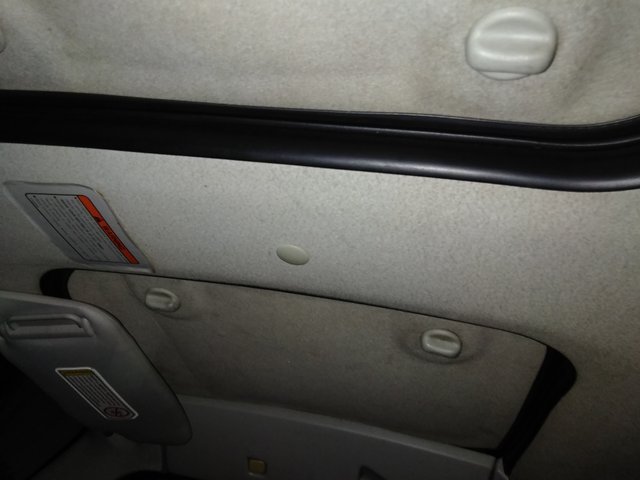 And had some fog light neatly installed inside the grill: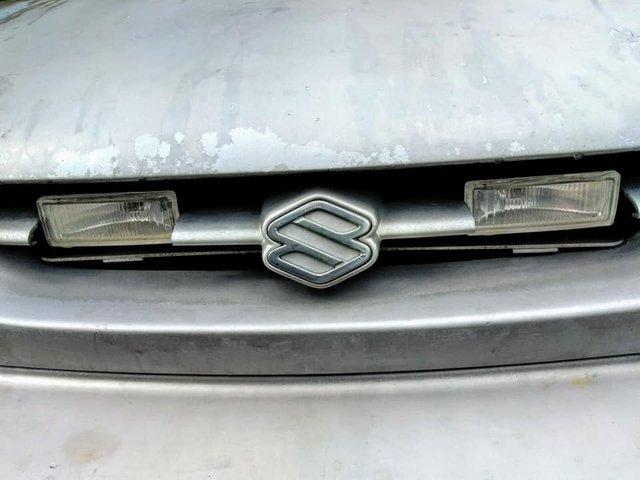 So now its all about the price! I told Larry how the seller wouldn't drop below $1500, and I wouldn't offer $1000 this year; as its now sat for another year and is out of Registration by another year. @CSUSBgeochem1 started negotiating with the seller. At first it seemed he wasn't going to budge on the price again. Larry stated that his girlfriend had offered him a $1000 over a year ago and now over 12 months later you still haven't sold it at a higher price. The seller said he'd take the $1000 now for it. I told Larry no, that was my offer a year ago, now its less. Long story short, we eventually agreed on a price that was good for both sides and agreed to go collect it and have it towed back home by AAA.
Collection day came, and so did the rain. We drove my Sidekick over to Hemet to check out the car.
As we rounded the corner I saw it out on the street, it looked smaller than I'd imagined. There were no bad surprises on inspecting the car and the registration only ran out March 2017.
The interior wasn't bad if the seat covers are on: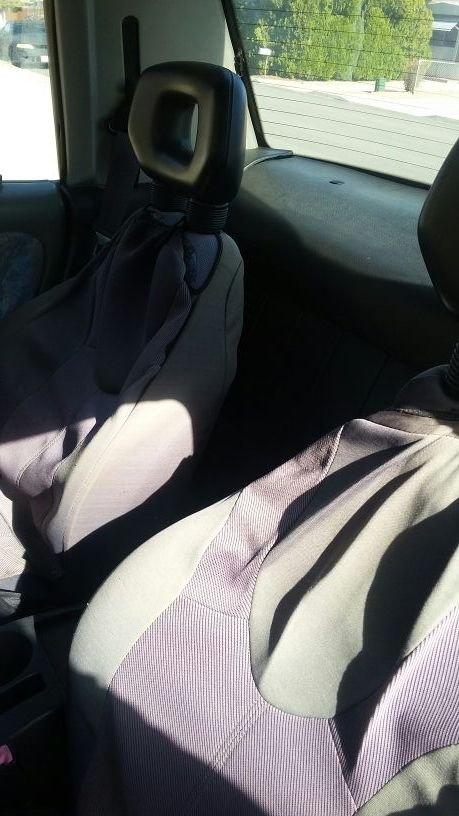 Sellers photo of interior seats from advert on Offer Up.
There is no "Oh Sh*t handle" for the passenger: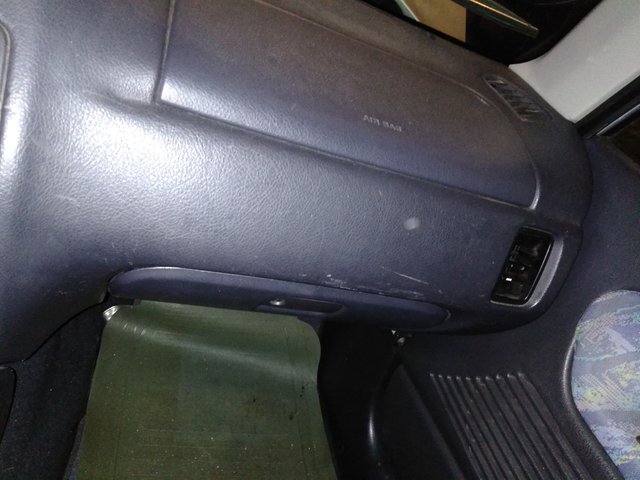 But there are cup holders in this model: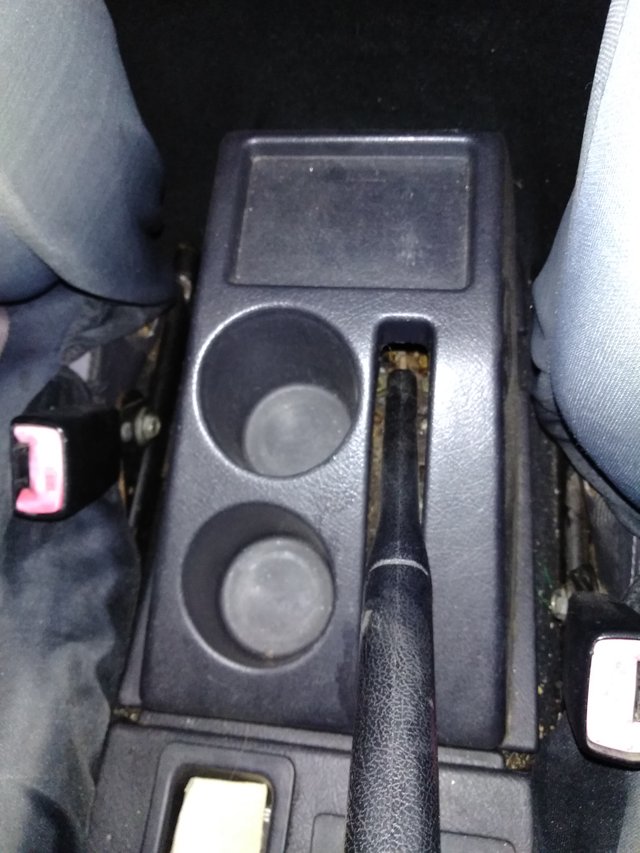 New air vents will be sourced: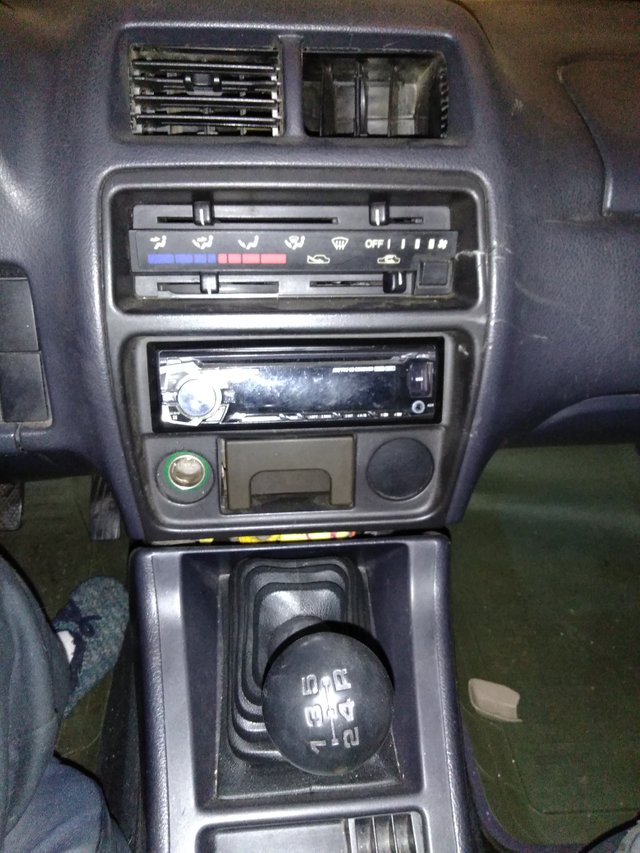 As well as a new Cluster: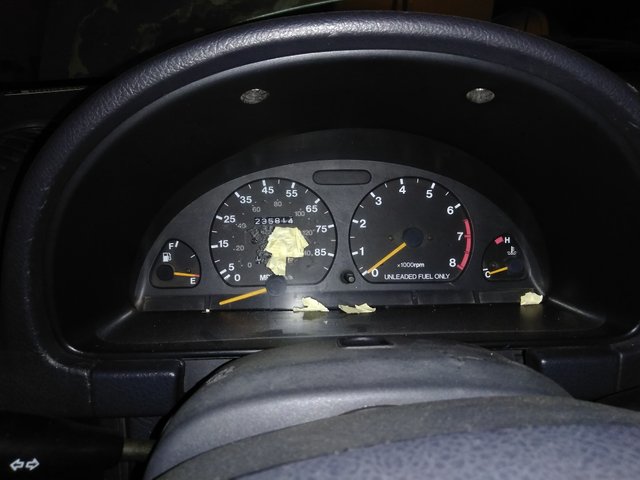 And window/door seals: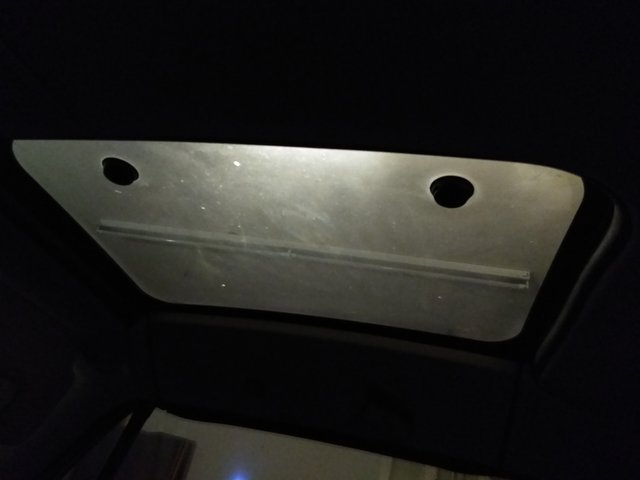 We were pleasantly surprised to find out the engine issues weren't as bad as we had been led to believe. In fact, if it had working wiper blades, we could have drove it home.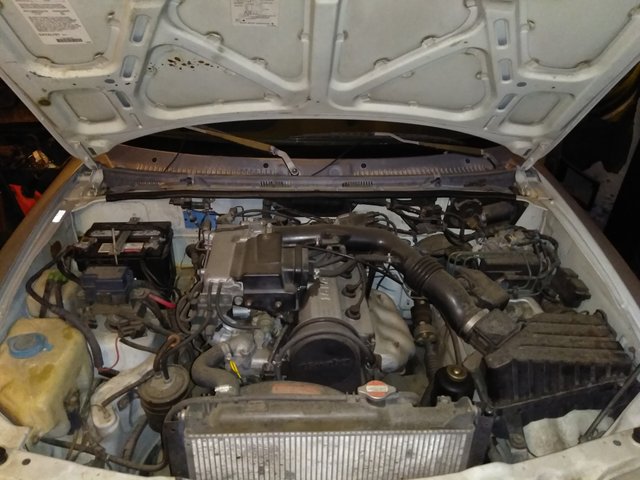 Clean engine
As we waited for AAA to arrive to tow it home I checked the lights; all working and bright. Except the fog lights, I followed the wire back and found it split: one going to the interior switch. The other went to nothing. Not connected to the battery to get power, no wonder they don't come on!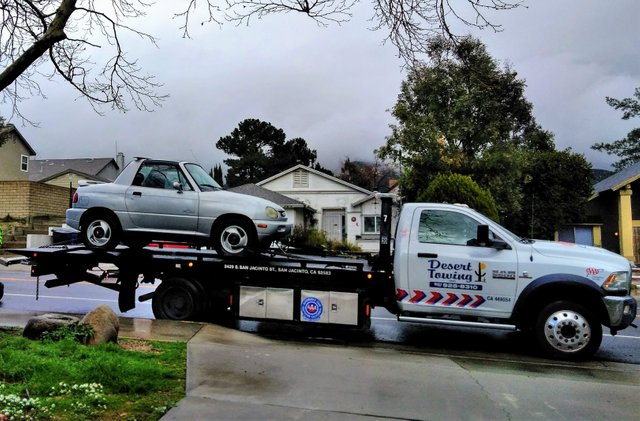 On getting the car home we had to wait for the rain to stop to check him out. We took Monty out round the block for a spin and we were happy to find out he drove batter than we thought he would, from what the seller had said. There is a power drop when moving from first gear in to 2nd or 3rd. And Larry said the clutch was a bit stiff, but good. But even he was surprised at the pick up this little guy gets when moving! He even said he started feeling bad as it was worth more than we'd paid for it.
That night we pulled him in to the garage to start working on him, and the dogs finally got to check him out to. Monty definitely gets Buddy's seal of approval!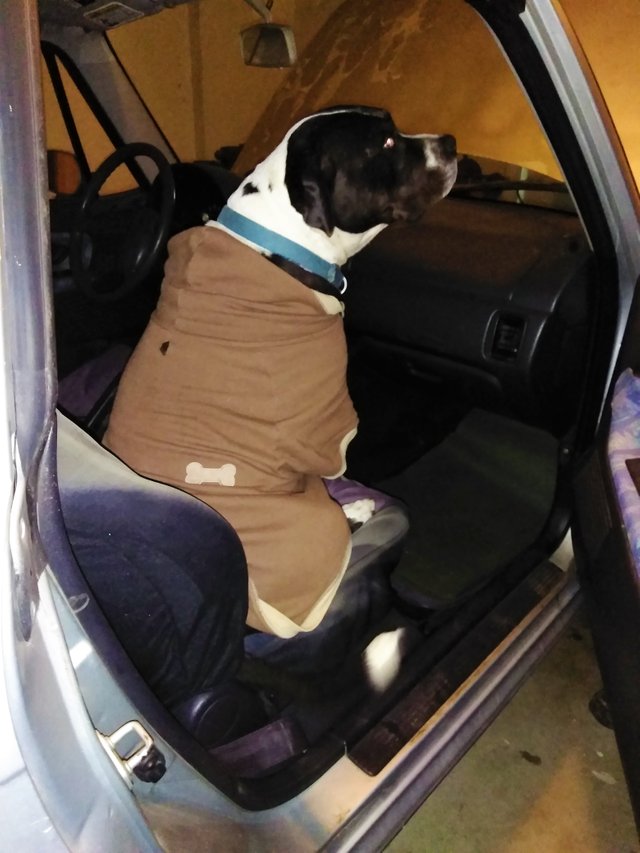 Our original plan was to buy this X90 while we could; I mean it was priced so low we couldn't pass it up!
And place it on non-ops for a full year while @CSUSBgeochem1 worked on it. But now we know the registration isn't out of date as much as we thought, and the issues aren't as bad, or hopefully as big as we had thought, now I'm thinking it won't be too long till you'll see me and Monty driving to work and back along the freeways of SoCal. And once we convert it to a 4wd, you may come across Monty on a trail one sunny afternoon, or maybe even at next year's King of The Hammers!
Thanks for reading. If you liked my post, please remember to upvote it, resteem it and follow me so you don't miss out on my future content.
All photographs are the property of @beckymeep, unless stated underneath the image.