Meet Axonomy
Short description: Community-driven accelerator for blockchain startups
Previous project name (before rebranding to Axonomy): DBA (Distributed Business Accelerator)
Platform website / MVP: https://www.dbaglobal.com
Private/public sale dates: there is no ICO. Project is already funded
Team: 3 members on the website, 9 members in the white paper
Token supply: 1 billion AXONS (ERC20)
Community (as of October, 3rd): 1200 members in Telegram group, 470 followers in Twitter, 22 in Medium
Partners: Cosmos, Factom, SlowMist Zone, Hashgard, BTC Media, Alpha Wallet
What is Axonomy?
Axonomy is a new and healthy global body of the investment knowledge within Wanxiang Blockchain ecosystem designed for global blockchain startups. It aims to re-invent traditional project funding with a user-driven venture system which employs a technique known as voting. Through that new sensible idea and incubation of outstanding projects, Axonomy is able to bring maximum mutual benefits to individual users, corporate users, i.e. project owners and managers as well as investors. Another purpose of the Axonomy ecosystem, which is based on the distributed business framework, is to maximize industry efficiency by facilitating collaboration and resource sharing across different blockchain communities.
The overall goal of these services is to enable qualifying projects to receive funding, technology, and human resources to make substantial progress in developing their project. Of course, it's quite expected that the services will be accessible through the Axonomy website and a mobile app available to both Android and iOS.
Whitepaper
The whitepaper is well-written, but lacks educating and convincing technical details, especially with regard to the hybrid model. So, now it's difficult to understand what the platform will look like from the technological perspective.
MVP
The MVP has been released recently. The 1st round of the voting process (one round per month is expected to be carried out) has been just launched. To participate, members need to pass KYC which takes 12-36 hours upon the submission. Instruction on the voting process: https://medium.com/@Axonomy/axonomy-round-1-voting-tutorial-3b1afa985613
Both institutions and individuals can use the platform. Investors, blockchain startup teams, media and technology community can be involved in Axonomy ecosystem.
Individual users are expected to be able to
Introduce new users and projects to the Axonomy community. There is a two-level referral program.
Participate in community's vote which is the main function. Every vote will cost a certain number of AXON token.
Users can entrust KOLs (Key Opinion Leaders) to vote for projects. If the projects KOLs voted for were invested, KOLs would take 20 percent of token rewards from their "client voters".
4)Win DBA token by contributing to Axonomy.
Corporate users are expected to be able to
Interact with the community to get more votes.
Interact with community members and make appropriate arrangements for cooperation.
Roadmap on the Development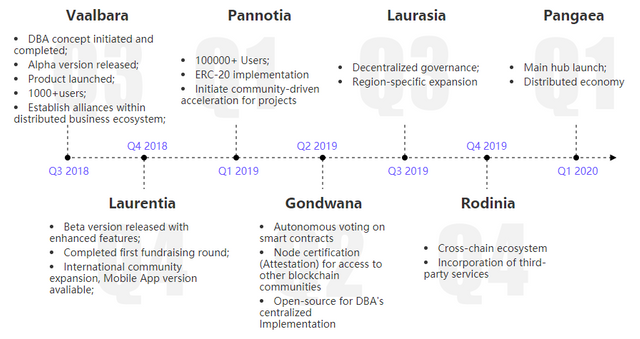 Clearly designed and well-structured roadmap
The Axonomy public chain is going to be implemented within the upcoming year.
Team
The project has a dual structure: an offshore company and a project foundation — both registered in Hong Kong as indicated in the WP. Axonomy's team members have diverse backgrounds. Some of them have many years of working experience in blockchain and world's leading IT companies; some are experienced in blockchain technologies and investment; others are used to lead product design and operation in China's major Internet companies. Core team members are presented below.
Tom Tao - CEO, linkedIn
Head of Wanxiang Chainbase Accelerator and WanCloud Blockchain Platform. 18 years of experience in service and business management in leading tech companies.
Jack Zhai - CTO, linkedIn
Graduated from Tsinghua University and University of Illinois (UIC) with a Ph.D. degree. Expertise in NLP, deep learning, sentiment analysis and distributed systems.
Coffee Cao - COO, linkedId
Coffee has nearly 13 years of experience in internet enterprises and has acquired over 150 million users through her various projects at Sogou, Tencent, and iQiyi.
Token Metrics and Tokenomics
20% - founders, team and early investors (locked up for early years, the period is not specified)
18% - Stock for issuing (reserved by DBA Fund)
22% - for to the community (released by stages)
30% - reserved by the Fund (the purpose is not clear)
10% - token exchange for cornerstone and stone projects involved to the platform
The token price for the individual investments is not publicly stated.
Axon token is considered as a utility token which is the core element of Axonomy platform and the main carrier of its community activity. The main goal is to provide a direct access for blockchain startups to all resources needed from the community, enabling community's sustainable development. DBA's value can increase with more community's accelerated projects involved into Axonomy. But in the beginning, there'll be an inflation for the reason that tokens will be distributed to encourage users to vote for projects. Then the mechanic is supposed to be changed. In the future, the team plans to only reward those who have introduced or voted for the invested projects. Axon tokens used to vote for projects but not invested will be recalled for redistribution to close the token cycle. The logic is quite ambiguous but I hope that it will be improved.
Project Participating Benefits
Projects with more votes will become candidate projects for Axonomy Accelerator. But still, the Accelerator will evaluate these projects as VCs. It also hings on whether Axonomy Accelerator and candidate projects reach agreement on investment issues. Axonomy accelerator is a professional investment tool which bases the investment decisions on reality. The votes a project obtains is only a reference for investment evaluation.
The chosen teams and projects are expected not only to enjoy the accelerator's investment and business supports, but also immediately access to all the users in the community. All in all the invested projects will get:
Investment in the form of currency or token.
Become Axonomy's Cornerstone Project. Such projects will reward their tokens to the Axonomy community. The Tokens can be exchanged for AXONs under defined rules.
Obtaining resources of Axonomy's community, including technology, operation and media support. Projects can also make partnership with other mainstream blockchain communities.
Axonomy's community as user market. The invested project can directly send their token to the community. Different from inefficient token airdrop of ICO, Axonomy's community gathers a great number of valuable users who are willing to contribute to the invested projects once they become token holders. Valuable token holders are a big value to blockchain projects.
Connecting with other community members for possible investment and cooperation.
Summary
Why Axonomy could be the next big thing? I see the following two reasons.
ICO market is slowly decreasing. New types of fundraising are going to emerge. ICO projects raised significantly less in 2018 comparing to 2017 - there is a strong downtrend. Therefore,the distributed business accelerator is a great idea to be commercialized. The problems they are trying to solve are hidden in plain sight.
• Early-adopting incentives promote speculation
• Token value is often mistaken
• Blockchain ecosystems are isolated
• Early profits are absorbed by external investors
• Token reward mechanism has low efficiency
Both centralized and decentralized approaches have their pros and cons and the happy middle is hybrid business models which, in our point of view, will dominate in the industry. In the future, we will see more and more projects like Axonomy and to pioneering this trend is an opportunity for the team. There's no doubt that both ICO and VC can cultivate good blockchain projects, yet their weak points are also clear: ICO's ill-designed mechanism triggered speculation and public worries on its legal risk. VCs are efficient but community building and operation, which are of great importance to most blockchain startups, are not what VCs can always contribute. The combination of distributed community operation and centralized investment decision making can gain balance between fairness and efficiency.
There are some concerns about tokenomics, as there are no strong drivers to increase the value, but it's probably because of the lack of research so the team will clearly describe it later on. The utility mechanism of token is promised to be polished and finalized over time. There is some uncertainty on the exchanges and there is no any reference for the token valuation. Anyway, there is no ICO and the team is creating mutually beneficial ecosystem for new projects and the contributing community. Their main goal now is to involve the community and projects.
As we can see by the social networks which are not crowded so far, the project is on its early stage. It is already well funded, has working MVP, first list participating projects and prominent partners like Cosmos. So, it should be on the radar for sure.
The idea is very promising as Axonomy is trying to put the power of project development in the hands of the users. Fundraising will never be the same. Join Axonomy and place your vote! And all the best to the team!