Phisher tried to scam me today. Could not outsmart a Bank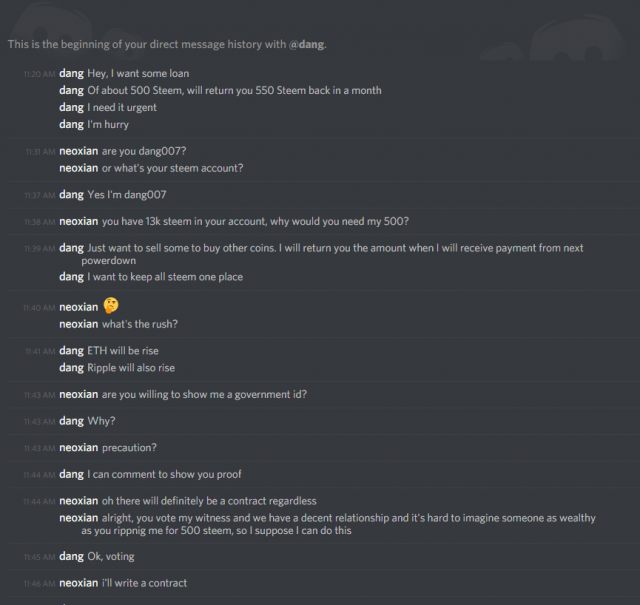 Ok, it's starts out with me getting a message from "Dang" on Discord. This is already a little suspicious because the real Dang uses Steemit chat, and we have never talked on Discord before, but that's a small point.
When I go check out the Dang's account, he has 13k worth of Steem available, why would he need 500 from me at a high interest rate. And fake Dang's answer wasn't very compelling. I ask for government ID and he balks. To be fair, the real Dang probably wouldn't have wanted too either. This is a delicate situation for me, as the real Dang is a big account that already votes my witness, so I can't just dismiss him lightly.
Fake Dang claims he can comment as proof. Also please note that I wasn't asking Dang to vote my witness there, he already does! But fake Dang was confused.
Regardless I'm ready to write a contract at this point.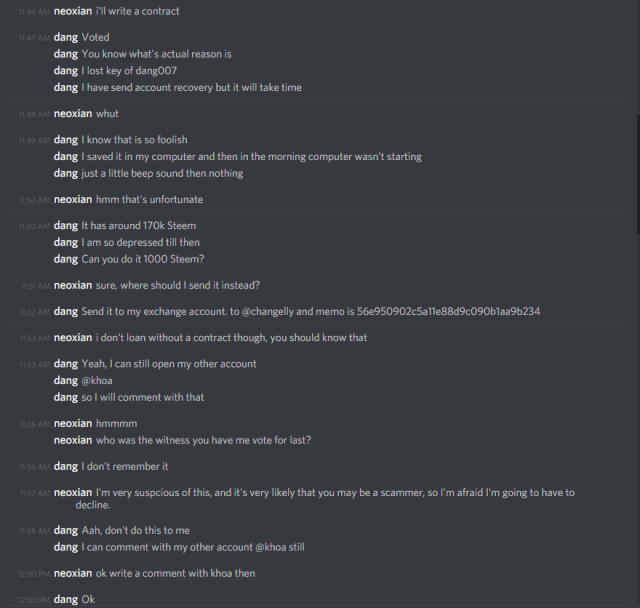 Here is where Fake Dang claims to have lost access to his account. This was a shocker for me, and my suspicions are cranked up to eleven. Fake Dang tries to raise the loan to 1000 steem and wants me to send it to Changelly.
Note:
I will never fucking send money directly to an exchange for a loan!
I send the money to the account that signs the contract, period, full stop, mic drop.
I test Fake Dang by asking him a question that real Dang would know, probably not the best question but he flubs it anyway. I flat out tell him I'm suspicious but Fake Dang claims that he can sign as Khoa (another account Dang controls).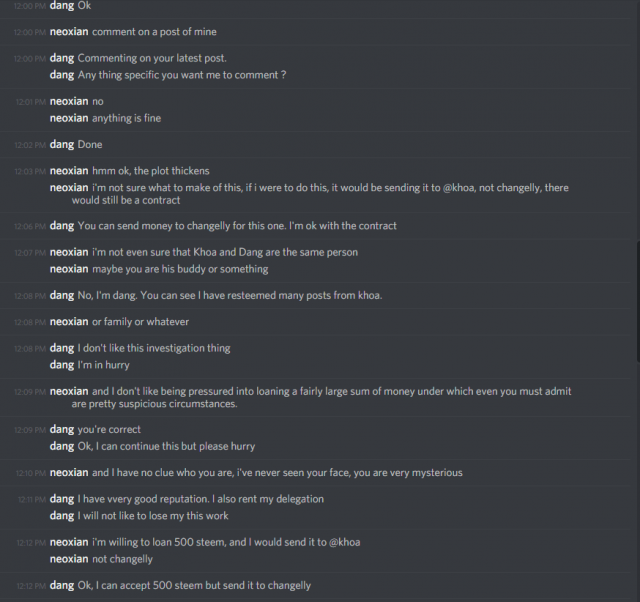 So I do ask him to comment as Khoa..and he is able to do this! This throws me for a loop, and I'm lured slightly closer to the trap.
I'm still suspicious though, and insist on sending the money to Khoa, and not Changelly. Fake Dang is insistent that I must send it to Changelly.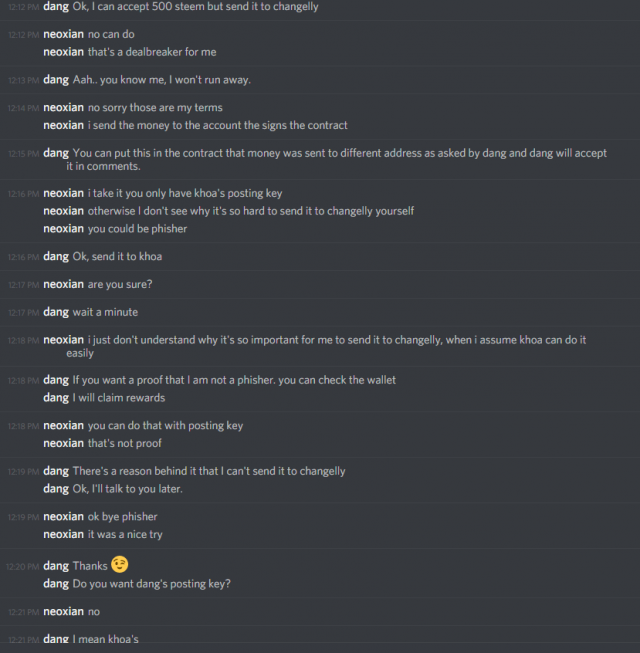 I remain firm on not sending the money to Changelly, and finally realize it's because Fake Dang only has Khoa's posting key and not the active key, so he wouldn't have access to the funds.
Fake Dang tries to prove he has Khoa's active key by claiming awards.
You use your posting key to claim rewards. I'm not that dumb!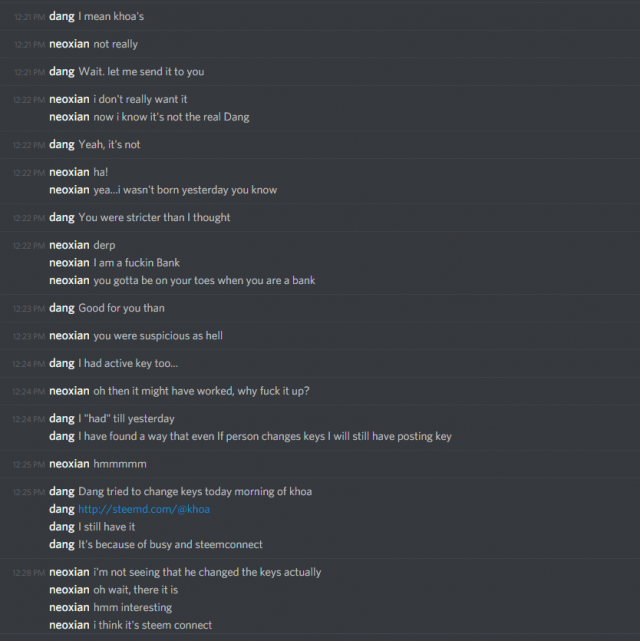 Fake Dang finally admits that he is a Phisher. We chat a little bit more. He mentions something disturbing:
Dang did change Khoa's keys this morning but somehow the Phisher was still able to use Khoa's posting key. How is this possible? He mentions it may have something to do with either Busy and/or Steemconnect (???!!!)
Conclusions:
You are going to have to do better then that to trick me. I am Bank!
If you even suspect that you might have been phished, please change your keys now! Also you may want to revoke permissions on Steem connect
Be very careful out there.
This Phisher was fairly clever and he was someone who was pretty familiar with me and Dang. Hmm who could it be?
I'm still a Bank! Best Bank of the best banks.
Oh Fake Dang's discord is dang#3691