RIP, Hammering Hank.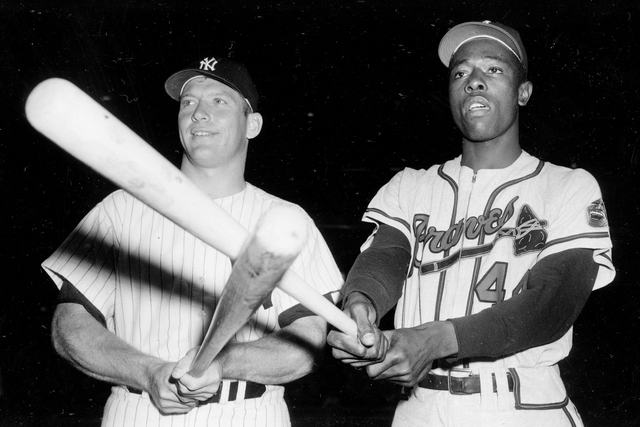 At 6' and 180 lbs, Hank Aaron was perhaps the greatest combined power and on-base hitter in the history of MLB. Unassisted by the steroids that destroyed the integrity of MLB in the late 1980s and throughout the 1990s and beyond, he hit the ball consistently and long for many years. He walked the walk and chose not to talk the talk, like so many athletes of today. For these reasons and others, Hank Aaron was and is my favorite baseball player of all time.
I can't believe it -- yet another of the baseball greats has passed away. And Henry Aaron was not just one among the group. If the Hall of Fame were ever to have an "inner circle," made up of the very greatest of the greatest, then he would be there, with Babe Ruth, Ted Williams, Stan Musial, Willie Mays, Ty Cobb, Mike Schmidt, Walter Johnson, Honus Wagner, Lefty Grove... guys like that. I still think of Aaron and not Barry Bonds as the all-time home run king. Aaron still is the leader in extra base hits, RBI, and total bases. He was chosen for the All-Star team 21 times. In the first half or more of his long career, he had speed, too, and was a solid to excellent right fielder. Even after his speed was gone, he could run the bases as well as anybody: at age 34, he stole 28 bases and was caught 5 times.
I watched his record-breaking 715th home run on television, off Al Downing of the Dodgers. Some over-excited idiot ran onto the field and tried to round the bases with Aaron; I think the police escorted the fan out of the stadium. Aaron had been getting plenty of hate mail for being a black man breaking a white man's record, but he took it in stride. He was quiet and intense, like Bob Gibson, and did not put on a determinedly cheerful face, as did Ernie Banks, or have that cheerfulness by nature, as did Willie Mays and Roy Campanella.
When Stan Musial was at Cooperstown late in his life, and had to use a walker to get up on the stage right after Aaron, he said, "I see now what my big mistake was. I should have hit home runs like Henry, instead of all those doubles and triples." Stan called him Henry, as his friends did. The "Hank" was what Braves' management wanted to call him, to make him seem more approachable to the fans. It wasn't only black players that publicity guys did that to. Jim Hunter became known as Catfish because Charley Finley wanted to market him better. The name Catfish was apparently Finley's invention; Jim had no say in it....
Henry Aaron is one of the four or five guys about whom you can make a case for Greatest Hitter Ever, or even Greatest Player Ever. I think that, all in all, Babe Ruth is still the G.O.A.T., because you have to include his really splendid part-career as a pitcher, before the Yankees made what Tris Speaker said would be a big big mistake, turning him into an outfielder. That one surely goes near the top of the category labelled, "Predictions That Did Not Come True." But Aaron was an amazing ballplayer.
Willie Mays must be looking over his shoulder now... It is hard to believe that baseball has lost so many of the greats, so quickly.
RIP, Hammering Hank.