Week 10 Power Rankings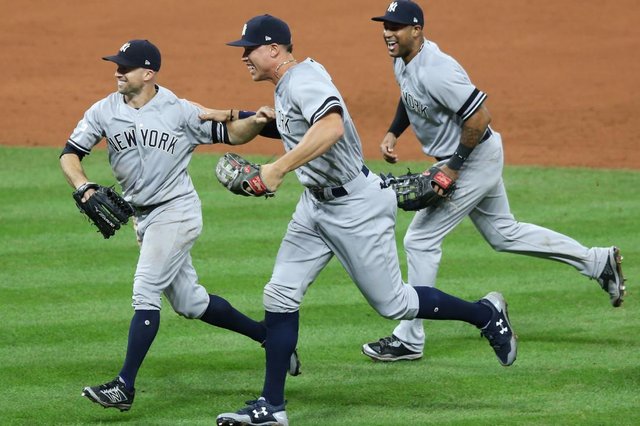 New York Yankees 42-18: Yankees lost another starter when Tanaka tried to score from third and hurt both hamstrings.
Boston Red Sox 44-22: BoSox lost 2 of 3 to the ChiSox. Not a series you can lose when trying to overtake the division.
Milwaukee Brewers 39-26: Brewers are just 4 and 6 since Davies hit the DL.
Seattle Mariners 41-24: 7-2 in June so far.
Houston Astros 41-25: Correa is expected back this week after missing 4 straight games.
Atlanta Braves 37-27: Washington has finally caught up to the baby Braves but that doesn't diminish their accomplishments.
Philadelphia Phillies 33-30: The Phillies still need to do better than 10-15 in the NL East if they want to compete.
Chicago Cubs 37-25: The Cubbies have hit their stride winning 11 of the last 14 games.
Washington Nationals 36-26: As Daniel Murphy is about to return, Strasburg lands on the DL.
St. Louis Cardinals 35-28: Cards got some bad news this week as rookie phenom Alex Reyes was lost for the year.
Los Angeles Angels 37-29: Angels are worried that Ohtani might need Tommy John surgery. It'd mean another wasted year in Trout's prime.
Colorado Rockies 32-32: Swept by the surging Dodgers and division leading D-backs this week. Not good.
Oakland Athletics 33-32: Just a tough team to figure out.
Tampa Bay Rays 29-35: Had lost 8 straight before Saturday's win. 1-9 in the last 10.
Arizona D-Backs 34-29: They still lead the NL West and Goldschmidt is getting back to being an MVP candidate.
Cleveland Indians 34-29: 16-9 versus the putrid Central and 18-20 versus everyone else.
Pittsburgh Pirates 32-33: The offseason sell off is finally starting to take it's toll on the team.
San Francisco Giants 32-32: Madbum's return is a huge boost.
Los Angeles Dodgers 32-32: The Dodgers are horrible at keeping starters healthy. Ryu, Hill, Kershaw, and Santana are all on the DL with Buehler ready to join in.
New York Mets 27-34: deGrom is the only reason to watch the Mets and he might be on the Yankees soon.
Detroit Tigers 31-36: Holding their own for a team with a lot of underperforming high priced players.
Minnesota Twins 28-34: Bryon Buxton continually disappoints.
San Diego Padres 31-36: Padres nearly had another no hitter this week. Really trying hard for that franchises first.
Toronto Blue Jays 30-35: Vlad Jr. Watch is officially on hold since he will miss the next 4 weeks with a knee injury.
Texas Rangers 27-40: Gallo is the prototype for what's wrong with the MLB today.
Miami Marlins 23-42: 3-3 this week after a 1-9 streak.
Cincinnati Reds 23-43: Reds beat the Cards for the first time in 14 tries this weekend.
Kansas City Royals 22-43: Lost 7 of the past 9. The bottom teams are getting worse.
Chicago White Sox 22-41: A good week for the ChiSox after taking 2 of 3 from both the Red Sox and Brewers.
Baltimore Orioles 19-45: Of 150 teams MLB and MiLB teams, only one has a record under .300...
The 19-45 Baltimore Orioles (.297).