Get Beta Packs Before They're GONE Part Two + Pack Opening

Two weeks ago I started a topic called Get Beta Packs Before They're GONE. At that time we had 31% of Beta Booster packs remaining, currently we have 26% remaining. That topic detailed my prediction of how long I thought it would take to sell the remaining Beta Booster Packs. To read that prediction in detail click the highlighted text above.
The topics purpose was also to serve as a reminder to everyone as to how fast the last 100,000 of ALPHA Booster Packs were sold. For those who may not of known, FOMO hit hard and the last 100,000 packs vanished very quickly.
@aggroed, One of the founders of Splinterlands, stopped by the topic and gave his predition:

At the time of the creation of that post (7/12/2019) there were over 275,000 BETA Boosters left. Today (07/25/2019) we have 234,000* that are available for sale on the official marketplace. That means that over 40,000 Beta Booster Packs have sold in JUST TWO WEEKS.
While I don't believe we are in FOMO territory yet, I don't think it would take much to get us there. If Sales can stay at a steady pace for the next 4 weeks then that would mean another 80,000 boosters would be sold putting us dangerously close to (if not in) FOMO territory. So if you're planning on buying some BETA packs it would be wise to do it sooner rather then later as the supply of BETA boosters is dwindling fast.
I myself couldn't resist the urge to open a handful of packs (20 to be exact) and I plan on getting a few more before the whales of Splinterlands buy up whats left. A couple screen shots can be found below of what I found in my packs. Alternatively (if you are interested) you can view all my pack openings on the PeakMonsters webpage --> https://peakmonsters.com/@rentmoney/explorer.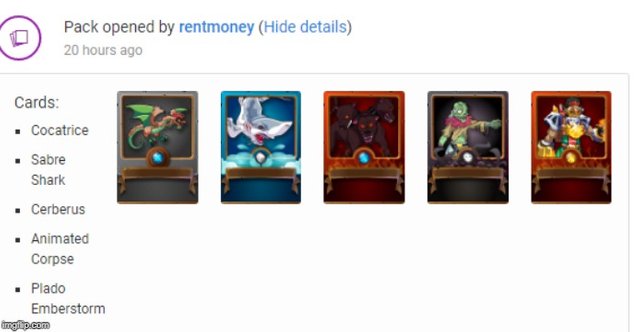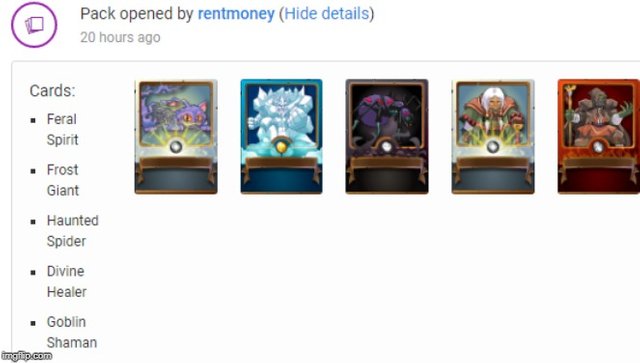 If you stumbled upon my topic and have no clue what I'm talking about >> Steem-Monsters/Splinterlands is a digital card game created by @aggroed and @yabapmatt. Early game release has launched and prizes are already up for grabs. Some of the cards in this game have already sold for upwards of $3000. These cards can be found in Booster Packs or can be attained via buying them directly from the official market. Prize Money tournaments have started and thousands of dollars worth of Steem have already been given out. If you haven't yet, check out Splinterlands/Steem-Monsters by clicking here. You can sign in to the official site using your Steem details. Currently (7/25/2019) we are in the Beta Edition but I suspect the Beta Packs won't be around much longer.