Days of Legends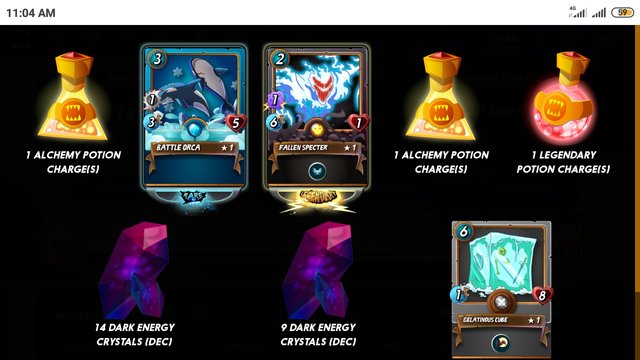 yesterday's rewards
---
Hello everyone 👸
I thought that I lose the lucky days while opening the chests, but then I changed my mind 😉 because the legend dropped in even if I don't use any potions. I think an essence orb will shows up later, too.
I like the new rewards system, never got DEC bigger than 50, but as long as any legend shakes the chest, I don't mind!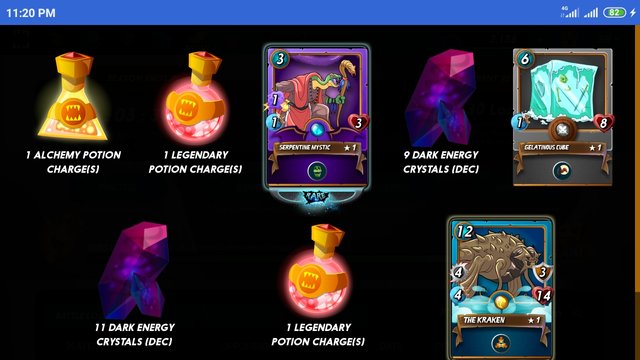 Yaaayyy..my lovely Kraken finally coming
---
I was moving from the TP Troops guild to TP Diamond yesterday and quite satisfied by giving my first contribution and got it back from my battles today. Not much because I don't play to hunt dec😉
I'm on mission to collect as many kraken as I can, so I can level it up and be the beasty for Ruler of the Seas. I don't mind if it takes one more year to do that ..lol.
What I learned from my experience being around splinterlands for 30 seasons now is when I got the beautiful cards during the daily, I won't get any on season rewards 😉, but that's okay too. Let's see what the POTIONS I saved would do about it.
I was having earth quest but after 2 loses with Lyana's, I changed the quest and great.. it's Gloridax Revenge and Daria always ready to March with Manticore. It's not easy though 🤣 it was a 5:5 ..5 wins and 5 loses. Kraken ease my mind and he said no need to rush to rank up to diamond league, 5 more days to go and just enjoy the game.
Well.. I take his advise willingly, I have many decks to play and will always be around.
How's your experience with the potions on opening the rewards?