🎼🎧Hit the Road🎧🎼(Beat Battle League S2:R13/Chase Scene Music)
This time I want to show you how I produce music on my pc. I thought it might be interesting for people who don't know how this works. I will give you a little insight with pictures and short explanations.
Either you start with an idea of what track it should be, or you just play around and be surprised what comes out of it. 😉
As I participate in the contests of the Steemit Music League hosted by @chiefmappster, I create the music with the given theme in my mind.
This round the theme is "Chase scene music" and I decided to go for a car chase scene with my track.
This is how my car chase scene track came to live:
On the computer, you work with a DAW (Digital Audio Workstation). My DAW is called FL Studio and I love it.😃
On the picture below you can see how it looks when I'm working with it - yes I like it colourful 😉. You can add the colours yourself - it helps to keep track.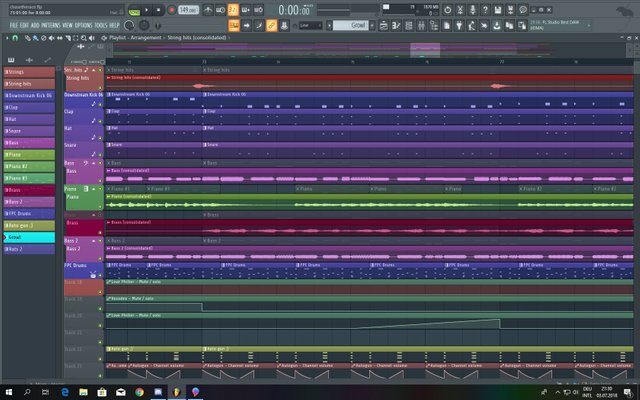 Mostly I start with a melody or sometimes with a bass line(I'm a bass guitarist😉). All imaginable instruments are in your DAW and you load them into the channel rack(on the picture below on the left side).
You can start to make a chord progression or a bass line or any instrument you choose in the so-called piano roll, where you have a vertical keyboard what looks like this :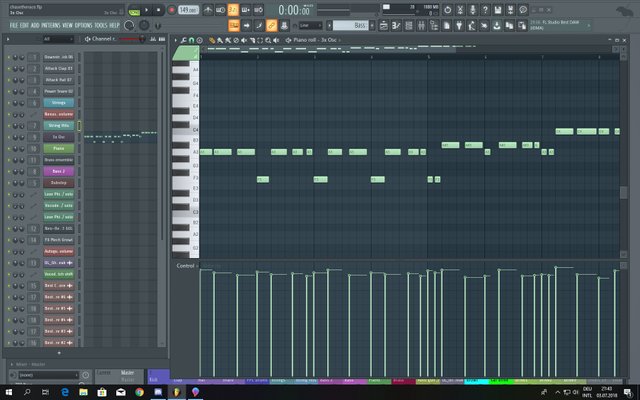 Or you use a midi keyboard which is connected to the computer as a controller what I prefer as you can play freely your ideas or just play around until you find something you like.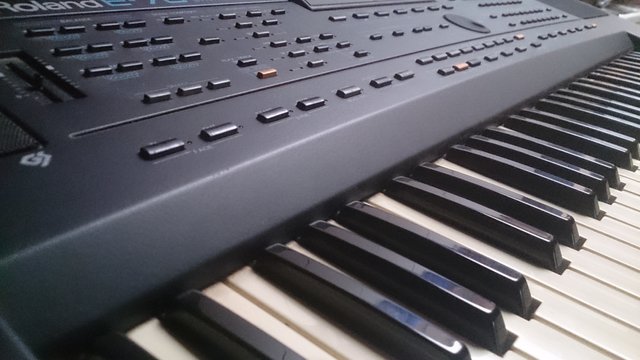 You can also record any other real instrument played into your DAW.
When all the instruments and sounds are recorded or sequenced in the piano roll you arrange your song in the playlist. In the first picture, you see how that looks.
When your song is ready arranged the fun starts 😉.
Each instrument or sound gets its own channel in the mixer where you start to work on each channel with effects, setting the volume and getting rid of unwanted frequencies. For this process, you are using different plugins. Plugins are used to generate, process or analyze sound. There are hundreds of plugins on the market - some are really expensive but there are also a lot for free.
On the picture below you see my colourful mixer and two plugins I'm using for analyzing and compression.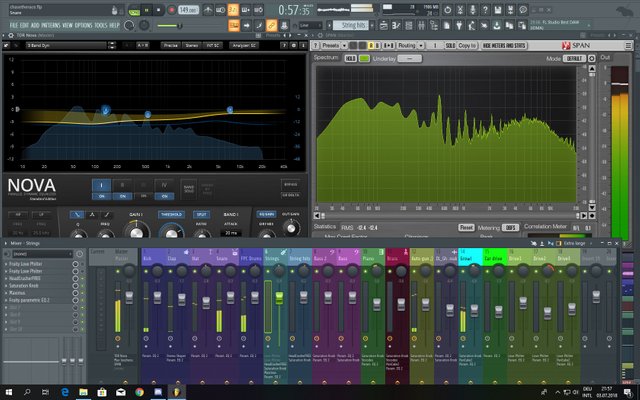 And one more picture with 4 plugins for you to see how different they look...knobs, knobs...knobs 😉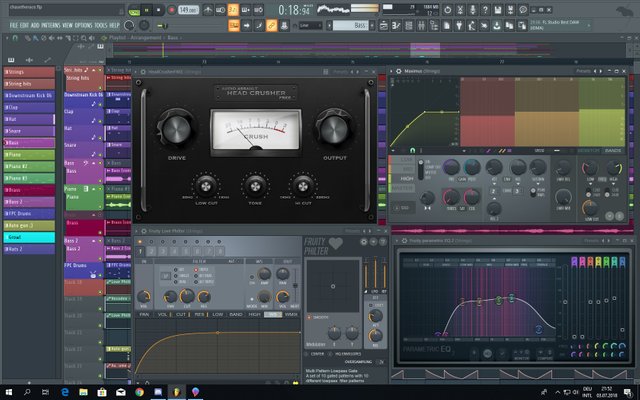 You can even automate these knobs. That means they are programmed to turn by themselves and create different sounds while your track is playing.
This whole process is called mixing. When you are satisfied with your mix, you are ready for the last step called mastering. The purpose of mastering is to balance the acoustic elements of your mix and optimize playback for any systems and media format. Because if your track sounds good on your headphones or speakers, that does not mean it sounds good on other devices. Mastering is not an easy task and I believe you get good on it after years of experience.
I do not have this experience by now but I'm learning every day and on each new track I make, I can apply something new I just learned. And this makes it totally exciting for me at the moment.
I hope you enjoyed this little insight on how my new track for the Beat Battle League S2:R13 was created. I say little as there are many many more steps to do but to write about everything would be a book.
And my intention with this post is, to give people who are not familiar with music production an idea how it is done.
Please have a listen to my track "Hit the Road" for a car chase scenery 🚔
.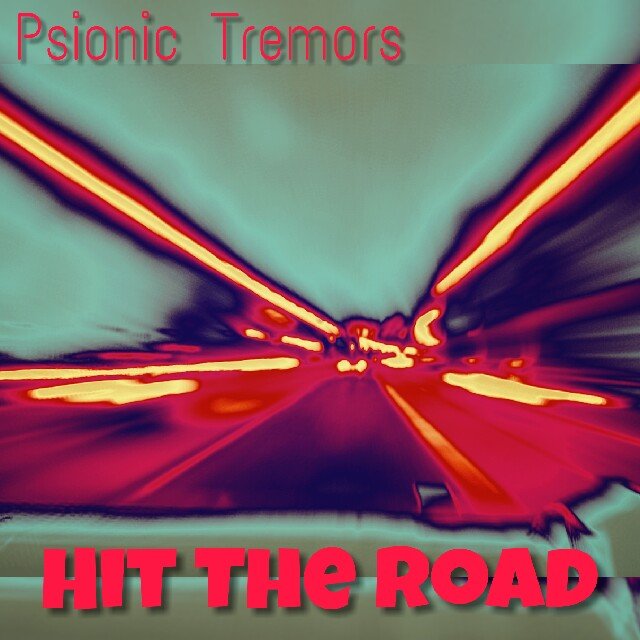 Thank you for visiting!!! Much love <3 ..Psio