Beautiful places of the planet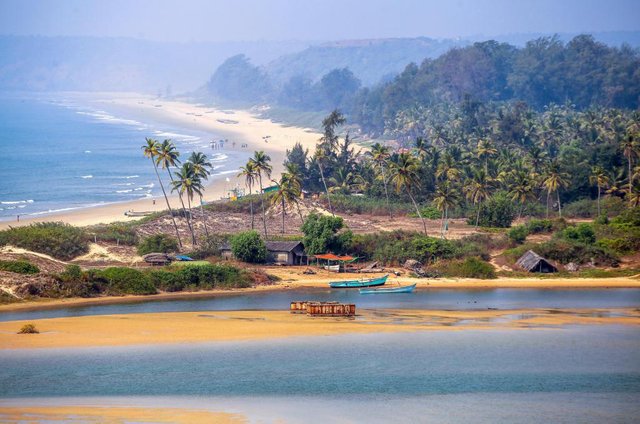 Goa, India
Goa is a resort state on the South-West coast of India. There are more than a hundred kilometers of Golden beaches with coconut trees on the shore, noisy parties in the North and comfortable hotels in the South, old Hindu and Portuguese temples. Goa is a year-round resort, the air temperature does not fall below +20 °C. there are three main seasons: summer, winter and munsun (rainy season). Munsun starts in June and lasts until September, winter (tourist) lasts from the end of October to the beginning of April, summer-from may to September. The best time to relax in Goa is considered to be the months from October to March. The air temperature at this time ranges from +21 to +32 °C. at this time, there is no stuffiness and sweltering heat, which begins in April. In Goa, there are many hotels of various categories, from luxury hotel complexes with a huge territory in South Goa to small hostels with the only proud star in North Goa. The state of Goa is divided into three parts: North, Central and South. They differ from each other in terms of service and entertainment.
South Goa is considered a resort for wealthy Europeans, North Goa is chosen by budget travelers and creative youth, Central Goa combines the properties of other parts of the state and is a major transport hub, with an airport, railway station, port, and bus stations. North Goa is more likely to choose to rest tourists from Russia. It offers low prices for accommodation, a relaxed creative atmosphere and the most noisy parties in all of India. The hotel base is modest, most tourists rent a Villa. Resorts are very popular among young people in all countries. South Goa is popular with affluent tourists from Europe and families with children. The hotel base is large, the level of service is higher than in North Goa. Resorts are famous for their white beaches and good infrastructure. Beaches in Northern Goa are covered with gray sand of volcanic origin. The coast is high enough everywhere, so the beaches are not as big as in South Goa. Most beaches are surrounded by lagoons. The water in the sea is not very clear. The beaches in South Goa are clean, with white sand. The descent into the water is smooth, and the beaches themselves are surrounded by palm groves and orchards.
The largest Christian Church in Asia is the Cathedral of St. Catherine. The relics of the Baptist of Asia, Saint Francis, can be seen in the Basilica of Jesus, one of the most famous churches not only in Goa, but also in all of India. Popular excursions in Goa are to the Savoy spice garden and waterfalls. Dudhsagar waterfall, it falls streams of water from a height of more than 300 meters. The waterfall is located in the Eastern part of Goa and can be reached in a few hours by bus. In the Kotigao nature reserve, you can walk through multi-storey jungles. The reserve is located 12 km from Palolem beach in South Goa. Outdoor enthusiasts will appreciate the palette of water sports. Parasailing is especially popular: it is a parachute flight following a boat. Seafood and fish are very popular in Goa. According to Hindu mythology, Goa appeared after the God Vishnu released his magic arrow and it fell into these Sands. Maybe that's why a vacation in Goa is so unearthly.