Beer Reviews
#4
Beer: Trappiste Rochefort 10
Type/style: Belgian dark ale
Brewer: Abbaye N.-D. De Saint-Remy, Rocheport, Belgium
Importer: Merchant Du Vin, Corp., Sole Agents
IBU: 27
Alcohol content: 11.3
Rating: 5.0 of 5.0
I may have rated this beer in the past, maybe not but again this is one awesome beer. It's a dark beer that can enjoyed year round, in all conditions and several without feeling full or bloated however, at 11.3 ABV several could put a hurting on you. It's in a simple bottle, simple labels and the beer is simply good. It doesn't need anything more; One taste and you should be sold! It pours a dark amber color with a generous head that can get out of control without some care. The taste for me is malty and fruity and is complex with several different tastes evident and after reading other reviews, I would like to try it again to see if I can pick up on the othet tastes mentioned. I did discern malt, dark fruits---maybe raisins/prunes and even cherry mabye but not strong. That's about all - it 's all perfectly blended though. I really enjoy this beer and is a great beer for a dinner party, sit back after a nice meal and serve this up!
From the bottle:
Warning, ingredients and the main label is the name, ABV, size and the symbol for authentic Trappiste product ! It's very classic.
From the web:
The History of "10"
Although written records of brewing at Rochefort date to 1595, Rochefort 10 was developed in the late 1940s and early 50s. It appears on virtually every list of the world's finest beers...
http://www.merchantduvin.com/brew-rochefort-trappist-10.php
---
#3
Beer: Red Horse Beer
Type/style: Ale
Brewer: San Miguel Brewery Intl.
Importer: G.K. Skaggs Inc., Irvine, CA
IBU: Estimated 28
Alcohol content: 8.0
Rating: 3.25 of 5.0
This is a great, cheap beer that is perfect if you want something with strong alcohol content that won't break the bank. Seriously, if you want a beer that will make you feel tipsy, tastes good, is cheap then this one is for you. In all my years visiting the Philippines, I never tried it! What an idiot I am. Compared to San Miguel, (which are both brewed by the same brewery) it is far superior and the cost is similar. It pours a....really? whatever, it's best out of the bottle with friends around a bonfire, on the beach or at your house with close friends...who are all trying to get trashed. If you want sophistication, FUGHEDABOUDITT...NOT happening, this is a beer drinker's beer-strong, moderately good tasting, this beer is to get drunk...PERIOD!
From the bottle:
Experience that distinctive full-flavored taste of a world-class premium beer.
From the web:
Red Horse, the first extra-strong beer brand in the Philippines, is the high-alcohol beer brand of San Miguel Brewery, it is a deeply hued lager with distinctive sweetish taste balanced by a smooth bitterness that leads in a strong alcohol kick.
http://redhorsebeer.com/
---
#2
Beer: Untitled Art
Type/style: Waffle Stout
Brewer: Hailstorm Brewing Company, Wanaukee, WI.
Importer: N/a
IBU: 48 - completely guessed
Alcohol content: 12.0
Rating: 3.75 of 5.0
This beer was actually quite good and my rating indicates that fact. Strong? Yes, for sure and if you don't like 'boozy' beers, then you will hate this one however, it's pretty balanced as far as being so strong that the taste suffers; there is a smoothness that is usually missing from such a strong beer. Don't drink too many or you will be hurting, but sip, take your time and this beer is completely enjoyable. It pours an almost opaque black with a generous, dark tan head that could get out of control easily. The smell is of breakfast, somehow, but it is for sure. The maple syrup taste and smell is evident and that is probably what gives it the breakfast feel...but it is so enjoyable and I suggest having it for breakfast! As on the bottle, cinnamon and vanilla can also be detected. This brewer makes some very unusual beers and to be honest, at first glance of their list I was so skeptical but of the two I tried, I was impressed. This is brewer is worth checking out if you like non-traditional beers.
From the bottle:
Stout brewed with Maple syrup, Vanilla beans and Cinnamon
From the web:
We're so pumped up for this Saturday that we've got an early treat for everyone leading up to our 8 Year Anniversary Bash! We just tapped an incredible collaboration between Untitled Art and Hailstorm Brewing Co. called Waffle Stout! This 12% imperial stout is made with fresh maple syrup, vanilla beans and cinnamon. YES, YOU WANT THIS!!!
---
#1.
Beer: Orion Premium Draft Beer
Style: Japanese Rice Lager
Brewer: Orion Breweries, LTD, Urasoe-City, Okinawa
Importer: Mutual Trading Co. INC, Los Angeles, CA
ABV: 4.7%
IBU: Unk
Ratings
Beer: 3.5 of 5.0
Cap: 4 of 5
Label: 3 of 5
From the bottle:
Not much information than relayed above. The Japanese characters (unless Okinawa uses different characters, but Miyuki or Rick McCarthy / Hector Bauza or Yukari Miyagi can correct) are pretty cool. Otherwise: Orion draft beers clear and mild taste is widely loved as an Okinawan original. Orion's original brew.
From the internet:
With an even more refreshing taste, a new draft beer was born in the summer of 2015, the same year draft beer celebrated its 55th birthday. The backdrop to the primary color designs, a tradition in draft beer, is a cool, crisp color of champagne gold. The three stars and our logo proudly stand out, and the champagne gold color expresses the fine quality and refreshing sense of beer. The design incorporates the "red sun", "blue skies", and "navy blue seas" of Okinawa in the color scheme.
http://orionbeer.co.jp/
Founded in 1957 as Okinawa Brewery Co., Ltd., the company changed its name to Orion Beer Co., Ltd., in 1959. In 2002, it merged with Asahi Breweries Ltd, but it wasn't until two years ago – 2015 – when Orion Premium Draft Beer was released.
Being a lager – and considering our previous experience with mass-produced Japanese beer – we didn't have high hopes. But as we poured it into a Pilsner glass, we were looking forward to trying this new-to-us brew nonetheless.
As expected, Orion Premium Draft Beer poured a brilliantly clear straw color and built a tall, one-and-a-quarter-inch loosely beaded white head. It's head dissipated within a minute to a thin film of white. But we could also see it dissipating further right before our eyes.
Similar to most lagers that we've had over the years, Orion Premium Draft Beer's aromas are delicate and subtle. They have to be searched for. And if you make the effort, you'll discover that aromas of bread and grain can be found. But we were a bit surprised to also find some fruity notes too.
With renewed interest, we took a sip. And we were rewarded with a smooth, light-to-medium-bodied mouth feel that envelopes a light carbonation tingle and a very sweet start. But typical of the style, its flavors are of bready-grain and rice. It finishes dry, with a light grassy and lightly spicy after taste.
In our opinion, Orion is a one-trick pony, but it's still more appealing and has more flavor than Beck's Beer, Pacifico Clara and just about anything from "the Big Three."
Would we rush right out again to buy more? No. But would we turn it down if offered one? Not at all. Orion Premium Draft is clean and refreshing and we could see it pairing with just about anything from fish to brisket. Mostly because it doesn't have any strong, overpowering flavors.
Review:
When I poured this beer I was immediately taken back to my Grandfather's beer drinking days. The sight of this beer was similar to some of the Pilsners he would drink like Schlitz, although this one is better. The smell is non-descript, the alcohol content is low but the taste is good if not great. It seems to have a fair bit of carbonation and a generous head, no lacing and a continuous flow of bubbles from the bottom. It pours a very clear, light golden color and is pleasing in the glass. I enjoyed this beer! It does not rate up there like some of the others I tried but I cannot say anything negative about this Okinawan beer.
Cheers!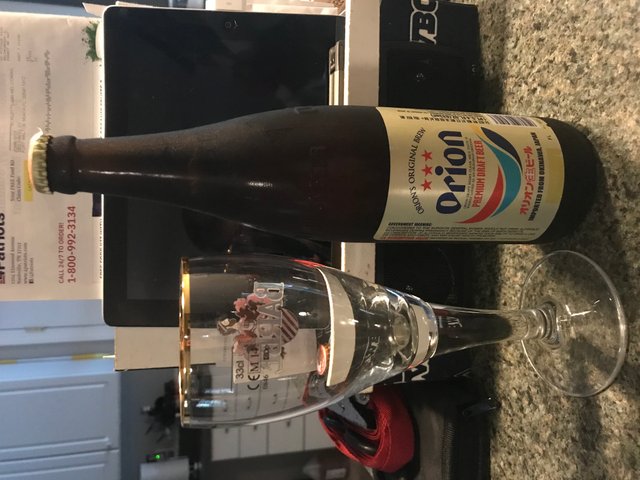 ---