My belly Is growing I now have 7523.732 SteemPower I also now vote at 100% 2.4 hr rounds
More Steem Power, 100 % Votes!
Bellyrub Here with another update I have gotten another 1811.94 SP! Makes my total voting Power 7523.732 wow I feel bloated! That is $1.24 Per vote!

Because of this rules have changed for the better! I now vote at 100% which makes it now 1 hour extra so instead of 1.5 it is now 2.4 Hours between rounds this is to ensure I give out 100% bellyrubs!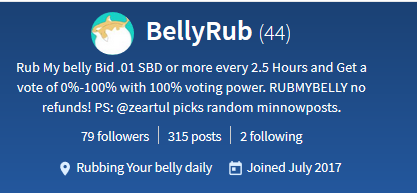 Just so you know the rules can change any time so be sure to check my profile for the latest status updates!
Some things to note:
1: .01 SBD is the minimum bid, Keep in mind though you might be out bid so maybe try .1 SBD considering I am voting at 100%
2: Each round of voting now lasts for 2.4 hours
3: You're bidding for 0-100% vote weight at 100% vote power from @bellyrub
4: @zeartul chooses random posts from consistent users to bid with higher amounts.
5: You might already know this but new users might not, posts must be newer then 6 days and 12 hours to get a vote, if a bid does get sent after this time frame they will be considered as donations.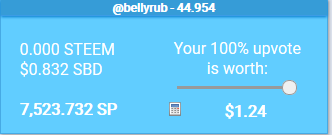 Most important rule:
Make sure you share the votes with your fellow steemains and minnows! Giving feels so much better!
How to bid for a belly rub and an upvote
Send your bid in SBD to Mr: @bellyrub with a post url as a memo from your steemit wallet much like @randowhale and @booster
An even easier way that I just found from my fellow steemit bots is bookmarking this steemconnect page from busy, and paste your wonderful post/comment link after the memo = part
https://v2.steemconnect.com/sign/transfer?to=bellyrub&amount=0.01%20SBD&memo=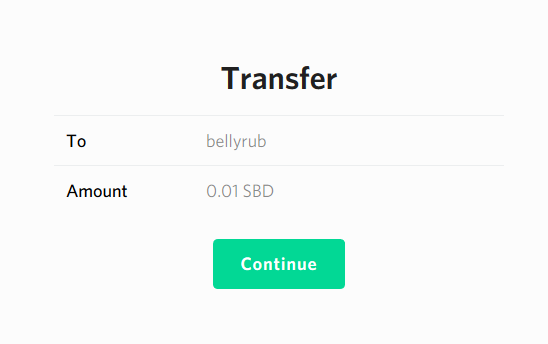 After the current round closes (2.4 hours) all bids with in the time frame gets calculated and vote % gets distributed by all bids.
BidWars for BellyRubs Begin!