You are viewing a single comment's thread from:
RE: Red Walls in Skazka Canyon, Kyrgyzstan
Kyrgyzstan is a wonderful country of mountains where you will find many curiosities, both cultural and nature. It is famous for its magnificent mountains (Central Tian-Shan and Pamir-Alay) and its snow-capped peaks that active travel enthusiasts can climb, its picturesque lakes, stormy rivers, icy glaciers and endless forests.
And definitely Skazka Canyon is one of the most impressive places in Kyrgyzstan, a canyon full of fantastic sandstone shapes that give the place its name, which means Russian fairy tale. For millennia of erosion, red sandstone has acquired forms that some say resemble animals, landmarks or legends.
Located on the southern shore of Lake Issyk-Kul, Skazka is located on the main road from Karakol to Kaji-Sai, about 4 km (2.5 miles) from the village of Tosor:


Please zoom in to better observe the information.
Lake Issyk-Kul (hot lake) is an endorheic lake (does not evacuate significant amounts of water) of Central Asia, located in the north-eastern foothills of the Tian Shan mountain range, northeast of Kyrgyzstan. It has a length of 182 km, and a width of 60 km, with a total area of 6,280 km², which makes it the second largest mountain lake in the world, after Lake Titicaca, located in the Andes. Its average height is of 1,609 msnm, and its maximum depth is of 702 m.
The lake is slightly saline, and remains free of ice during the winter. It is fed by springs and by the thaw in the spring. Its southern shore is dominated by the Tian Shan mountain range.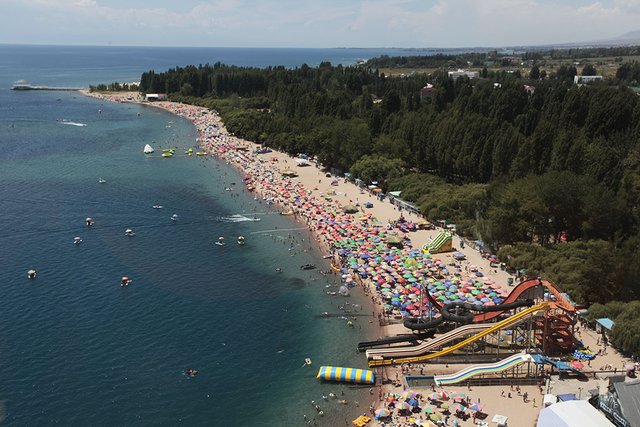 Issyk-Kul is famous for its curative mineralised water, hot springs and medicinal mud used for treating many diseases.
Greetings...