Curiosity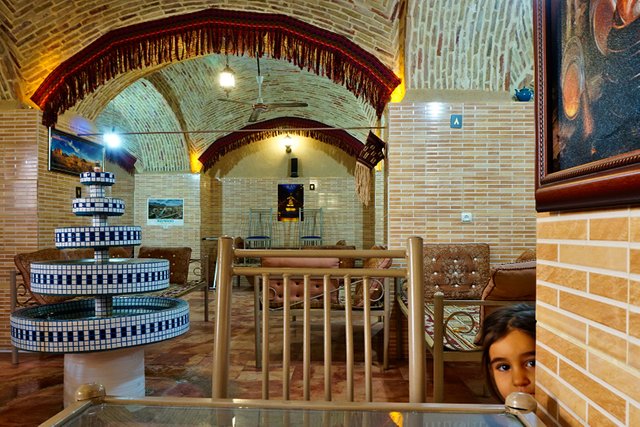 Inside an Iranian Sofreh-Khaneh, a traditional Persian restaurant and hookah (nargileh) house. I was taking a long-exposure photo as a curious child shyly peeked out from around a corner to stare at the weird foreigner with a camera.
Sofreh in Farci means a place for sitting, like those things with carpets and pillows that can be seen in the background. In Central Asia they call it Topchan.
Khaneh simply means "house".
| | |
| --- | --- |
| Category | portraitphotography |
| Location | Iran, Kerman |
| Settings | ISO 100 f/10 2s |
| Camera | Sony Alpha 5000 |
| Lens | Sony 3.5-5.6/16-50 |

If you liked this post, consider giving it an upvote or resteem. Follow me on steemit and instagram for more cool stuff and stay loco!
Me on the other platforms:
---
To view my posts on @SteemitWorldMap click here:


「My recent posts」
Colorchallenge: Tuesday Orange - on the Way to the Hottest Place on Earth
Stone Idols of San Agustin
Red Walls in Skazka Canyon, Kyrgyzstan
A Hiker's Teapot
Somewhere in Haiti
These boots are made for walkin'
「My best stories」
Sectants and magic potions, Ayahuaska experience in Colombia
Haiti: Poverty, gangsters and UN party
Exhausting ride along the border of Afghanistan
Overnight adventure in Haunted Bhangarh, a Ghost Town in India
Beheaded Goat and Bloody Idol above the Clouds in Himalayan Temple