Psychedelic Design of a Mosque Ceiling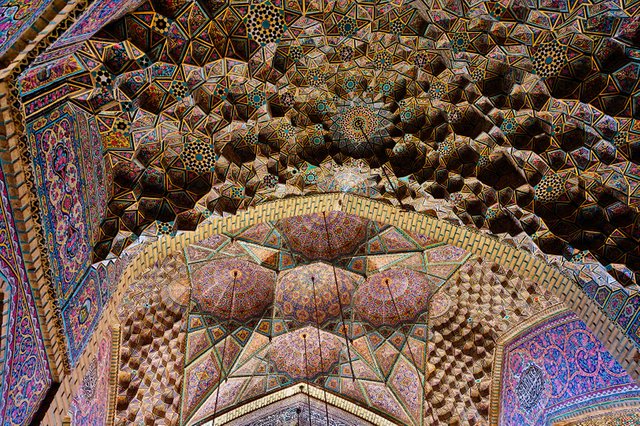 Ever since the trip to Iran, I pay special attention to the interiors of mosques, especially ceilings. They are always wonderful and special, covered in intricate patterns and vivid tiles, carefully laid by hand. I can't really imagine the effort and skill required to produce the colorful angled surface like that, where shape and shade intertwine to create a picture unique for this specific time and lighting. I'm not a fan of Islam, to be clear, but it doesn't make mosques any less amazing from the aesthetic perspective.
| | |
| --- | --- |
| Category | architecturalphotography |
| Location | Iran, Shiraz |
| Settings | ISO 320 f/10 1/60 |
| Camera | Sony Alpha 5000 |
| Lens | Sony 3.5-5.6/16-50 |

If you liked this post, consider giving it an upvote or resteem. Follow me on steemit and instagram for more cool stuff and stay loco!
Me on the other platforms:
---
To view my posts on @SteemitWorldMap click here:


「My recent posts」
Mother Nature - a Siberian Mountain Lake
Curiosity
Colorchallenge: Tuesday Orange - on the Way to the Hottest Place on Earth
Stone Idols of San Agustin
Red Walls in Skazka Canyon, Kyrgyzstan
A Hiker's Teapot
「My best stories」
Sectants and magic potions, Ayahuaska experience in Colombia
Haiti: Poverty, gangsters and UN party
Exhausting ride along the border of Afghanistan
Overnight adventure in Haunted Bhangarh, a Ghost Town in India
Beheaded Goat and Bloody Idol above the Clouds in Himalayan Temple