[Esp-Eng] Celebrando mi cumpleaños. - Celebrating my birthday.
...and the most awaited day arrived...
...y llegó el día más esperado...


My birthday!!!
Mi Cumpleaños!!!
That special day of each one and where we are more aware than ever. At first I was a bit sentimental about not being able to go on a trip like we used to do before, and not being able to share that day with my parents. Almost every year we sang birthdays at my parents' house unless we were traveling, so this time we couldn't do either of the 2 things.


Ese día especial de cada uno y donde nos consienten más que nunca. Al principio estuve un poco sentimental por el hecho de no poder ir de viaje como solíamos hacer antes, y de no poder compartir ese día con mis padres. Casi todos los años cantábamos cumpleaños en casa de mis padres a menos que estuviésemos de viaje, entonces en esta oportunidad no pudimos hacer ninguna de las 2 cosas.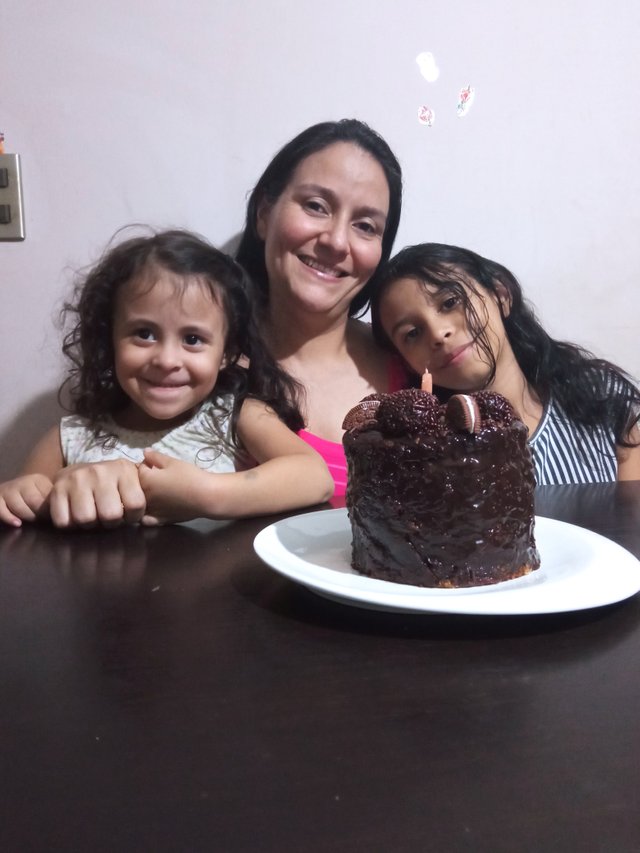 Mis princesas y yo posando antes de cantar cumpleaños. - My princesses and I posing before singing birthdays.
However, this day made it very special, being with my husband and my daughters enjoying life and health. My oldest daughter (Kathe), had several weeks planning surprises for me. She is definitely my magical princess, always so dedicated and loving. I wanted everything to be nice for me... Every day I sent messages to my husband to buy something for that day, and she dedicated herself to making gifts at home (crafts), for me.


Sin embargo, este día lo hizo muy especial, el estar con mi esposo y mis hijas gozando de vida y salud. Mi hija mayor (kathe), tenía varias semanas planificando sorpresas para mi. Ella definitivamente es mi princesa mágica, siempre tan dedicada y amorosa. Quería que todo fuese lindo para mi... Cada día le enviaba mensajes a mi esposo para que comprara alguna cosa para ese día, y se dedicó a hacer regalitos en casa (manualidades), para mi.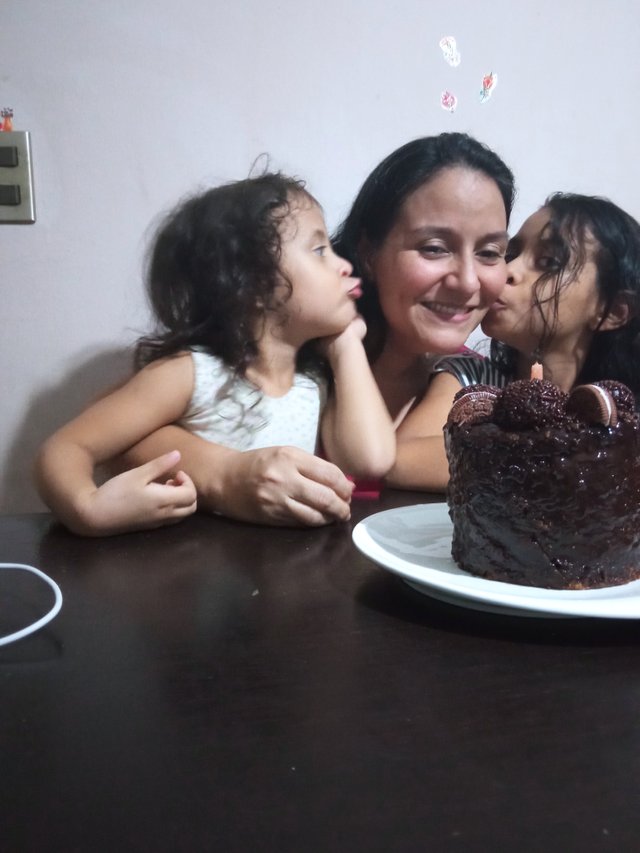 Un beso de mis princesas. - A kiss from my princesses.
I usually make snacks on birthdays, but yesterday I only made some hamburgers and my husband bought me "the paradise".... sorry... a delicious cake hahaha


Yo acostumbro a hacer pasapalos en los cumpleaños, pero ayer solo hice unas hamburguesas y mi esposo me compró "el paraíso".... perdón... una deliciosa torta jajaja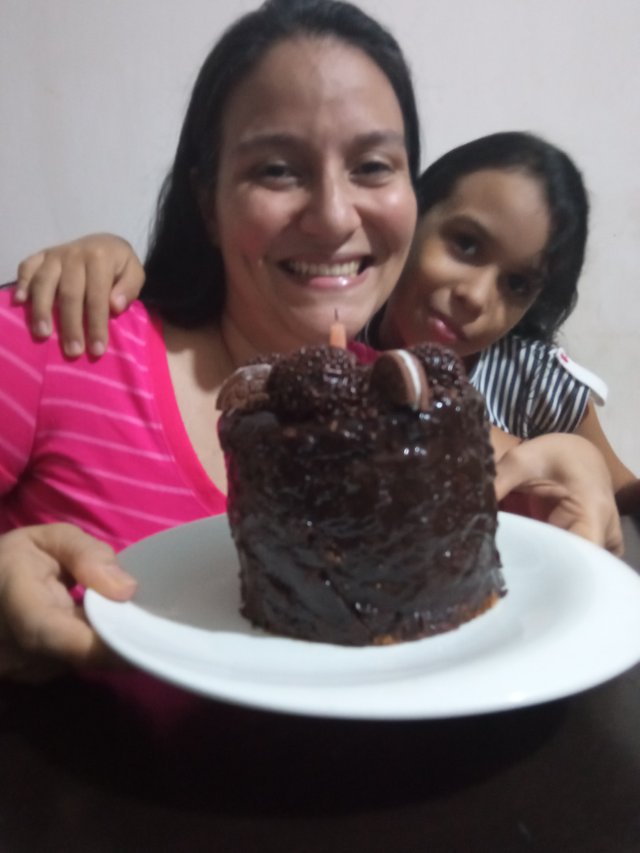 Después de cantar cumpleaños, lista para picar la torta. - After singing birthday, ready to chop the cake.
ok, I confess my weakness.... it is impossible for me to resist chocolate, and I always ask for my birthday, whenever possible, a chocolate cake, filled with chocolate, dipped in chocolate and decorated with chocolate... a lot of chocolate!!! It is my delusion and I believe that I will never be able to end that addiction. Well, we all have a weakness in life!


ok, confieso mi debilidad.... es imposible para mi resistirme al chocolate, y siempre pido para mi cumpleaños, siempre que se pueda, una torta de chocolate, rellena de chocolate, bañada en chocolate y adornada con chocolate... mucho chocolate, es mi delirio y creo que nunca podré acabar con esa adicción. Bueno, todos tenemos una debilidad en la vida!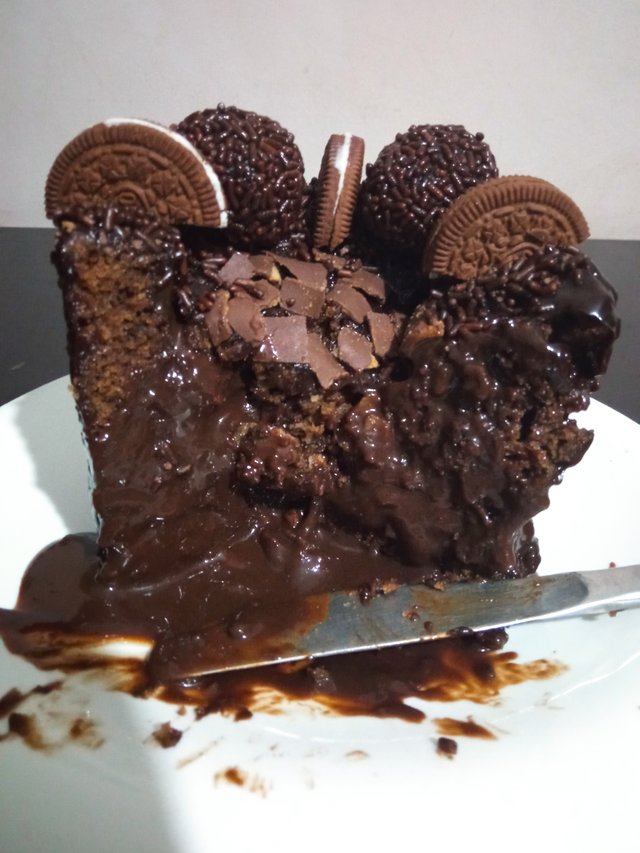 Esta torta se llama volcán de chocolate, cuando la picas puedes ver que está full de chocolate. "La Amo", es mi favorita. - This cake is called a chocolate volcano, when you cut it you can see that it is full of chocolate. "I love it" is my favorite.
It was a very special day, thank goodness.

Fue un día muy especial, gracias a Dios.




---

Todas las fotos fueron tomadas con mi teléfono LG Risio




All the photos were taken with my Cell phone LG Risio