German authorities don't care about #billysix
German authorities don't care about #billysix while lying about the fact that they didn't and don't help.Let's try to make this international so we get him free without the german regime's help.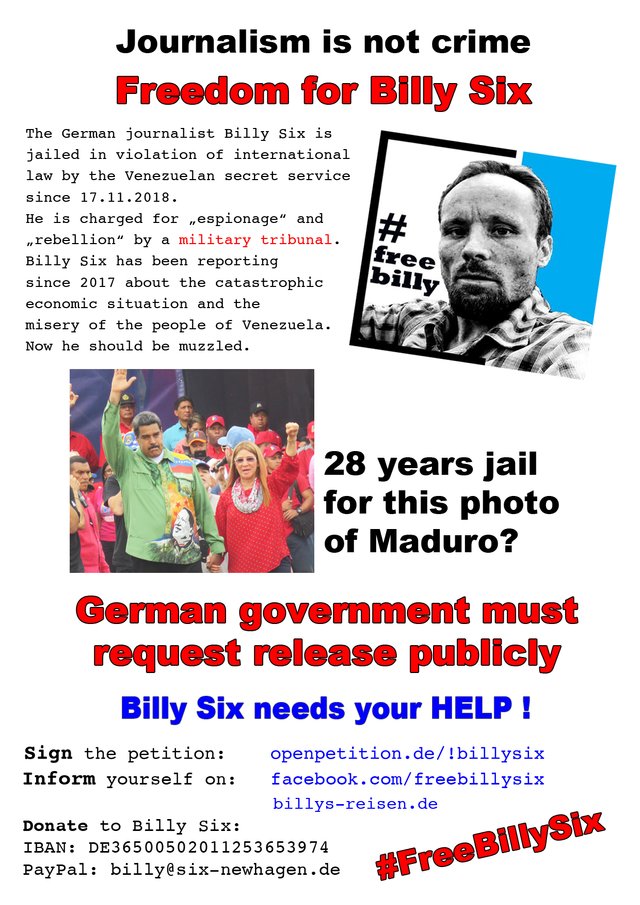 What about Tommy Robinson who was supported by us when he was jailed?
What about Luke Z Rudkowski? This could happen to him too!
What about Steven Crowder? Is this no topic?
What about Lauren Southern? It's her collegue!
Make #freebillysix viral internationally so we can get Billy Six free and internationally face the fact that germans government is a totalitarian regime that just cares about anti-german "journalists".
If you're unsure about this, get the whole story here: Free Billy Six
Teilt das an eure Freunde und wenn möglich an größere Youtuber, Blogger usw.
Share this info with your friends and when possible with famous youtubers, bloggers etc.
Flyers in many languages in the following link below:
https://drive.google.com/drive/folders/1ZW_c9-r7tNGf_SHA9zwET_eCp07F28X4
This is, what Billy Six' family&friends were answering to the post when published on Ancap Merch on Facebook:
 Thank you so much for your international call to get German journalist Billy Six free! We need as much as possible support from everyone in the world to make this cruel and inhuman behaviour from the German government public. If you need additional information let us know. We're going to update the current situation shortly.

Vielen lieben Dank für den Ruf in die Welt um Hilfe für den deutschen Journalisten Billy Six, der von seinem Staat verraten und verkauft wurde. Wir werden kurzfristig die aktuelle Situation updaten, so dass das ganze Ausmass der Verhöhnung der Deutschen Regierung gegenüber Billy Six und seiner Familie offen zu legen.