Happy 2nd Birthday To Me - Thoughts of Where we are and Where we can go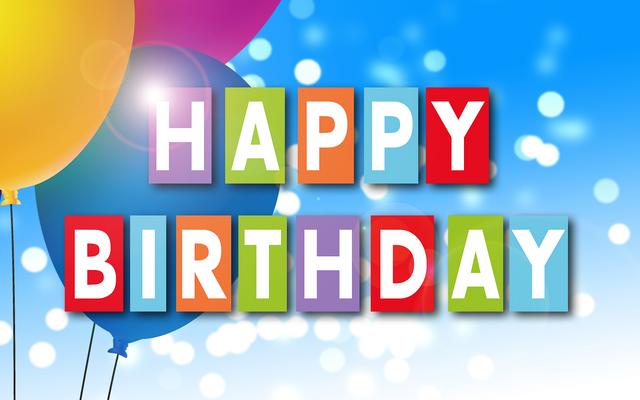 This is something I didn't realize was today, but got a nice little reminder from @steemitboard with an "personal award" and it reads "Happy Birthday! - You are on the Steem blockchain for 2 years!". This date would have passed without me even realizing it so thanks @steemitboard.
2 Years is a long time to stay committed to something. Most people can't stick to something for weeks...forget months or years. In those 2 years there has been some interesting things that have happened and I've made some friends along the way...and an enemy or two I'm sure. I've even had to experience the loss of a friend made here on Steem to cancer, miss our chats @wolfhart.
Being that I wasn't really prepared for this event, but want to mark this milestone with a post this will be short. More so I can look back on my thoughts as of today in the future to see how things played out vs my thoughts and use it as an outline for some detailed posts to come.
Social
To bring on the masses and make STEEM a truly social media site we need to think about a few questions
Can you quickly find your friends on Steem?
Could you explain in 10 minutes to an "average" person with no knowledge of blockchains how to use Steem (Keys, RC's, VP, Downvotes, Voting Windows, Curation, Reward Curve, and so forth)?
Can you show someone how to sign up and start posting, voting, commenting as a normal person would on any other social media site without costs?
Until we can start making these all YES answers this will never appeal to the masses. Do we want the masses...or not? If so major changes must happen.
Free Downvotes
@tarazkp wrote an interesting post today about this topic: Growth and pollution on Steem. His thoughts are very optimistic about the potential of the free downvotes...and I really do hope he is correct in how this plays out over the long haul...not just short term.
The numbers say downvotes are happening based on @abh12345's findings. Take a look at his post from yesterday:Downvoting due high pending rewards and a lack of engagement?. The post highlights the increase in downvotes and is talking about potential downvote posts based on lack of engagement...wonder if fake comments will start up if this idea takes hold.
I have reservations about the free downvotes as it's extra ammo for the bullies. Time will tell on this one, but think it will be an interesting change for the long haul. Good or bad it's worth testing for sure.
Quality Content Creators Needed
There is some debate if we need more content creators or content consumers...but it's kind of a which came first the chicken or the egg type of debate. My thought is truly high quality content would drive the content consumers to come to Steem.
The issue is when I've talked with a few content creators is they are used to creating content and then earning on it for the long haul. The 7 day earning window is a serious hangup. Quality content takes serious time to compile and as such the creator needs to be able to earn a real amount of income from those efforts.
I would propose a 7 day window followed by 30 day windows forever. I'm sure there are added expenses to doing this, but with the RC system it can be adjusted for these added costs.
Potential
The technology behind STEEM is amazing. Some stupid kitty app cripple ETH and the volume of transactions was something STEEM could handle without even a hiccup. That volume wouldn't even come close to testing the upper limits of STEEM.
The speed, costs, and overall strength of the actual blockchain are amazing and this in itself is enough reason that people should be investing in STEEM.
1 Year Prediction
For fun I'm going to toss out a few predictions for what will happen over the next 12 months. For the stupid person that wants to blame others, this isn't financial advise.
Steem Price will increase and have a run up of over 4x to around $0.80 USD as SMTs provide options to a few quality ideas that bring in some new demand for Steem. This will be the start of good things to come and as prices increase Steemit Inc and other Devs have reduced selling requirements to pay their bills reducing supply. As supply reduces price can continue to increase and FOMO will kick in at some point. Lots of people will be kicking themselves for not buying more Steem at these prices and at least making themselves minnows (seriously people only need about $90 to reach minnow)

The change to the vote curve will get increasingly more pushback from the masses as they realize that no matter what intentions the witnesses may have had large account holders aren't going to start investing their time and curating posts from people they don't know. It will be business as usual and the circle voting will continue, massive bid bot delegations will continue and instead of the good intentions of the witness the reality will be a huge majority of people are being taxed so the few can earn even more. The Reverse Robinhood Curve as will called as will die a slow death.
Have more thoughts, but my Wife is telling me to wrap it up as we have an early morning tomorrow...and I said it would be a short post...so sorry for the abrupt ending to the post, but that's a wrap for now.