PalmPay v1.1.4 Released - The Point Of Sale app that pays every 3 seconds. Bitcoin Cash, Dash and Monero added. Spark and EasyDex settlement features on the way.
What is PalmPay?

PalmPay enables any business to accept one or more digital currencies at zero cost.
PalmPay is a free Point Of Sale (POS) app that can be downloaded to any android device, tablet or smartphone.
Download, run the Setup Wizard, register a free blockchain account (like mango-grocery-123), secure your backup, choose which currencies you would like to accept and open your doors to new international customers!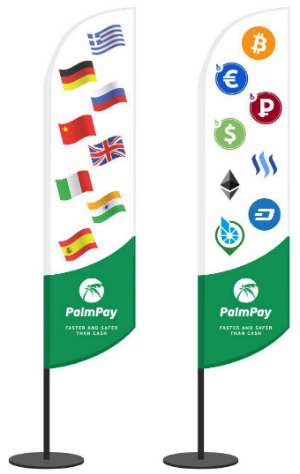 Which coins does PalmPay support?
Accepting Bitcoin is easy. What about Steem, Dash, Ethereum, Bitcoin Cash, Monero and Litecoin? What about market-pegged coins like bitUSD, bitCNY and bitRUBLE? PalmPay lets you accept all of the top (and emerging) coins, automatically. Flexible, price-stable, and future-proof.
Merchants can now accept currencies from all over the world, including emerging currencies, automatically.
How much does PalmPay cost?
Nothing. If you have an android device, that's literally all you need. PalmPay is 100% free. No setup fee, no registration fee, no app fee, no transaction fees, no monthly fee, no fees at all.
Merchants no longer have to pay any fees.
When customers pay, where do their coins go?
To the Bitshares Decentralized Exchange (DEx). Merchants receive the price-stable coin (aka: Smartcoin) of their choice, such as bitUSD, bitEUR, bitRUBLE, etc. So, if a price-volatile coin like Dogecoin is received from the customer, then that coin is converted into a Smartcoin and is sent to your DEx blockchain account (like mango-grocery-123). This way, the business owner never has to worry about complex account addresses, price volatility or some company holding their money, and account keys never leave the device.
Merchants never have to worry about price-volatility or some company holding their money.
Does PalmPay support Loyalty Points?
Yes. Set it so that when a customer spends $n they receive x number of tokens to their mobile wallet the second their payment is completed. These tokens can be cashed out on the DEx, or cashed in as a credit on their next purchase at your business.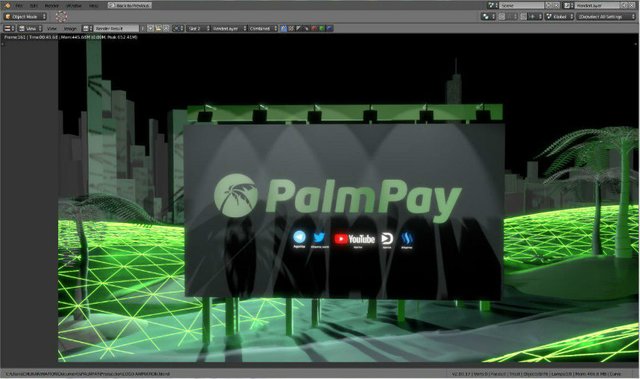 What about the Bank?
PalmPay does not require you to have a Bank account.
Banks are becoming crypto-to-fiat Gateways however, digital asset Brokers, and Crypto Exchanges. This is great because PalmPay merchants who still desire to pay bills with fiat can now rely on Banks to convert (for example) their bitEUR to fiat Euros.
Is PalmPay fast AND scalable?
Yes. Transactions are fully confirmed in 3 seconds or less. We recently exceeded 3,300 transactions per second too, which rivals visa/mc. The DEx is used for all transaction processing since it is the only blockchain in the world that can handle such volume with multiple coins.
PalmPay is faster and safer than cash or cards.
Does the customer need to pay with a special mobile wallet?
No. The customer should be able to pay with any mobile wallet that can scan QR codes or NFC signals. Bitcoin Wallet, Jaxx, Dash Wallet, Mycelium, Monerujo, etc.
Does PalmPay come with free on-site support?
Yes. The 0.5% Network fee that the customer pays goes directly to the local PalmPay Ambassadors in your city, just 3 seconds after the transaction takes place. PalmPay is in 44 languages, so that's why providing local support is imperative. Imagine getting paid every 3 seconds..
To become an Amb, or to locate your local Amb, just join us in the chat:
The video above is just a 30sec demo to show you how a basic transaction takes place. The customer scans the QR code with their phone and sends their Bitcoin, bitUSD, Dash or whatever, and then the Success screen is displayed so the customer can go on their way. The above transaction and Ambassador payout can be seen here:
cryptofresh.com/tx/2c6bd7c76c5e127d35b45304b8d4ba138b14ebd8
What's new in this release?
Download: play.google.com/store/apps/details?id=cy.agorise.palmpay
Massive improvements in network utilization, less data used
Improved UI/UX, and more devices supported
Added support for Bitcoin Cash, Dash and Monero
Improved eReceipts and export tools for Accounting
Roadmap:
v1.2 quick update
Adding support for more locale fiat currencies like:

Argentine Peso ($ ARS)
Australian Dollar ($ AUD)
Canadian Dollar ($ CAD)
Chinese Yuan (¥ CNY)
Euro (€ EUR)
Pound Sterling (£ GBP)
Japanese Yen (円 JPY)
Korean Won (₩ KRW)
Mexican Peso ($ MXN)
New Zealand Dollar ($ NZD)
Russian Ruble (₽ RUB)
Swedish Krona (kr SEK)
East Caribbean Dollar ($ XCD)
v2.0
Upgrade Architecture to AAC; speeds up DEx access through background ops
Implement additional coin bridges (like Morphit) to support more coins and to always clear slower coins like Zcash in <3sec
Add Manual and Auto-Settle features to PalmPay;

For example, send n% of your Smartcoin balance to your Gateway account (like EasyDex or Spark) every n Days.

Add a Night Mode toggle for use in nightclubs, classy restaurants, etc.
Add Yubikey Neo support for Manager overrides

PalmPay is being improved constantly, and has a very supportive, sustainable community of crypto savvy Ambassadors who are paid every 3 seconds to share their crypto knowledge. He/she can also help to bring you new business, promotional materials, hold meetups, etc.
Share the news about PalmPay in the Bitcoin, Ethereum, Dash, Monero and Bitcoin Cash communities! They'll probably be very happy that their coin is being further accepted in merchants worldwide, and, supported at the local level.
Please and Thank you! :)
Peace, Love, and Agorism.