Bitcoin technical Analysis Update (BTC/USD): There is only Rejoice on the Chart, BTC set for some New Highs.
Analysis Summary:
Hi Friends, welcome to this Daily analysis of Bitcoin.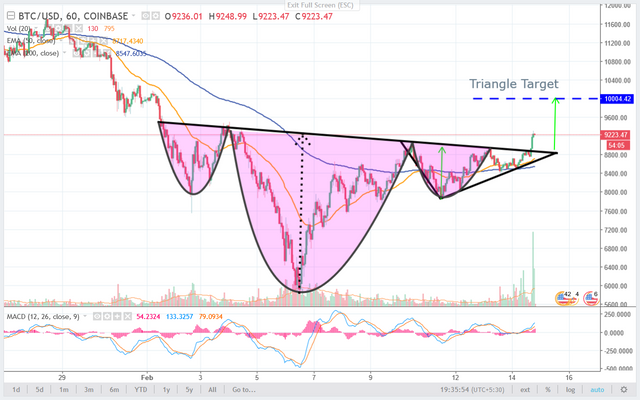 Looking at the hourly chart we can see that BTC has been trading sideways since my last post but the positive that we can derive from this sideways movement is that BTC has been forming regular bullish flags with its movement. If you remember BTC ascended down forming regular Bear flags resulting in lower lows, so far the upward movement has been forming higher highs in formation of these bull flags.
You can see that I have drawn an reverse head and shoulders pattern that has been formed on the chart which looks identical to the Bearish H&S pattern formed at the BTC all time high, the current H&S pattern has been breached and, there is also a bullish symmetrical triangle formation which I have drawn on the chart which has already been breached as well suggesting a near term target around $10000. However if we calculate a target from the H&S pattern then a breach to the heavy resistance around $12700 looks to be breached as well. And this is not all.
MACD also looks to confirm the bullish sentiment, on the volume side there are more green than red suggesting good buy side support. Bullish EMA crossover also has taken place.
Based on all these evidences we can only say there is only rejoice to be seen on the BTC hourly chart suggesting new highs to be achieved. let's see how BTC is faring on the 4 Hour chart.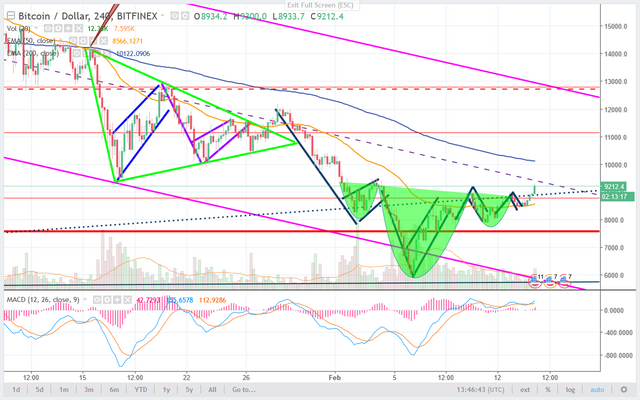 Here we can see that BTC has so far breached the EMA50 and again formed a bullish flag which has been breached but the most important signal is that meanwhile BTC has also returned back upside of the dotted black trend line originating at the origin of BTC rally which is going to be some heavy bullish signal suggesting a good upward rally in upcoming days,
That will be all for now, I will keep you guys Posted in the as the chart develops further.
Till then Goodbye and Best of Luck to You People.
Patience is the key to success
The key to success when trading cryptocurrencies
When organizing your life (solving problems)
When trying to achieve happiness & wealth...
Patience and deep breathing is the key to attaining everything you want, good or bad, in this lifetime.
Namaste.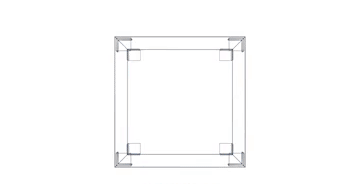 Legal Disclaimer: The Analysis posted here is personal view of author and not meant to be an investment advice. Nothing can be sure. any kind of analysis is predictions based on past moments
Please follow, upvote and resteem if you liked this post. and please let me know what your analysis says,