How to Buy BTC with the Cash App by Square and get a really Sweet looking ATM card
Some of you may already have the Cash App by Square available on iOS and Android. It's pretty popular at the moment because Square is one of those "disruptive" companies that offers point of sale tools for merchants and their fees tend to be lower for credit card processing (Like PayPal, Stripe, etc.).
You might wonder why I, a crypto enthusiast, would be interested in a fiat app and I'll get to that.
The app is really "frictionless"
"Cash itself is one of the cleanest, lowest friction constructs I've ever seen to exchange money from one lazy person to another — and that includes actual cash."
Matthew Panzarino @panzer / Mar 23, 2015 / TechCrunch
I have to say I really love the Square suite of products because as a small business owner they offer the best value and really top notch performance. They sent me a credit card reader for free, and I can buy a chip reader if I want.
But this Cash App is for consumers as well as merchants. If you register as a business, you bear the cost of the credit card processing fee should someone pay you using the app.
If you're a consumer, there is no fee but there are limits to the amount of transactions you can make (and they're pretty high).
It's "frictionless" because it's so darn easy to use.
Stepping up their Game: Enter BTC
Recently I was going through my apps on my phone and opened up the Cash App,
... just in case someone randomly sent me money.
Hah hah.
I noticed they added "Buy and Sell BTC" so I was intrigued and wouldn't ya know?
You can buy and sell BTC on the Cash App.
There's no wallet address or any kind of complicated thing.
Simple Buy/Sell. Oh, there's a graph for hour/daily/month/year too.
The price is calculated like this:
While we don't add an additional percentage or fixed dollar amount onto your sale of Bitcoin, when you buy Bitcoin in the Cash App, the price we sell to or buy from you is calculated from the quoted mid-market price, inclusive of a margin, or spread.
But there are NO FEES.
So for people like me who buy $10-20 worth of BTC at a time this is awesome, because buying and selling BTC on Coinbase for instance is .99 cents both ways.
You can also send your BTC to an exchange or other wallet and there is no fee at the moment of this writing, however you will need to go through a KYC process to do that ("know your customer" means you will need to submit identification and verify yourself).
It's easy to buy BTC. Simply load your Cash App with fiat from your linked bank, also free to do. Then use that loaded cash to purchase BTC.
Beautiful ATM/VISA card
Here's what really made me happy. I love beautifully designed things and this ATM card is very very nice. You can order one and use your phone/tablet stylus to customize the front graphic. Here I've done my name and it's embossed on a flat matte black finish. The card feels nice to hold, too.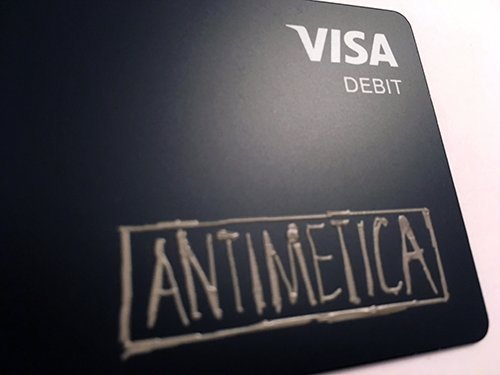 What's in the future for Square's Cash App?
Now you can't
pay
anyone with BTC yet from the app, there isn't a wallet QR code or address like I said earlier.
But it seems Square is interested in doing something in the crypto space and might build it out. And Square has shown it's very lean and mean with how they design products and roll out benefits to customers.
If Square continues to involve cryptocurrency in its suite of offerings I feel very bullish for their future.
If you're interested in trying out the free Cash App and I've helped you understand it a little, please consider using my referral code:
https://cash.me/app/QPFLMXM

The "send $5" is if you send it to anyone. Could be your best friend, spouse, etc. They just want you to make a transaction by sending money to someone.
Thank you so much!
Sources
"It's $​Businesstime For Square Cash"
https://techcrunch.com/2015/03/23/businesstime-for-square-cash/
How to Buy and Sell BTC on Square
https://squareup.com/help/us/en/article/6307
⬧❖⬧
Find me on Twitter if you want to stay in touch https://twitter.com/antimetica
Thank you so much for reading!