BitcoinPrivate (ZClassic Fork) Fork-Date announced! 28th of February!
BitcoinPrivate Fork Date is the 28.02.2018
---
I promised you to report when i have new informations about the bitcoin private fork. Fortunately the conference from yesterday bring us new informations. I won't talk much and come to the point:
---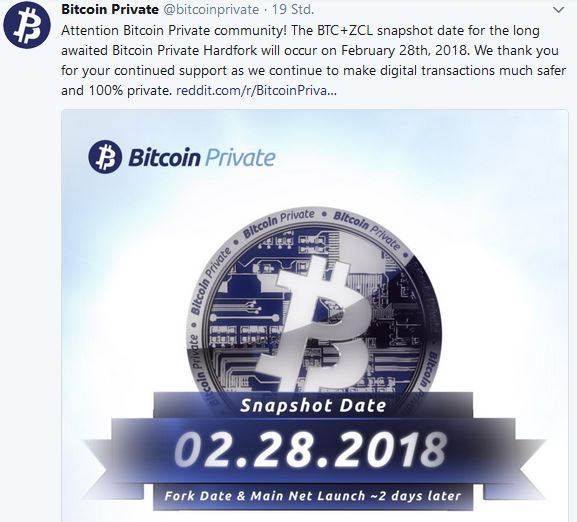 ---
So at the 28th of February everyone who holds Zclassic also will hold Bitcoin Private.
If you want to get some quick overview i will give you this tweet about the key facts:
---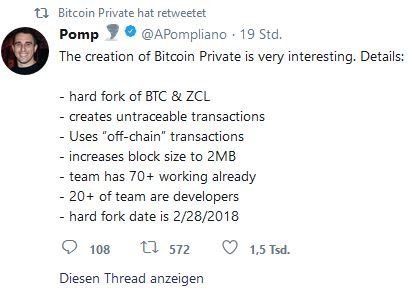 ---
If you want to look the whole conference from Sunday you can watch this youtube video, starting around minute 36:
---
---
Since i am a friend of anonymous transaction systems, i am pretty interested in the development of BitcoinPrivate. If you are also you can follow their twitter account to stay up to date:
https://twitter.com/bitcoinprivate
---
If you are german and want to get some more informations you are also invited to read an older blogpost from myself, in which i was writing about btcp allready:
https://steemit.com/cryptocurrency/@b-s/all-about-the-krytpos-1-or-mcafee-marktsituation-bitcoin-private-fork
---
---
Other (GERMAN) posts on my blog
---
---

Donate ETH | Ethereum | ERC-20 Tokens:
0xA82cfD32Bb31cDB5949327B0744A45F1285DB224
---
Liebe Grüße und bis zum nächsten Mal!