👉👉The Antminer D3: Today's Most Profitable Dash Miner? 01/10/17👈👈👍😄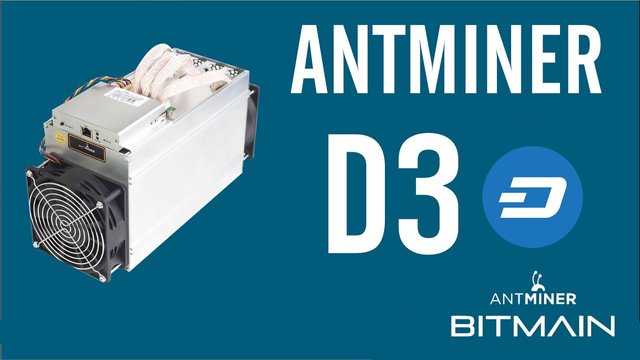 Cost: Antminer D3 in the first batch for 1599$+psu 150$. 

 Shipping: We ordered from Batch 1.5, which seemed to be the leftover orders that didn't get fulfilled in Batch 1. My projected ship date was September 18-25, and my D3 was on my doorstep September 19. 
 Setup: The D3 is really easy to setup. You just plug in the power supply and it activates. If you have a power switch, you just have to flip the switch.It needs 10 PCIE connections and it's using about 1000W. 
 Noise: The D3 is probably about twice as loud as the L3+. It's using a different algorithm, perhaps working a little harder and needs more cooling. The noise isn't a big deal, but I guess that could depend on your situation. This is not a miner you can keep in your living room or closet. Luckily we have a separate space for all of our miners (we have a video series on the structure and build of our shed coming next month!
 Build: The Antminer D3 comes in the same basic shell as the L3+ and they seem to be built very similarly. They're very compact. The intake fan is on the front and the outtake fan is on the back and that's it. 
Power & Performance: The projected hashing power of the D3 is 15 GH/s with 1200W of power usage. In reality, this miner actually hashes about 17 GH/s and uses a little under 1000W. A lot of companies under deliver their specs and Bitmain is over delivering here, so this is pretty impressive and definitely gives you a little edge compared to the other X11 miners. 
 Bitmain Remote Access Login: The Antminer has the standard issue remote login access with Bitmain. It's really nice and simple.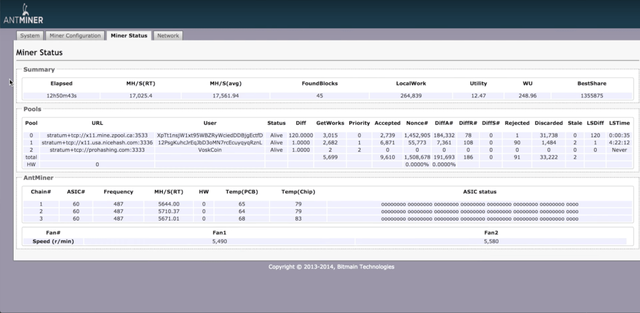 Pools:  The top three D3 pools are ZPool, NiceHash, and Prohashing. 
 If you're using the Bitmain remote access platform, simply input your wallet address into the Worker row and you're all set.You'll get accurate real-time data from your rig, including your average hashrate, up time, shares, the last time you got bounced to a backup pool, and the difficulty you're mining with. This also the same interface where you can download and upload a firmware update. Some people have been having issues where their D3s were constantly rebooting and they needed to update on their firmware. Luckily, we haven't had those issues with our D3s, but keep an eye out for that if you decide to get one.
Profits: about $175 per miner a week. So now we're making about $25-$30/day per miner. your profits vary from day to day. Again there are so many factors that go into the profitability of these pools, so these numbers are constantly changing and evolving.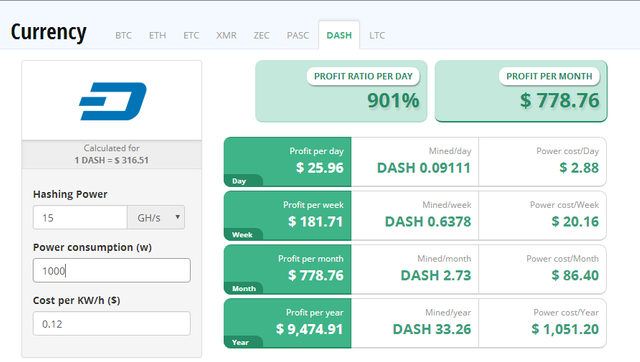 X11 Coins: While the D3 mines X11 coins, Dash is pretty much the backbone of X11. There aren't a lot of alt coins that are significant in the X11 market right now. We've heard that another X11 coin, Helium (HLM) is coming out, so hopefully it drives these miners' profits up and gives the X11 market a little more variety. 
 Should You Pick Up a D3? Yes, if you think it's a good gamble. If you can get one quickly, it will be pretty profitable. If you can't get one until the November/December batch, it's hard to say how profitable it will be. We're thinking these miners will make $30-$40 for the next month or so. After that, it's really hard to project its profitability. With more people getting their batches and people going in and out of pools, there's no telling what it will be like in a couple of months, but you will definitely have to be open to not ROIing as fast as the first batch. 
 There's a lot of speculation about future batches of the D3 and everyone's freaking out on the forums. If you're familiar with Bitmain's history, this is exactly what happened last time with the L3+, and that turned out to still be pretty profitable for a while. And the L3, which has half the hashing power of the L3+, is still profitable today and that was released at the beginning of 2017. Nobody knows the lifespan of these. It could be three months, it could be a year and half. While it probably won't be extremely long, it will be long enough to hopefully make your money back and then some. 
 If you don't want to wait for the November/December batches, you could also check out the Bitcointalk Classifieds. We've seen some people selling their D3s on there. 
 Overall Review: Overall the Antminer D3 is a good buy from Bitmain. They stated their specs, they over delivered, they delivered in their timeframe, and they sell directly to customers. There have been some bad reviews about the usability of their website, but at least they're selling directly to their customers. Some other companies are offering 100 minimum order quantities, which is completely unattainable for anyone just starting out in crypto or for anyone who just wants one. 
Thank you for looking please Upvote & Resteem if you like it  @bechir