WARNING! There are fake cryptocurrency trading apps on Google Play like Poloniex!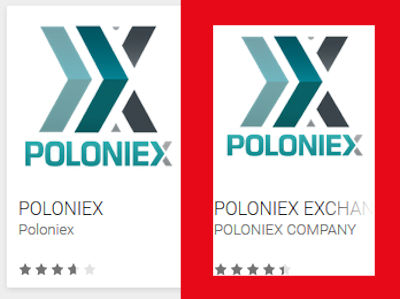 On October 15 a fake Poloniex exchange application has been uploaded to Google Play! 500 downloads have been made of this app. The application "POLONIEX EXCHANGE" displayed the developer name "POLONIEX COMPANY", but it was discovered by ESET and removed by Google from Google Play. The application looked very legitimate and hackers tried to trick victims into sharing their user data. This is not the first attempt of such an attack. There was another hoax app named "POLONIEX" with developer name "Poloniex", which existed between August 28, 2017 and September 19, 2017. It had 5000 users, despite mixed ratings and bad reviews. Poloniex is a very good exchange, with many users, which is why it has been chosen as the target for phishing users' information.
Please, stay very vigilant, this is probably not the last time this is going to happen! Please read reviews, look at application creation time and check credentials, before you input ANY information into an app, which seems legitimate!