Bitcoin Mining On The Rise
In recent months, there has been an interesting increase in investments in the purchase of Bitcoin mining equipment and video cards.
After the last halving in May which halved the rewards from 12.5 to 6.25 BTC, mining it has become increasingly difficult and expensive. Currently the hash rate is the highest ever and is approaching 140 Eh / s, this means that miners place great faith in Bitcoin mining and converge their computing power in block validation, in order to obtain the rewards.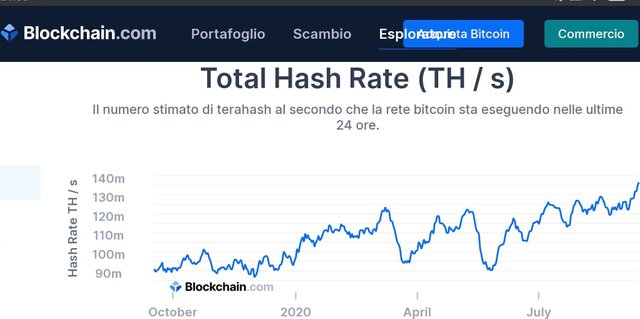 The mining activity, due to the complex processing data of the algorithm, requires increasingly efficient and expensive hardware, as well as a high consumption of electricity. This means that mining Bitcoin, if the price is relatively low, can be disadvantageous for the farm or the individual private user. For this reason, mining is concentrated in areas of the world where the price of electricity is relatively low such as China, where there is about 65% of world mining, followed by the USA and Canada.
The halving of the rewards should hypnotize two possible scenarios: one bullish and the other bearish.
With the halving of Bitcoin mining and the increasing difficulty of mining, the value of Bitcoin will inevitably have to rise in the coming months or the process would become loss-making. the bearish scenario with the price of Bitcoin falling below $ 10,000 and probably touching the all-time lows of the last 3 years.
At the moment the price of Bitcoin remains stable just above $ 10,000, after hitting $ 12,000 in August and while the hashrate rises and the price remains stable for now, there is an increase in mining worldwide.
In addition to China and the USA, the British company Argo Blockchain has also recorded record earnings of around 500% since the beginning of 2020 in the mining of Bitcoin, increasing its structure and strengthening its structures.
There are also large sales of hardware components for mining in Russia, with frightening percentages in recent months. At the moment, the only problem remains legal regulation and a more defined and clear picture is expected by the end of the year.
Large Chinese farms are continuing to upgrade their facilities with the purchase of increasingly powerful and efficient hardware. There is therefore an absolutely positive sentiment from miners, as mentioned at the beginning of this post, confidence that is reflected in the increase in hashrate.
According to the analyst PlanB, creator of one of the best known models on cryptocurrencies, the Stock-to-Flow (S2F), Bitcoin will begin its ascent which will bring it close to $ 300,000 in value in 2024. The capital will come from the shift of investments from precious metals (gold and silver) to digital gold due to the inflation of the dollar and consequently of other international currencies.
In short, as always we will see. Always be cautious in investing your money, the market to be really cruel.