SimpleFX Review: A Crypto tailored CFD platform to leverage trade Stock, Commodities, Precious Metals, Indices & Forex pairs using Bitcoin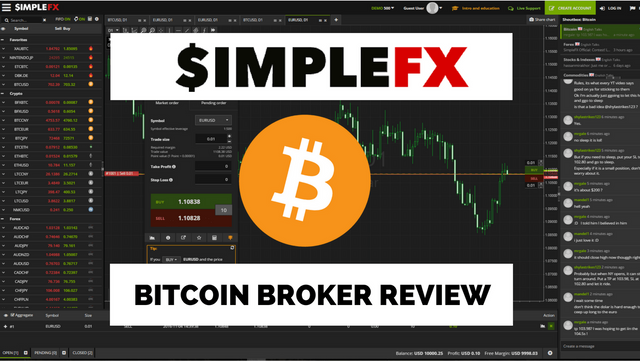 SimpleFX is one of the leading trading CFDs brokers that focuses on combining Traditional Financial Markets with Blockchain Technology like Bitcoin, Litecoin & Ethereum. Our SimpleFX review proves that investors can margin trade or invest in Precious Metal, Commodities, Stocks, Indices and Forex pair using Cryptocurrency as collateral by taking advantage of the 1:500 leverage offered by this Financial Brokerage
With today's booming Blockchain technology there doesn't seem to be many CFD trading platform like SimpleFX that offer traders the opportunity to trade Cryptocurrency pairs, yet alone lets client fund their account using digital currencies like Bitcoin, Litecoin in order to trade more traditional financial instruments like Gold, Forex pairs or Stocks. This is one few CFD Brokers that accept Bitcoin as collateral for Investors to trade a wide variety of financial assets such as Commodities, Precious Metals, Forex, Stocks, Indices, Equities & Altcoins. Even if there are a variety of instruments the traders of SimpleFX can trade in, the absolute main strength is its Cryptocurrency Trading benefits.
---
Company Background
The company behind SimpleFX was founded in 2014 and is based in Kingstown, Saint Vincent and the Grenadines but officially became a registered Brokerage in June 24, 2015, under number 22361 IBC. The Local Operating Unit in charge of SimpleFX is the London Stock Exchange, under Legal Entity Identifier (LEI) 21380042B8QJ87V4HA89. CryptoHype team did a background check and found it was difficult to determine "how regulated SimpleFX really is", but it turns out that seems to be some red flags as SimpleFX is more unregulated compared to other CFD Brokers.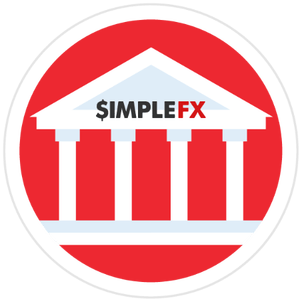 Saint Vincent and the Grenadines is a Caribbean island that is a popular destination for Forex Brokers, because registration procedure is simple and low-cost and they face limited regulatory supervision, if any. It's advisable to have a Financial Broker regulated by reliable authorities – UK's FCA, or Australia's ASIC, while avoiding offshore companies if you're someone that values security
The team behind SimpleFX claim to also have a partnership with high liquidity provider needed to operate day-to-day operation, however did not disclose more information. The mission of SimpleFX is to "Keep it simple!" by making sure that even amateur trader can get started trading using the platform to trade a variety of Financial instruments
In 2018, the company has managed to get more than 150,000 registered traders from around the world to utilize the brokerage and has become popular among Blockchain enthusiasts due to its service being tailored to a niche segment of traders interested in having direct access to traditional financial markets through Cryptocurrencies. As a brokerage, the company has recently won the award for the Best Cryptocurrency Trading Platform of 2017 at the Cryptocurrency World Expo, which took place on 1-2 December 2017 in Warsaw, Poland
As for the team behind SimpleFX there seems to be little information available online, potentially another Redflag as founders should be more active especially with the CryptoSpace. Browsing through few of the dedicated Company Blog posts, there is a claim that the main distinguishing feature of SimpleFX is the opportunity to trade mainstream Cryptocurrencies like Bitcoin, Litecoin & Ethereum.
This creates a message that SimpleFX will likely tailor its services to Cryptocurrency Investors, finding a niche among those who are interested in leveraging their Crypto holdings with a CFD brokerage, an idea that is welcomed by Blockchain enthusiasts and seasoned traders looking to trade traditional financial instruments. Their secret is simple: right from the company's inception in 2014, it was built by both seasoned Forex traders and Crypto enthusiasts.
---
Funding & Payment Method
Method of Payment
Account Funding Options
A Trader can use traditional payment options when depositing and withdrawing from a SimpleFX account however what makes this Financial Broker so special is that it allows Blockchain enthusiasts to fund their account with Bitcoin, Dash, Ethereum, Litecoin & BitcoinCash as a form of collateral. Offering the most variety options for funding an account using Cryptocurrencies pairs, meaning you can anonymously begin trading Forex Pairs, Commodities & Stocks within minutes of depositing an accepted Digital Currency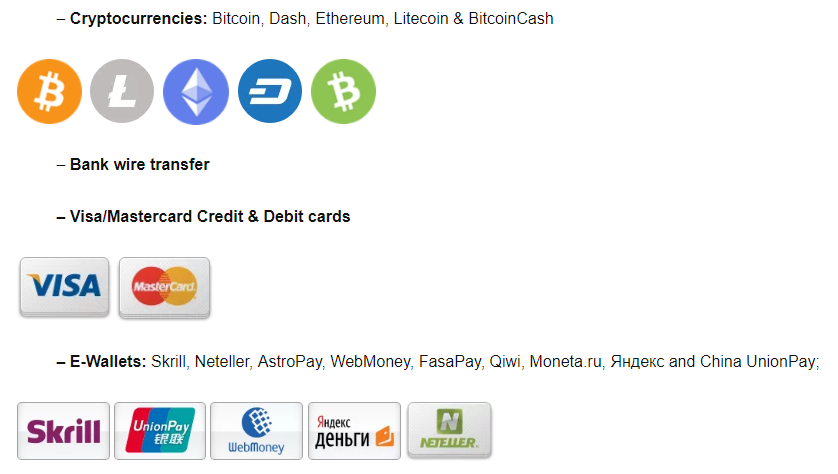 ---
Trading Fees & Pairs
SimpleFX.com offers over 55 Forex pairs, CFDS, Cryptocurrencies, Indices, Commodities and precious metals for your personal investment and trading options. To begin trading, clients need to fund their account with a minimum of 1$, essentially allowing anyone to trade with 500:1 leverage with little up-front capital.
Deposit/Withdrawal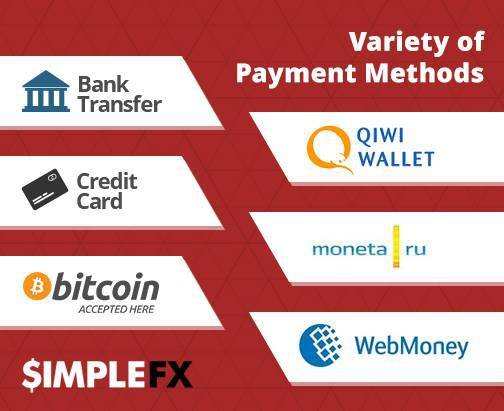 When it comes to Deposit & Withdrawal fees, SimpleFX has 0% deposit fees for Cryptocurrencies and offer standard market fees for traditional deposit/withdrawal options. In addition, Cryptocurrencies do not have a minimum deposit and maximum deposit cap with standard network fees applied when withdrawing, so you can top up an account within 1 hour. As for additional security, all Withdrawals have to be confirmed manually by SimpleFX Accounting Department, a measure which protects clients funds from electronic attacks.
As for more traditional payment options, regular bank fee is applied and there doesn't seem to be ridiculous additional fees charged for depositing/withdrawing via Fiat currencies. However, third-party service providers to have additional charges and set a low limit restriction for maximum deposits/withdrawals.
Trading Fees
SimpleFX seems to have reasonable fees with partial Transfer fees applied for Fiat currency and charging no Trading Fees. However, SimpleFX seems to have high Swap fees when compared to more established Brokers, so we don't recommend using this Exchange to hold an overnight or Long-term trade but more for day trades. As for the Spread, a majority of pairs seem to have very tight spread and there is no commission charged
---
User-Interface
Besides offering a Web-based layout, developers have worked on a native Mobile Application for iOS/Android, allowing users to depend less on third-party applications while enjoying the convenience of trading with a smartphone.
Traders will appreciate advance trading tools provided by Metatrader 4, also known as MT4, is one of the world's most popular electronic trading platform widely used by online retail foreign exchange speculative traders. It was developed by MetaQuotes Software and since it's released in 2015, Metatrader 4 has become the most downloaded pc based client used by millions of traders who appreciate the platform for it advanced charting tools. As for now, SimpleFX is the only platform that has been connecting Cryptocurrency and Forex environments for more than 3 years now, allowing clients to trade Bitcoin using MetaTrader 4 PC client.
The company has created multiple platforms that give the user access to their SimpleFX terminal, unlike the cumbersome interfaces of exchanges, SimpleFX is designed to provide immersive trading experience to the users.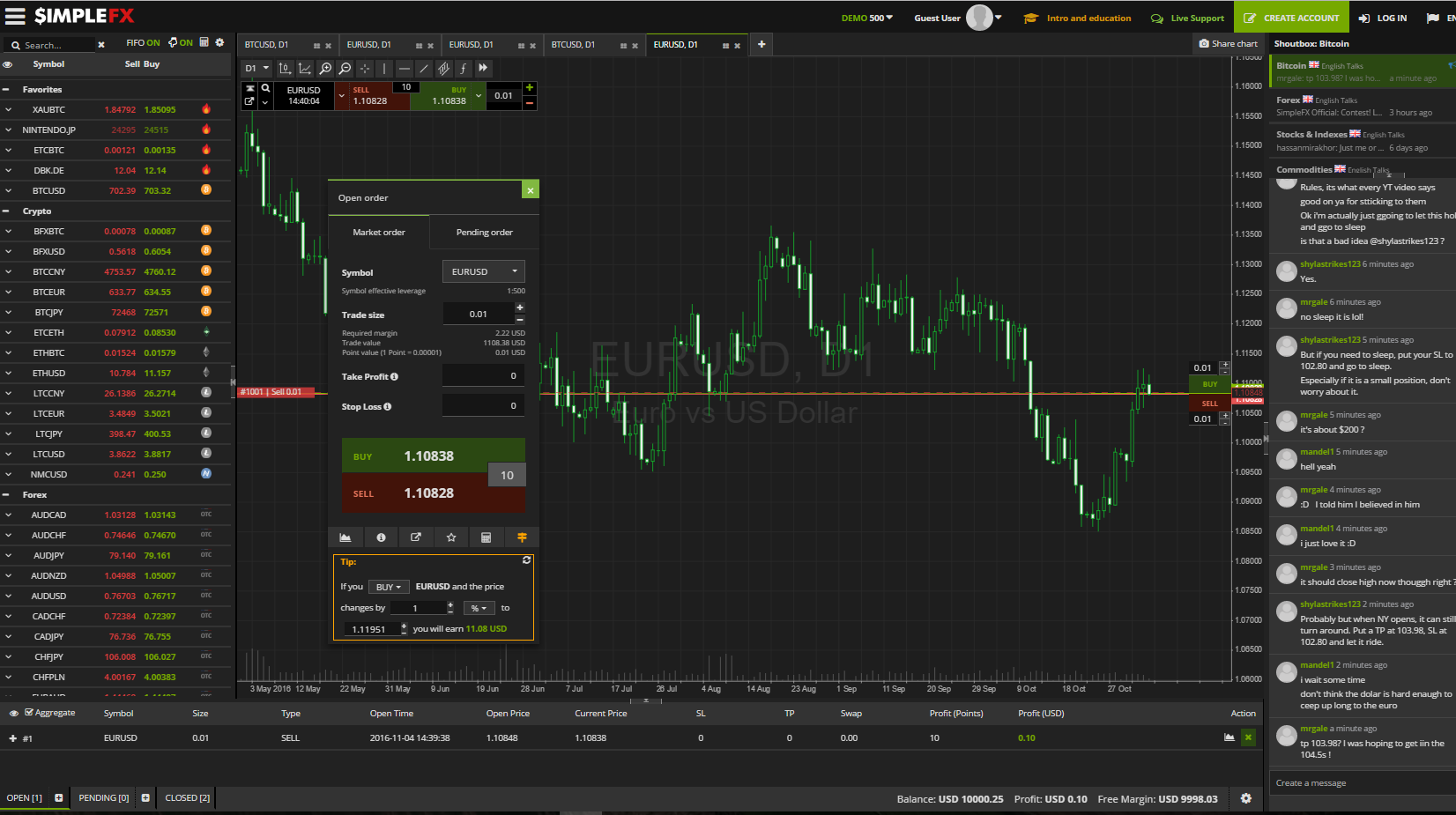 SimpleFX's platform offers ample of opportunities to traders of all skill levels: advanced technical analysis, flexible trading system, algorithmic trading and Expert Advisors, as well as mobile trading applications. A trader has the choice between Web, Mobile and PC client to directly trade using a SimpleFX brokerage account, overall providing a variety of user-interfaces tailored for amateur & professional traders.
---
Overall SimpleFX Review

SimpleFX is a "Crypto-friendly" broker of choice that goes above and beyond the standards of any previous broker currently available in the market. Providing a variety of pairs that have not been previously accessible to be leverage traded using Crypto-based funded account. When it comes to Deposit & Withdrawals, normal Network fees were charged and instantly credited within reasonable confirmation time, this is amazing considering that you can almost immediately begin margin trading by funding an account with Crypto, great for those who also value privacy and anonymity.
However, note that there is little information regarding the team leading the company and the number of negative remarks that are circulating online raises some concerns for those that trade with a large amount of capital. It's probably not the best idea to fund an account with large amounts of Crypto holding using SimpleFX and we would definitely recommend using an alternative Financial brokerage that's if you're more interested in trading traditional Markets, as there are a lot of better services that provide better security & have less risky regulation concerns.
Overall, our SimpleFX review concludes that this service is ideal for those that perhaps wish to have a CFD account to leverage more traditional assets by using Digital currencies like Bitcoin, Ethereum & Litecoin instead of Fiat currency as collateral to partake in speculative margin trading
---
---
---