Bitcoin Bull Run Real Reason Behind this.
Hi friends, hopefully you are all fine. Dear readers we have seen today a great bull run in the Bitcoin market.
In some exchanges Bitcoin price touches to 8000 dollars while in some exchanges it just touches the 7000 dollars.
According to me this difference should not happen in Bitcoin market.
Now come to the point, why this bull run happen in the market.
There are two big reasons.
As we all know about the history of Bitcoin for last 9 years. In the history of Bitcoin month of October,
November and December are very important. In these months bull run of Bitcoin starts. So this bull run may be
the sign of Big bull run in coming months of November and December.

Second main reason is, there is rumor in the market about the USDT ( Tether ). People are believing on the
rumor that USDT is delisting from different exchanges. So people who had USDT they are all exchanging it into
Bitcoin. So price of Bitocin is increasing. And with this increase in price of bitcoin, many other altcoins price
is also increasing.
Look at the picture below.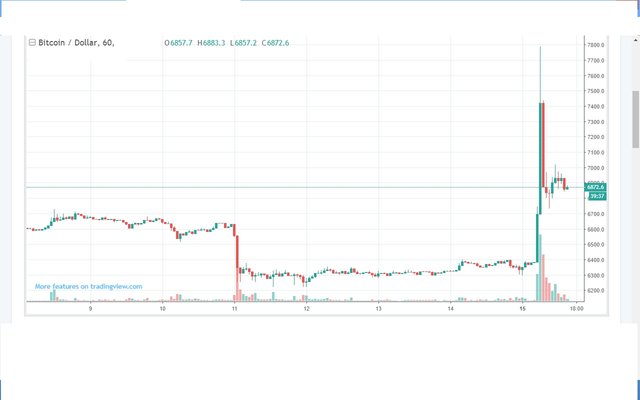 Price of Bitcoin increases in just two hours and then decreases sharply.
Look at the picture below of Tether Chart.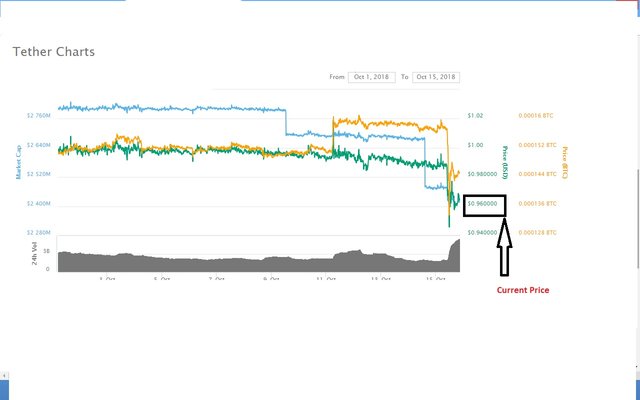 As you all noticed there is sharp decline in the price of Tether. Reason behind is that people are selling Tether
and buying Bitcoin. The current price of Tether is about 0.96$.
So we should hope that this Bull run of Bitcoin is the start.
Follow me @cryptoexpert79 for more technical analysis of cryptocurrencies and much more.
https://steemit.com/cryptocurrency/@cryptoexpert79/ripple-price-analysis-so-what-is-next
https://steemit.com/cryptocurrency/@cryptoexpert79/ripple-analysis-best-time-to-buy-hurry-up
https://steemit.com/cryptocurrency/@cryptoexpert79/bitcoin-analysis-5-september-2018
https://steemit.com/steem/@cryptoexpert79/steem-technical-analysis-16-september-2018
For any queries you can ask me through comments.