New innovation in delivery services called Geeba.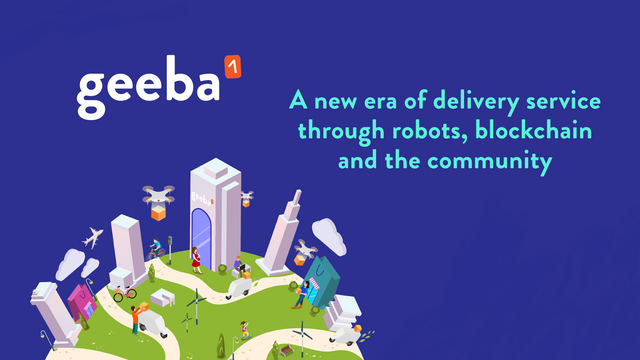 Due to high costs, lack of efficiency, and demand of delivery, delivery industry made an innovation. There is robot that provides delivery services, called Geeba. Geeba is a decentralized delivery ecosystem that enables businesses to operate deliveries with autonomous vehicles and smart hubs. How to make it work? Become active participant in the evolution through leveraging blockchain. Geeba is the best choice as delivery services. So, the reason of why Geeba is exist because urban logistic is broken. The cost is expensive, the services is too long and inflexible. Yet, some of businesses need delivery services which is flexible. Nowadays, customers do not be worry because Geeba was launched as a delivery services company. The majority of parcels could be delivered by the light industry robots. Moreover, the characteristics are; a) the average payload per parcel is less than 100 kg and volume is than 1m3, b) using the Netherlands as an example, less than 10% of the cargo actually requires van or truck, c) 40% of deliveries involve just one box, d) in Berlin, it's estimated that 85% of car trips made by courier services could be replaced by electric assisted cargo cycles.
Geeba is developing a decentralized ecosystem enabling businesses to cut down expenses of local deliveries powered by blockchain, autonomous vehicles and smart hubs. The ecosystem acts as a growth enabler to empower retailers and provide limitless scale opportunity to shippers with a community centric approach.
In order to deliver the goods, Geeba is using blockchain and robots. Geeba aims to add visibility and predictability to logistic operation to accelerate the physical flow of goods. Blockchain as the great potential network in economy provides good access through cryptocurrency as the transaction. In order to deliver the goods, they are using robots with high technology. The main operational focus is on sidewalks, which makes droids confined to the operational limitations of the sidewalks, keeping their speed limit to walking pace of pedestrians.
How the Geeba works? Using the Geeba Ecosystem, retailers and carriers connect with a network of shippers that are powered by autonomous vehicles to offer 24/7, express and same-day delivery services through one shipping web interface or by API integrations. The components of Geeba are autonomous vehicles, smart hubs, G-ship solution, G-sales solution, and G-nest market. It inspired by the current delivery system available in the market, delivery bikes and delivery scooters comprise the most efficient means for last mile delivery. Geeba utilize available parking space in specific public and accessible location to station the Smart Hubs with variable sizes. The web interface for shippers and service providers will run in a web browser without the requirement of local installation and allow performing all action. The delivery app will provide a smooth order tracking and customer service process for end-consumers. Developed from scratch, Geeba ecommerce solution will complete the ecosystem by creating demand for delivery platform. Geeba Nest is an open marketplace allowing shippers and robot manufactures to list and sell their vehicles, while allowing supporters to virtually own the robots.
The benefits gets by the community such as, flexible service, live alerts, safer roads, city friendly, lower price, less congestion, easy returns and lower emissions. For the retailers, the benefits are network of couriers, increased service capacity, reduction in price, shipment visibility, enhanced sustainability, return shipping, minimizing delays, simple integrations, trust and security, the last reducing fraud. Benefit that gets by shippers are high demands, easy integration, smart tracking, proof of delivery, safe archiving, trust and security, securing information and the last minimizing delays.
Geeba Ecosystem, incorporated as BV Company is the official entity that creates the Geeba tokens, platform and technology. Geeba is focused on releasing open source cryptographic technologies that operates the Geeba ecosystem. These tokens do not provide token holders with any ownership or other interest in Geeba. After the ICO period, all distributors will receive an ERC20 exchangeable Geeba tokens on the Ethereum network.
In addition, Geeba is the best delivery service using autonomous vehicles and smart hub. It is also supported by blockchain. The transaction more simple only uses crytocurencies. It is more flexible, secure, the city friendly and less costs. It should be the good choice for everyone who wants deliver their goods to other country.
Token Details
Symbol: GBA
Private Sale Start Date: 11:00 AM (GMT) on Sunday August 5, 2018
Pre-Sale Start Date: 11:00 AM (GMT) on September 1, 2018
ICO Public Sale: Q4 2018
Payment Methods: ETH, BCH, BTC, Wire Transfer
Soft Cap: 3,200,000 USD
Hard Cap: 28,000,000 USD
Token Exange Rate: 1 Geeba Token = 0,1 USD
Total Token Supply (Max): 400,000,000
Min Purchase: 1000 Geeba Tokens
KYC: Required
Whitelist: For Private Sale Only
Token Distribution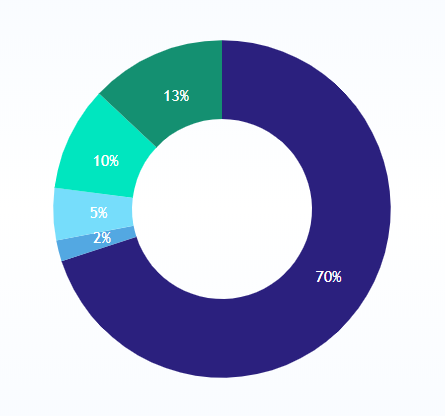 70% ICO Participants
13% Bonus And Affiliates
10% Team
5% Advisors
2% Bounty
Funds Usage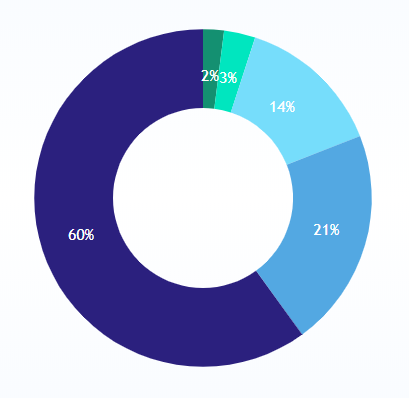 60% Engineering And Production
21% Marketing And Sales
14% Admin And Operations
3% Community Development And CSR
2% Legas
Our Team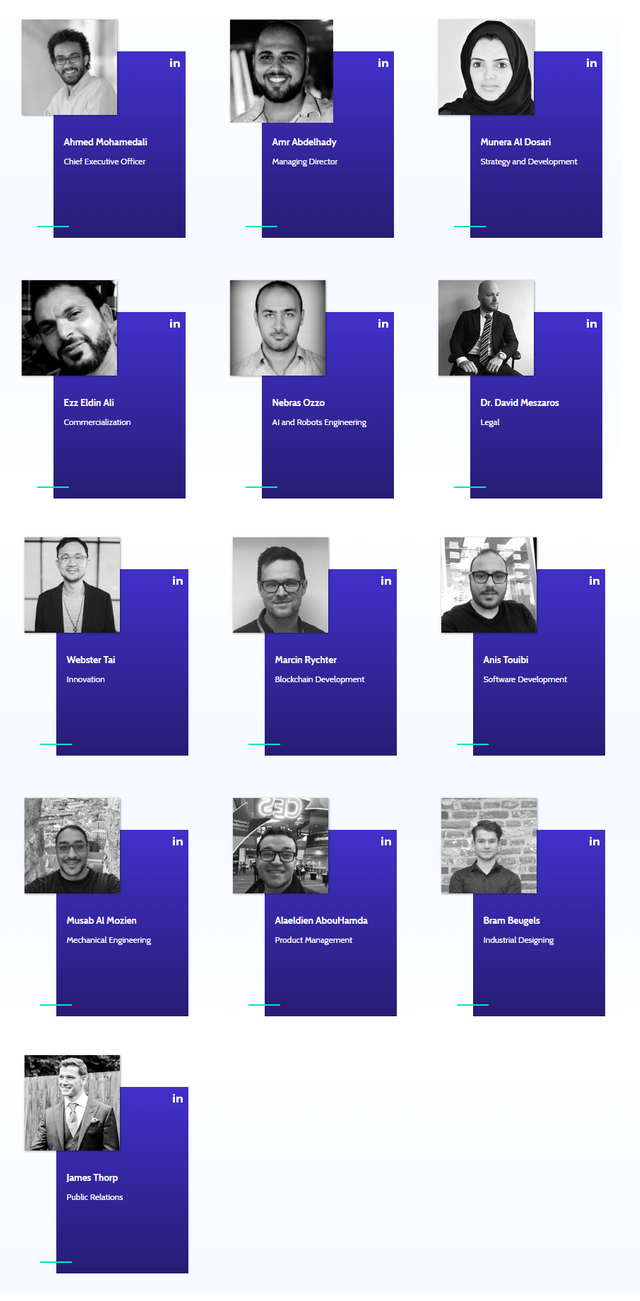 Our Advisors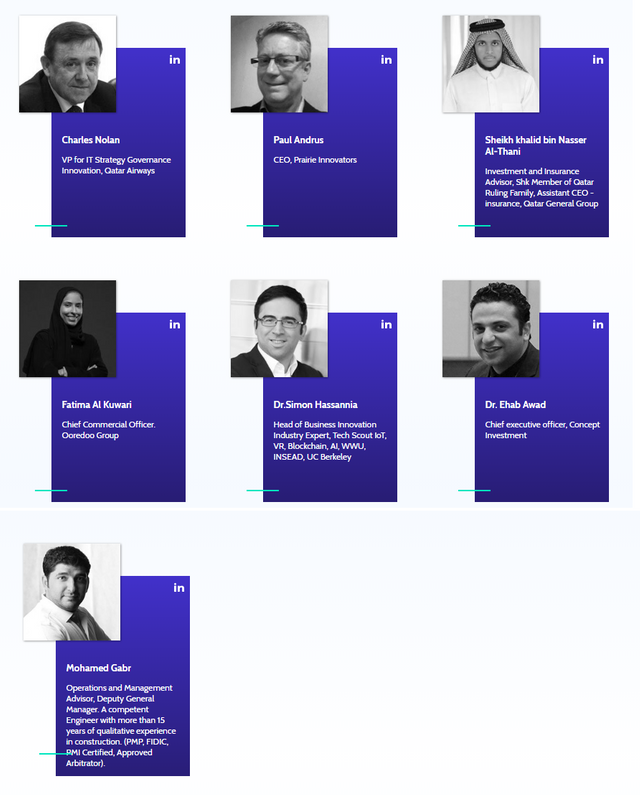 Roadmap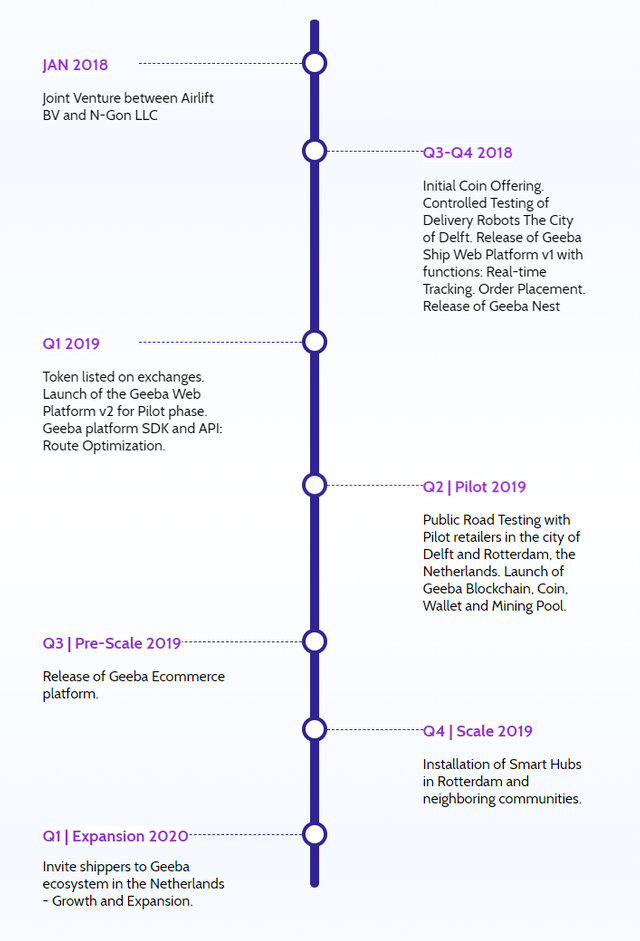 More Information see below :
To learn more about the project visit the official website