Altcoins bloodbath as Bitcoin goes below 8k.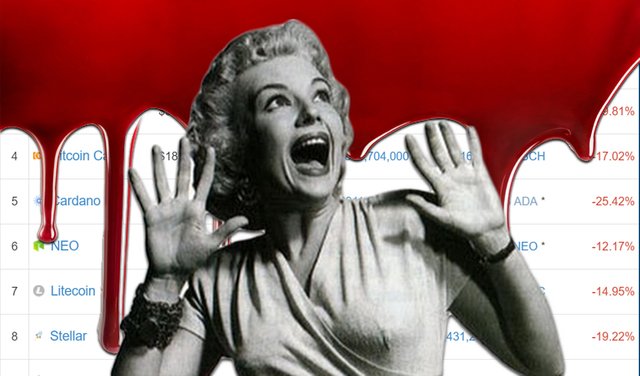 This is a good old-fashioned beatdown in cryptos, as the break below $8k in BTC has sent one giant "SELL" order throughout alt-coin land. Look out below. The inexorable link between BTC and altcoins is a worrisome phenomenon. Considering we rallied from the mid-$6k area to $10k without flinching - and have now retraced 2/3 of that move, you have to believe a war at $6,500 could be looming. Naturally, if BTC can't hold that level, all hell will break out for the rest of the litter. 
In stocks and bonds, they use the term "safe havens". In times of duress, money runs to the safest bets like US Treasuries or large-cap stocks since they're considered more reliable plays when the market swoons. Cash is always Numero Uno in a panic, of course.   
We're likely seeing a crypto "flight-to-quality" now as BTC is "only" down 7% while the next 12 coins are down mid-double digits. We've seen a lot of pain in markets before, and to be honest 2018 has been more a nuisance than a truly cataclysmic event. One brilliant trader we know told us BTC volatility was trading about 40% recently - compared to 160% last year. It's been a slow, predictable selloff. 
You'll recognize panic and chaos when you see it - and if today is any indication, that "aha moment" may be here sooner than you think. 
After some digging, we've found some FUD creating news:
http://www.nasaa.org/45121/state-and-provincial-securities-regulators-conduct-coordinated-international-crypto-crackdown-2/
https://www.ccn.com/operation-crypto-sweep-us-and-canada-investigate-70-cryptocurrency-scams-sham-icos/
We've seen that before many times. The market is always right, however, let those swings not scare you off.
If you didn't enter the market in January 2018, sit back and relax. If you did, you've learnt your lesson.
Disclaimer: information provided by @cryptomedics does not constitute as investment advice, financial advice, trading advice, or any other sort of advice, and you should not treat any of the website's content as such. Do conduct your own due diligence and always do your own research before investing. If you like our content, show us some love, upvote, resteeem it and join our Telegram Discussion or the Main CryptoMedics Channel.