Bitcoin: Be greedy when other are fearful.
Bitcoin tested $8,000, a good start to buy the dips
I have been preaching for quite a while about bitcoin testing $8,000, and today it did. From all-time high Bitcoin corrected 61.8%, if it was stocks that would be a major crash, only a fool would not worry. But we are in a different asset class and this correction is nothing less than a normal correction. Price has to breath out before continuing the trend.
Correction is not a point on time, but a process. There is no guarantee that the price won't make another low, but that will just be another great opportunity to buy. As a process, I'm looking for bitcoin to break the resistance trend-line first, then a break of $12,000 for confirmation.
According to EW count, Bitcoin correction is A-B-C-D-E. Actually this type of correction I like more than a classic ABC because this correction is more natural, it took longer plus presented a better buying opportunity.
This is exciting times.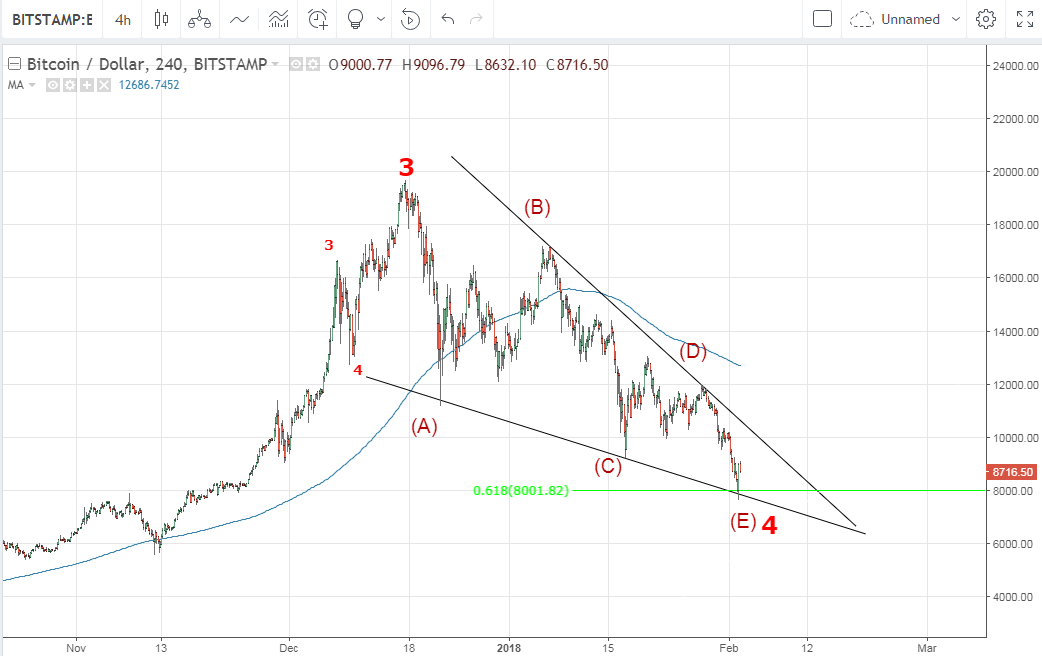 Please read my previous bitcoin posts:
https://steemit.com/cryptocurrency/@ctyptouniverse/bitcoin-poised-to-test-8-000-before-rebounding-to-new-all-time-highs
https://steemit.com/cryptocurrency/@ctyptouniverse/bitcoin-moving-toward-major-support-usd8-000-get-ready
Follows and upvotes are appreciated :)
---
Disclaimer: The information contained herein is not guaranteed, does not purport to be comprehensive and is strictly for information purposes only. This is not a financial advice. It should not be regarded as investment/trading advice.