Bitcoin February seasonality
For the last 4 years, bitcoin was up 4 years.
Most human activities have seasonal cycles. That behaviour shows up on markets too. We already know many adages about stocks seasonality like: Sell in May and Go Away.
Unfortunately we don't have too much data about cryptocurrencies, so we can see long term effects of seasonality. From coinmarketcap I could get February data for the last four years, 3 of them were bullish.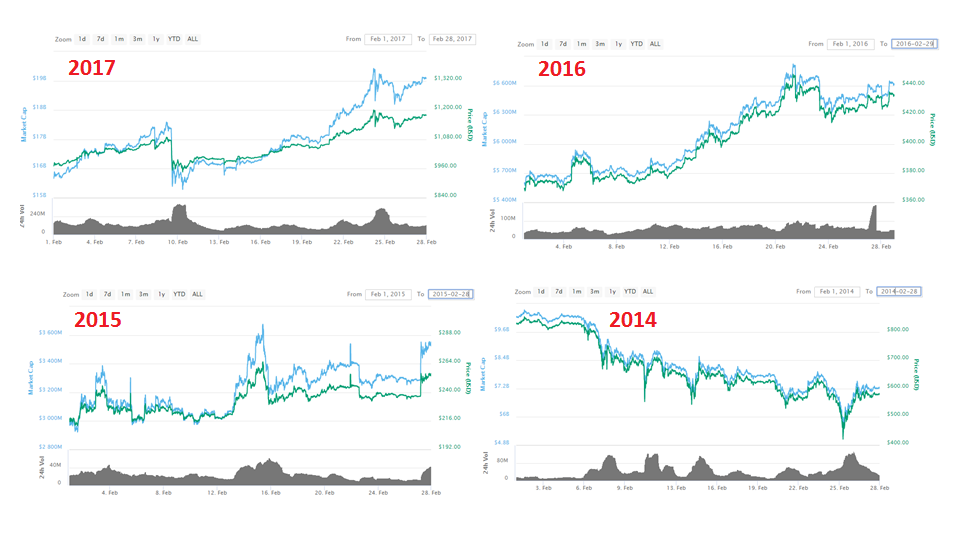 Seasonality aligns with technical analysis. Based on EW analysis, bitcoin correction is getting near and we might have another bullish February.
Please check my previous post:
https://steemit.com/cryptocurrency/@ctyptouniverse/bitcoin-poised-to-test-8-000-before-rebounding-to-new-all-time-highs
Follows and upvotes are appreciated :)
---
Disclaimer: The information contained herein is not guaranteed, does not purport to be comprehensive and is strictly for information purposes only. This is not a financial advice. It should not be regarded as investment/trading advice.