BTC psychology analysis
I expect the next action to be based on manipulation by large institutions, done by many large companies, possibly large exchanges, banks etc are involved. They might manipulate prices based on human psychology. From our current point of hovering just above the 7K mark, we are currently in an expected consolidation zone. Watch the image below. A drop towards 6600 would show bearish sign, resulting in many people going from BTC to USDT. After enough people have sold for USDT, they will spike it the hell out of that zone to make the vast majority of the people lose on btc instantly, showing us consolidation zones pointing upwards.
This will trigger everyone to FOMO in even though they lost on USDT already. This in turn will lead to the second pump, which is usually the smallest because we don't have the power of the largest institutions who manipulate. Expected levels are around 9K/BTC at this stage. After that, a consolidation phase will start to shake out weak hands, and pick up short contracts (BTC>USDT).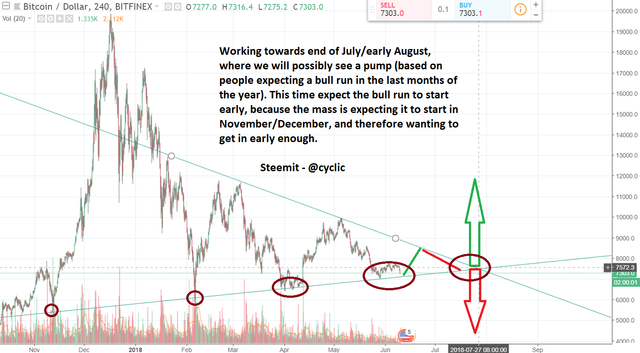 Once people have cashed out enough profit of that second pump created by the mass, (the consolidation might be prolonged to make people think it might drop, and make them happy with the small profit they took. It makes them more likely to cash in as days go by without a lot of movement.) institutions will pump it a third time , now up to 12K+ levels. This will start the new "bull run", as this will probably happen around october or so.. true mass fomo starts again, people thinking the second bull run will indeed take place. This might pump the price to new ATH showing possibly 30-40K BTC prices in november-december 2018.
My 2 cents. Keep in mind that this is my vision only..Thanks for reading.!