Big news: Amazone Will Accept Bitcoin By October
Will Amazone accepting using bitcoin?
Another Speculative statement, Google has just begun, EBay and PayPal already do, countries as Japan and Russia recognize officially Bitcoin as a legal payment - it is really only a question of time before Amazon follows the trial...
...Or create their own currency.
Amazon Web Services in 2016 joined to Digital Currency Group, one of the biggest investors in companies bitcoin and blockchain and start-ups to:
"… provide such a service so the blockchain providers in DCG's portfolio can work in a secure environment with clients who include financial institutions, insurance companies and enterprise technology companies.
In other words, the objective of Amazon is to be the intermediary between the portfolio of DCG and his customers in the transaction of the digital currency.
Amazon will soon begin accepting Bitcoin, which they will officially announce as early as October 26th during their earnings conference call.
once this news is announced it very well could cause a surge in bitcoin's value, but the greed is distracting from the bigger picture.
What has helped make cryptocurrencies so attractive is their ability to combat everything from government overreach to unethical banking practices since no centralized server exists.
These giants of the technology know this and begin to cross in the process of the blockchain by becoming covert intermediaries who can watch and eventually affect all the digital transactions.
Google accepts bitcoin, but only through their Payment Request API. They will be able to see and record every transaction.
Will Amazon be any different?
Related article: Amazon On Track to Control the World's Food Supply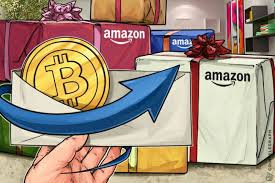 thank you for your time