Beware! Bitcoin scam going on using Steve Wozniak as bait on a live youtube stream
I have seen this type of scam before on Twitter where a hacked verified account leaves a screenshot with a fake tweet from Elon Musk offering some type of bitcoin or ethereum giveaway as long as you send them some coins first. These hackers usually leave the tweets as replies to very popular accounts. This is a news article about this type of scam https://www.usatoday.com/story/tech/2020/02/03/tesla-ceo-elon-musk-bitcoin-scammers-twitter-not-cool/4650272002/
The new scam I discovered today is happening on Youtube with a live streaming where we can see Wozniak giving a talk and the scam information on the lower part of the screen. There are articles on reddit and bitcoin talk from 2 days ago but I am just reading about this right now.
reddit.com/r/Bitcoin/comments/gglwcx/scam_warning_steve_wozniak_bitcoin_giveaway_now/
https://bitcointalk.org/index.php?topic=5247363.0
The video is streaming right now, this is a screenshot. I only visited the first video but every video saying it has a bitcoin giveaway is probably a scam: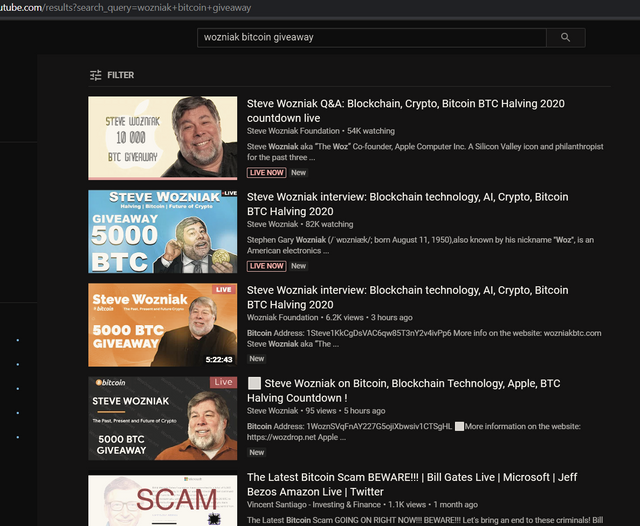 Be careful with this type of scam people. If someone really wants to give a crypto giveaway they would simply do it for free without requesting the users to first send some coins.