What is a Privacy Coin?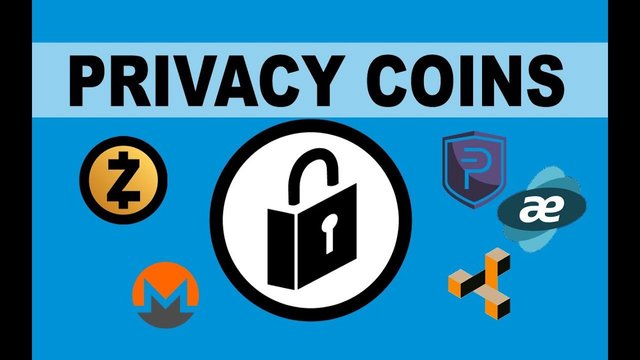 "Privacy coins are an evolution of cryptocurrencies like Bitcoin. Bitcoin transactions are anonymous in the sense that the owner of each wallet is unknown, but every transaction is broadcast publicly and viewable to all on the public ledger. This means that all transactions for a given wallet can be seen and audited. Therefore, if a person's real-world identity is linked to a Bitcoin wallet address then anonymity is compromised." So we can say that Bitcoin transcations are semi-anonymous.
"In contrast, privacy coins seek to mitigate this level of transparency by protecting the identities of the sender and receiver, protecting the amount being sent, and protecting the inputs and outputs being sent, which thus prevents transaction history for a particular address being traced."
Why use Privacy Coin?
For daily usage, many of us may not want other people to see our wallet. For example, for manufacturers and supliers, probably they want to keep their transcations secret because of the competition.
Moreover, personally, I do not want anyone to see the amount of my money which is my privacy.
I would like to introduce 3 major privacy coins.
1- Monero (XMR):
In my opinion, it is the best privacy coin right now.
"Monero is cash for a connected world. It's fast, private, and secure. With Monero, you are your own bank. You can spend safely, knowing that others cannot see your balances or track your activity. Monero is a decentralized cryptocurrency, meaning it is secure digital cash operated by a network of users. Transactions are confirmed by distributed consensus and then immutably recorded on the blockchain. Third-parties do not need to be trusted to keep your Monero safe."
Monero is ASIC Resistant which means that you can only mine it with CPU or GPU.
Right now it is $105,48 with $1.742.231.737 marketcap.
2- Zcash (ZEC)
"Zcash is a privacy-focused blockchain and cryptocurrency that was developed in response to bitcoin's flaws. It uses the same algorithm as bitcoin but improves upon it by enabling semi-transparent processing. In simple words, this means that it eschews the radical transparency of bitcoin's blockchain for a more nuanced implementation. In this implementation, user transaction data is revealed selectively."
Right now Zcash is $125,75 with $639.990.910 marketcap.
3- Dash (DASH)
"Dash is a peer-to-peer cryptocurrency that was forked out of Bitcoin to offer faster and more private transactions to users. Dash is the first digital currency with a decentralized blockchain governance system. Dash runs on a network known as Masternode. Masternode runs the Dash digital wallet, facilitates transaction locking under InstantSend, coordinates coin mixing through PrivateSend, and enables a decentralized governance platform."
Currently, Dash is $155,74 with $1.308.363.224 marketcap.
Comparision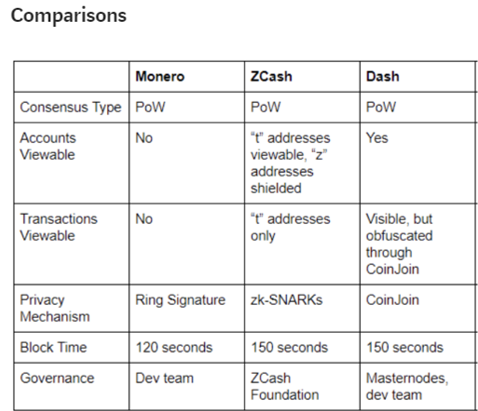 Conclusion
Personally I like the idea behind privacy coins. I believe it will grow more and more everyday. Monero is really a solid one. "Additionally, it will be interesting to see how regulators respond to the capabilities that privacy coins enable and what these coins might mean for the black market."
Sources:
https://hackernoon.com/an-overview-of-privacy-tokens-19f6af8077b7
https://www.coinmey.com/
https://coincentral.com/privacy-coins-what-are-they-how-do-they-work-and-why-are-they-needed/
https://news.bitcoin.com/everything-ever-wanted-know-privacy-coins/
https://src.getmonero.org/
https://www.dash.org/
https://z.cash/mining/
https://www.investopedia.com/terms/d/dash.asp