Meanwhile, Bitcoin Touches on the $4000 Level, And Gently Moves Forward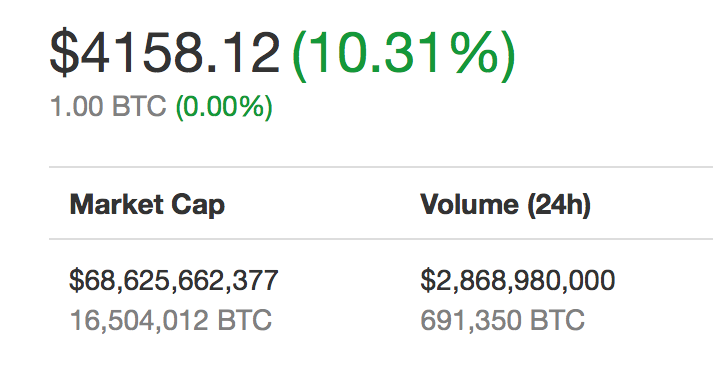 ---
While I was sleeping, Bitcoin rose above $4000, currently trading at $4158. Like, literally, during my sleep time, Bitcoin broke another psychological level. Those who were targeting $5000 by the end of the year may want to revise their analysis.
In my opinion, this rise is way too abrupt, especially when thinking that the SegWit saga is not even remotely over. There are a few developments going on and once they will unfold, is is very likely that a correction will apply.
Now, don't get me wrong, I'm very happy to see the admiral vessel of the crypto navy proudly cruising ahead and I hope it will continue to do so. But there are some market mechanisms that are functioning no matter what you trade and those mechanisms can't be avoided. I would rather see this vessel keep cruising forward at a lower speed but in good shape, rather than sprinting and risking a very dangerous overheating.
In other news, Steem is trading at around 28k satoshi, but it's on the good side of alts, meaning it is appreciating on a Bitcoin appreciation, as opposed to other cryptos which are taking a dive as deep as 10-12%.
---
I'm a serial entrepreneur, blogger and ultrarunner. You can find me mainly on my blog at Dragos Roua where I write about productivity, business, relationships and running. Here on Steemit you may stay updated by following me @dragosroua.


---
You can also vote for me as witness here:
https://steemit.com/~witnesses
---
If you're new to Steemit, you may find these articles relevant (that's also part of my witness activity to support new members of the platform):