CRYPTASSIST - The all in one crypto solution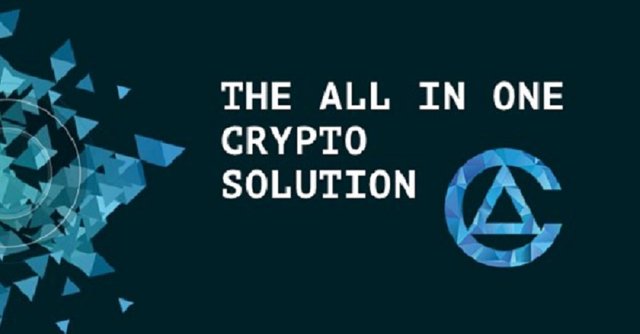 Cryptassist (CTA), the cryptocurrency resource and information platform announce the launch of their much anticipated ICO on June 28 2018.
The Cryptassist mission is to supply everyone with access to the world of crypto-assets through an array of essential tools, with everything from trading and news alerts, to an OTC exchange and even a debit card. No platform exists with so many easy to use crypto-related features.
Cryptassist solves the scalability issues that many other cryptocurrencies face:
One of the main problems in the cryptosphere is that over time, cryptocurrency has become more and more difficult for novices and even experts to understand and is not yet widely useable as a currency on a daily basis.
Cryptassist (CTA) will solve this problem by making cryptocurrency usable for everyone in everyday life.
Users will be able to upload CTA and the top 50 cryptocurrencies onto a prepaid debit card which can be used anywhere in the world that Visa or MasterCard is accepted for online and offline purchases.
The Cryptassist platform is a one stop destination for all your cryptocurrency related information. Whether you are a beginner or an established crypto expert, Cryptassist will provide you with the required tools and information for you to succeed and the potential for even greater profits.
Cryptassist will have a variety of tools and will send personalized notifications to users who have unique profiles, objectives and investment strategies. Users will be able to use their CTA to access these tools and notifications as well as to upload onto their debit cards, along with the top 50 cryptocurrencies.
** Features of the Cryptassist Platform will include:
Cryptassist Debit Card:
One unique feature that Cryptassist will offer is the Debit Card. A debit card will be issued to users upon application that can be refilled with any cryptocurrency.
Initially the top 50 coins
The user's cryptocurrency will be immediately converted into fiat and the card can be used as any other debit card.

CryptoGO:
Cryptassist CryptoGo will be a fun augmented reality game to play and will help to bring crypto to the masses. The game manages airdrops for different coins. Coins will be dropped worldwide at random and specifically targeted locations. These locations will be announced in advance, not only to benefit these locations and venues due to increased traffic, but CryptoGo users that attend have the possibility of reaping real rewards, locating and capturing crypto.

Cryptassist Multi-Coin Block Explorer:
The Cryptassist platform will include a Multi-Coin Block Explorer to save users valuable time and effort by eliminating the need to use multiple blockchain explorers to search for the transaction histories of multiple coins.

Exchange:
Cryptassist will develop its own fully licensed spot exchange.
The exchange will offer users an unequalled trading experience and offer the ultimate user-friendly platform to cater to both established traders as well as first time users. The exchange is not exclusive for CTA trading, it is a full cryptocurrency exchange, functioning like any other. You will receive 50% discount when trading fees are paid for in CTA.

Cryptassist ChatPay:
The Cryptassist ChatPay feature is more than just a messenger. It is designed to allow users to utilize encrypted messaging using peer-to-peer protocol that relies on decentralized servers, making this a decentralized app (DApp). Users can communicate with contacts and merchants and will also be able to send and receive funds on the chat platform. Users will be able to find other nearby Cryptassist users and add them to their contacts to purchase goods and services or simply to communicate.

Cryptassist Philanthropy Innovation:
Cryptassist will offer, as another way of demonstrating our commitment to the community and the environment, a free application to registered nonprofit organizations and donors, which will allow donors to view with complete transparency how their money is spent – all in real time.
Donors will be able to donate using fiat, or the top 50 cryptocurrencies and nonprofit organizations can choose to receive fiat, crypto, or both as donations.
Use of this free mobile and web based app will provide confidence to the donor and credibility to the nonprofit organization and will allow the sharing of the impact of donations through linked social media accounts.

Cryptstarter:
Within the Cryptassist ecosystem will be an innovative cryptocurrency crowdfunding feature, Cryptstarter. This feature will allow users to raise funds for creative projects and backers can pay with cryptocurrencies without having to turn it into fiat first.

Cryptassist OTC
The over-the-counter (OTC) cryptocurrency market sees hundreds of millions of dollars worth of coins moved on a daily basis. Cryptassist will function as an escrow service, creating risk free trading for users who will be able to sell their coins to other users. This will not only include the top coins but also altcoins that cannot be traded anymore or do not have enough volume.

Deflation model:
Cryptassist will offer multiple special services and products for which customers can pay with CTA. The CTA used for these products or services will then be burned, creating a deflationary effect and potentially causing the value of CTA to rise. One Cryptassist alert will always cost $0.01 USD (one cent), no matter how high the value of CTA will go. The CTA used for these services or products will be deducted from the balance in your Cryptassist application.
Cryptassist's advanced deflation model creates the potential for a considerable decrease in CTA coins in circulation, which can have a positive effect on the market.

Cryptassist Freelancer:
Cryptassist will offer a freelance service feature as an integral part of its ecosystem, linking businesses or individuals with each other to engage or work as freelance talent on any crypto related projects online.
Employers will be able to post projects on a user friendly platform and receive quotes from freelancers within minutes of posting, or will be able to browse through freelancer profiles and make offers directly to the freelancer of their choosing.

Trading solutions:
What traders need is a reliable tool that does the lengthy calculations for them and presents the data in a concise and organized manner. Fortunately for traders, Cryptassist is offering this tool, an all in one user-friendly application that is designed with the everyday cryptocurrency trader in mind.
Cryptassist is a mobile and web application designed to aid every digital currency trader, from new traders needing an introduction to the cryptocurrency world, to the most savvy and well-informed trader.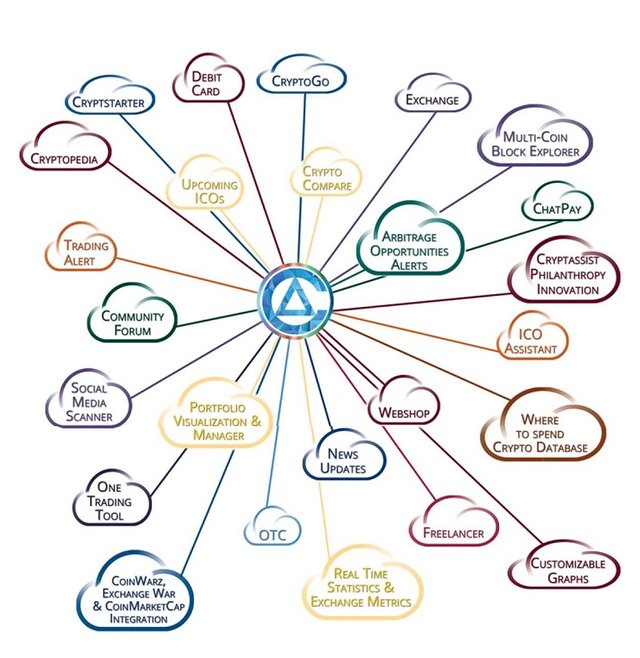 ** CRYPTASSIST ICO DETAILS
ICO Details:
Duration of ICO: June 28th – August 11th 2018
A maximum of 6.75 B CTA will be sold during ICO and Pre-sale
25 M CTA coins are reserved for bounty program
1.5 B CTA coins are reserved for the team (locked for 6 months)
1.725 B CTA coins are reserved for Airdrops, exchange listings and
promotional activities
Ticker: CTA
Platform: S-Scrypt. (Will be converted to a DAG based algorithm)
Price: $0.05 USD
Hard Cap: $236.25 M USD
Soft Cap: $36.98 M USD
Feel free to click on this link https://www.cryptassist.io/ to participate in the ICO .
Note that, during the ICO, contributions in the top 100 cryptocurrencies as listed on CoinMarketCap at 12am CST on the 28th of June, 2018 will be accepted. Contributions by Fiat and by bank wire or PayPal are also accepted.
To demonstrate Cryptassist's commitment to the environment as a responsible corporate citizen, Cryptassist will partner with and donate 1% of the proceeds of the ICO to a selected reforestation project and 1% to an Ocean Conservation Organization. Details will be listed on the Cryptassist website: https://www.cryptassist.io
For those who join and want to know more satisfying information, complete and more clearly visit the link below !!!! ....
➠ Website: https://www.cryptassist.io/
➠ ANN Thread: https://bitcointalk.org/index.php?topic=4553885.0
➠ Whitepaper: https://www.cryptassist.io/assets/downloads/whitepaper.pdf
➠ Telegram: https://t.me/cryptassistcoin
➠ Twitter: https://twitter.com/cryptassistcoin
➠ Medium: https://medium.com/@cryptassistcoin
➠ Reddit: https://www.reddit.com/r/CryptAssist/
➠ Facebook: https://www.facebook.com/CryptAssistCoin/
---
Published by: duythan1988
Bitcointalk URL: https://bitcointalk.org/index.php?action=profile;u=1983411