BTC update 15.03.2020
As you probably noticed already, we faced the worst week ever in Bitcoin history.
BTC dropped a whopping 59% (from 9200 to 3800) within just 6 days in March 2020.
My initial reaction was "Wow, what a great buying opportunity."
The problem is, that I know how low the probability is, that this is a second wave 2 correction (third pic). Yes, a wave 2 can retrace 99.99% and still be valid, but the probability of it being a wave 2 after crossing the 88% retracement is only 5%.
So I have to favor the more bearish count over the two bullish ones. The bearish one expects BTC to drop to 1000$ or close to that.
Here are the 3 most probable alternates: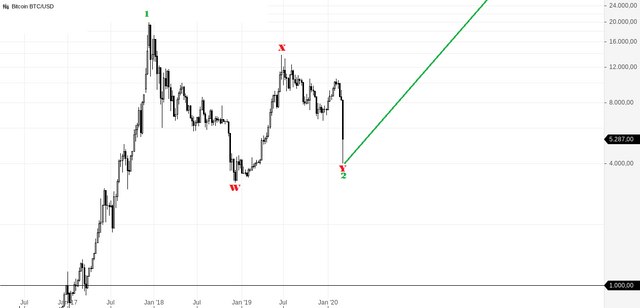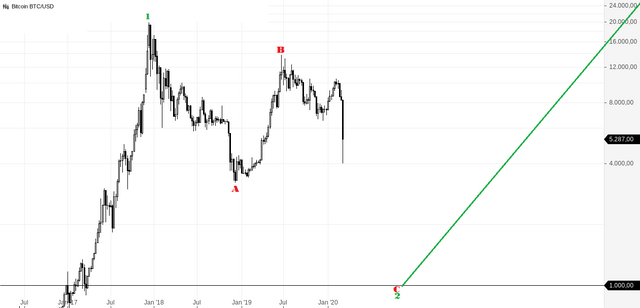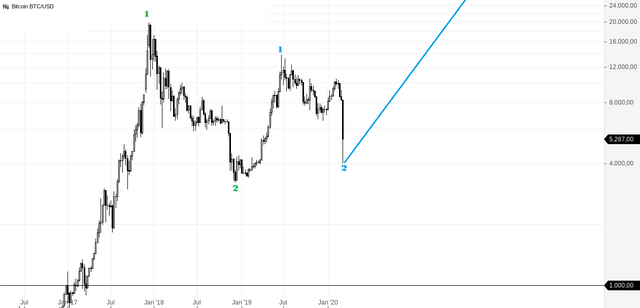 Is there a chance that BTC has already seen the low and is now preparing the stairway to heaven (new ATH)? Yes absolutely, but the probability from an Elliott Wave perspective is not good enough for me to buy more right now.
This will only change if we see a clear impulse wave up now.
I will never sell my BTC at a loss. Either the money is gone, or I win. I am fine with whatever happens to BTC next.


If you think this to be useful information:




Feel free to use and share my charts, but please mention me, @ew-and-patterns as the author. Otherwise it is considered plagiarism and I will flag you and advise my friends to do the same.




Please consider leaving a comment, like or resteem, if this post entertained you or helped you see things differently...
Have a nice day :-)


#bitcoin #btc #crypto #cryptocurrency #cryptocurrencies #steem #sbd #ethereum #eth #ripple #xrp #bitcoincash #bch #eos #litecoin #ltc #stellar #lumen #xlm #digibyte #dgb #cardano #ada #iota #tether #neo #tron #trx #omg #verge #xvg #bitshares #bts #nano #monero #xmr #dash #ethereumclassic #nem #binance #binancecoin #vechain #tezos #omisego #steemit #money #life #altcoin #altcoins #trading #investing #investment #investments #forex #forextrading #market #finance #gold #silver #commodity #commodities #stock #stocktrading #stockmarket #facebook #fb #apple #aapl #spx #xau #xag #usdjpy #usd #amazon #amzn