Bitcoin TA - summary of analysts - 12. June 18
Regular daily update on BTC ta analysts opinions.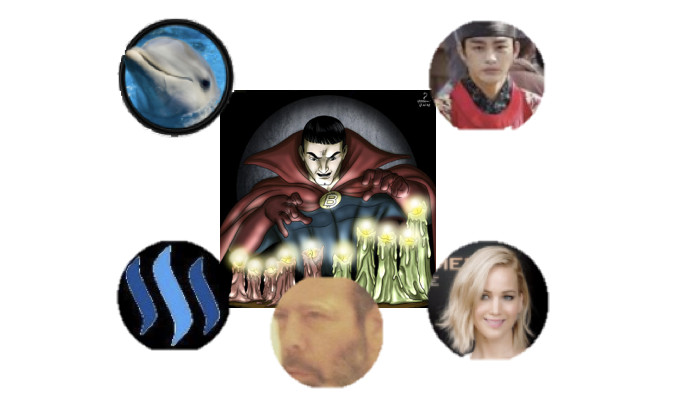 **My summary - short-term sentiment: bearish ** (last: bloodbath )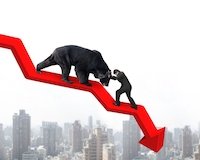 - We are stabilizing around 6'700 level
Bearish scenario (preferred):

We broke down also the 7'050 which fuels the bearish scenario even more.

Next levels to watch are 6'600 (April 4th close) - 6'425( April 1st low) - 6'000 (Feb 5th los).

Bull scenario:
Seems much more unlikely now - we need to see a significant rally up to confirm any momentum to the upside.
@haejin: He is posting bitcoin only on bitcoin live anymore. I am trying to reach out to him to see if we can have an abstract here.
Lets see how June plays out -usually also a bullish month. Are we going to see a compensation of May with a huge rally up?

News about the blog
I revised my tables. Now the sentiment is split in 4 sentiments. Sentiments are based on the candle charts timeframe. So 4hr charts, daily, weekly, monthly chart sentiments are up. I haven't gathered all information from all analysts yet but will do that over time. I hope you find that additional precision useful.

To let the steemit community about this I will use promoting bots for this post.

Bounty project website launched. Are you becoming a bounty hunter? Steem-bounty website.
You find the How-To for creating a bounty at this post
Analysts key statements:
Tone:
Weekly: It is very similar to August 2018. He expects current candle the least volatile week. The biggest difference is the cross over of the MAs 7, 30, 50.
Daily: Is on 4 of 9. Tomorrow critical candle. He hopes us to see a 9 here. He expect this to be a continuation 9 though.
12hr: We got a 9 (unperfected). We already started to pull up at the 7. Low was around 6'600. What we don't know if we go up to 7'000 before go down or if we already had the high yesterday at 6'900.
@haejin is moving his analysis to bitcoin live. Those of you who want to follow him directly should look into subscription. I will try to get in contact to see if I can use an abstract to post here also in the future.
Bitcoin's (BTC) decline yesterday can be counted as an impulse sequence where wave 3 took place. Since wave 3 moves the most violently, the vertical nature fits quite well. Much of today will likely be used to complete waves 4 and 5. This means a probable lower low. The decline could also pattern out a downward pointing wedge (purple).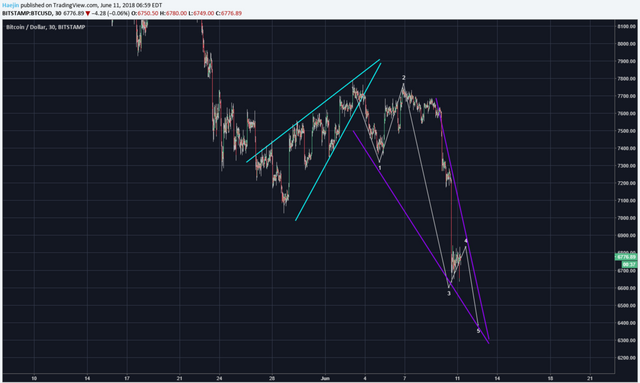 The wide scoped view shows the ZigZag (5,3,5) sequence still in play and should be at its terminal end. White wave 5 could also temporarily pierce the lower trendline. However, it shouldn't be decisive. IF this pattern is correct, this should be the last ABC sequence.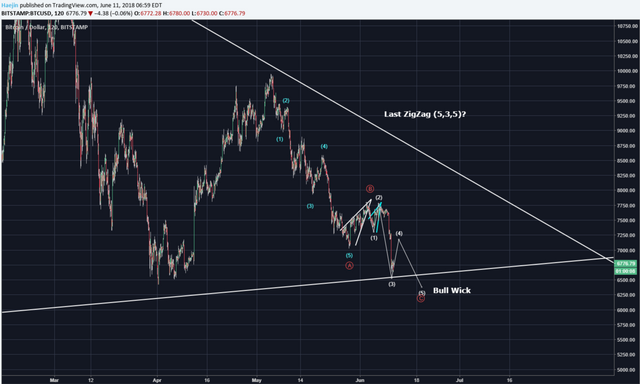 The longer term view shows the pattern that has been in play for the whole correction. The ABCDE count is correct with the E wave at the bottom trendline and not at the top. IF this is correct, then the bottom trendline needs to hold against any decisive breaching; though, it could temporarily be pierced.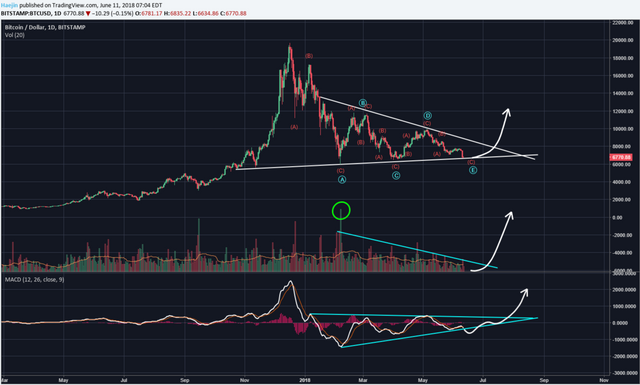 -Emergency update from his holidays:
Not a triangle - it's an ABC. The break out suggests a drop to 3'300 is going to happen. The low is expected in early August! Next chart update on 14.6.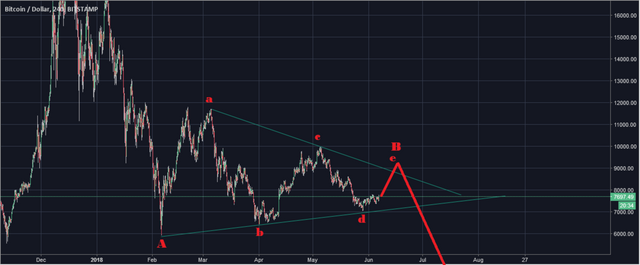 He will be gone for holidays starting on the 07.06.18 until 14.06.18.
Some Upside Bounce could happen here, but as all barriers were crushed, market probably will gravitate to 6'519, but as stops will be triggered, 4'267 could become a reality.
At press time, bitcoin is trading around 6'850 and the chances is valid to achieve more decline, as sellers continue with their drive towards major support at 4'267.
The 2 Weekly Bearish Stop Grabbers suggest drop below 6'519, to test 5'878 reaching 4'300 area, the same destination point of the above Butterfly "Buy". The potential bullish reversal location.
Todays trend is bearish. Trading between 6'200 and 7'150.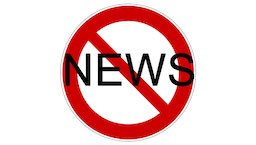 A bounce at the 7'000 level was much expected due to hitting a major trend line support established since Nov 11, 2017.
Bullish View, if we break the 7'650 range, there's a chance to hit 7'850 to 8'000 range (0.5 to 0.618 fib retracement)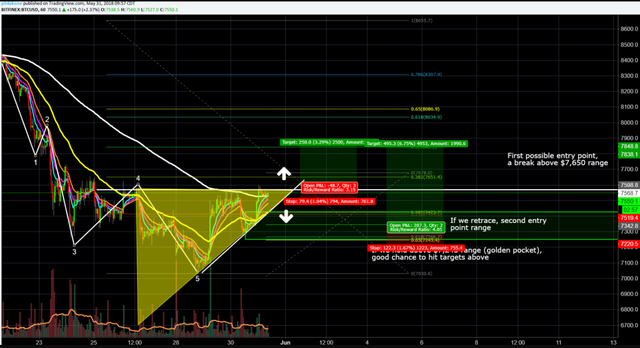 Bearish View, if we break 7'161 range, we'll most likely test 7'040, which I see as failing to hold and then testing 6'500.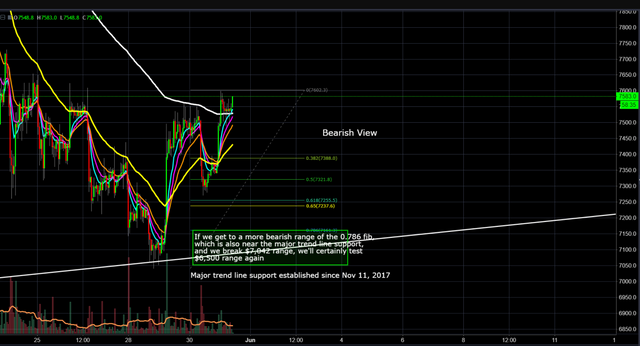 200-pt trading range established post sell-off.
This short-term follow up sites a downside price target of 6427 to resolve the aforementioned 200-pt range.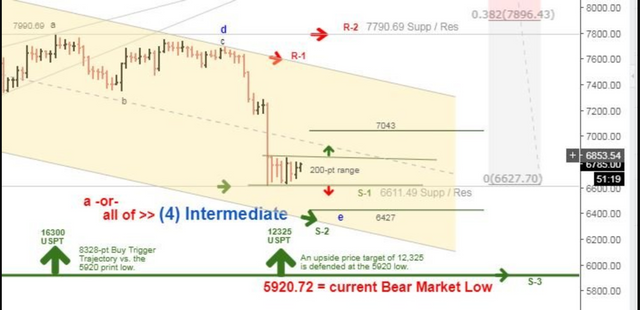 Summary of targets/support/resistance


Reference table
Definition
light blue highlighted = all content that changed since last update.
sentiment = how in general the analysts see the current situation (bearish = lower prices more likely / bullish = higher prices more likely). The sentiment is based on 4hr, daily, weekly, monthly candle charts.
target = the next (short term) price target an analysts mentions. This might be next day or in a few days. It might be that an analyst is bullish but sees a short term pull-back so giving nevertheless a lower (short term) target.
support/res(istance) = Most significant support or resistances mentioned by the analysts. If those are breached a significant move to the upside or downside is expected.
Further links for educational purposes:
*If you like me to add other analysts or add information please let me know in the comments.